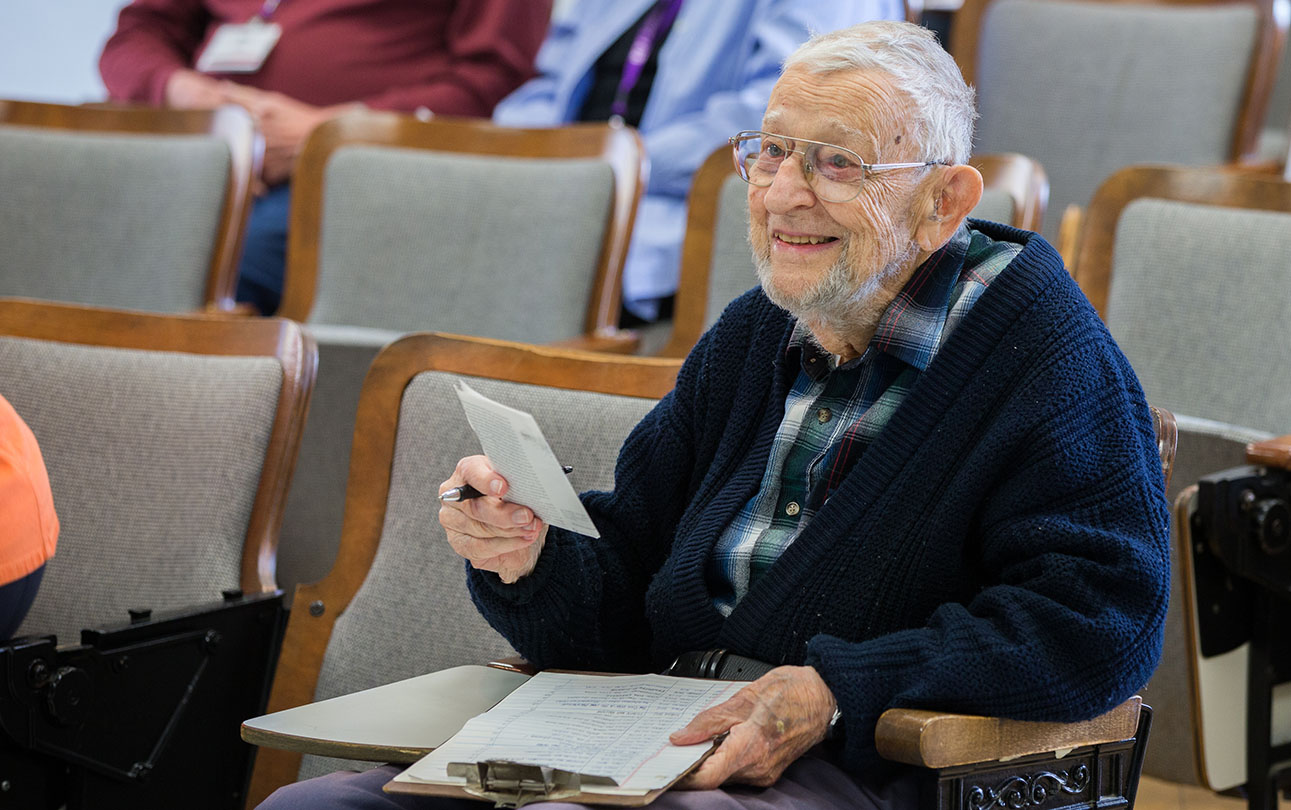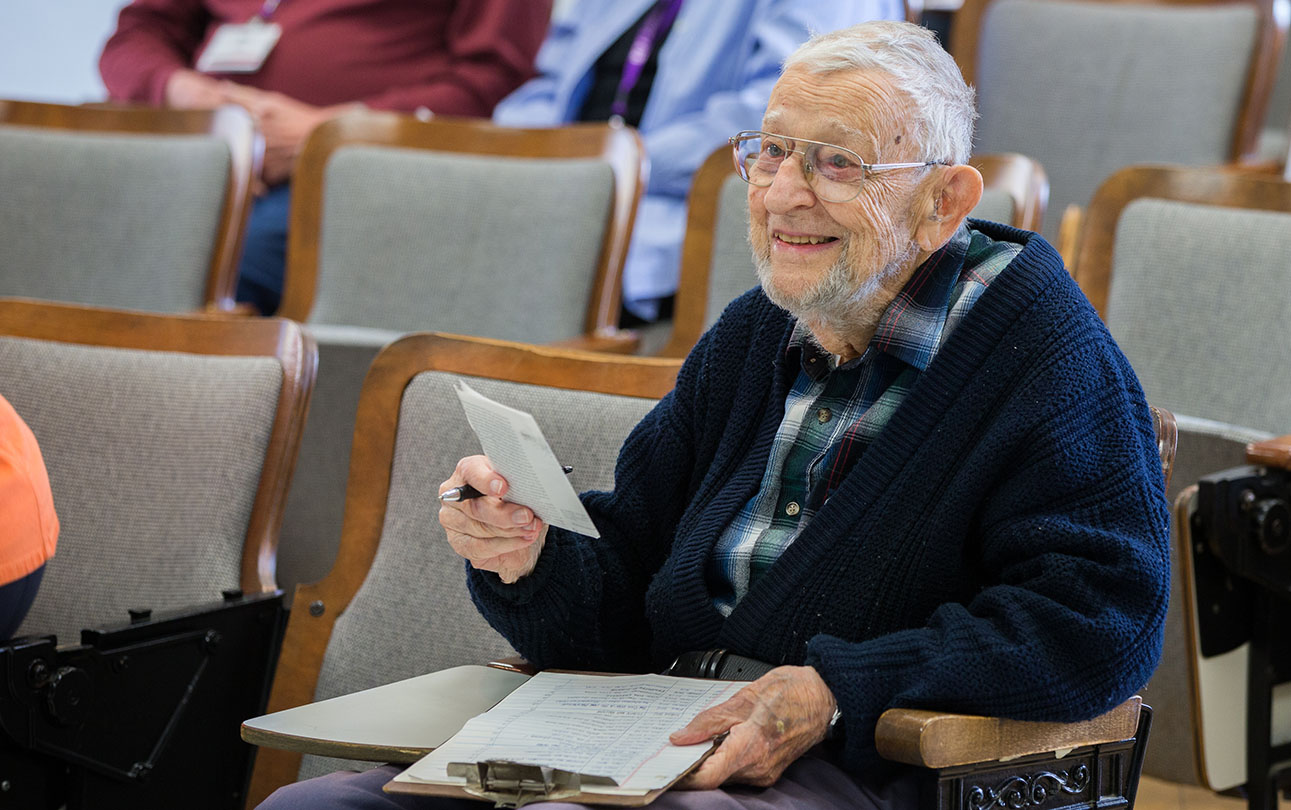 At 93 years old, John Eicher is the oldest teacher AND student in the Institute for Learning in Retirement classes (photo by Scott Kissell).
Jan 08, 2015
A life in the classroom keeps this 93-year-old professor young
Written by Ritter Hoy, university news and communications, ritter.hoy@miamioh.edu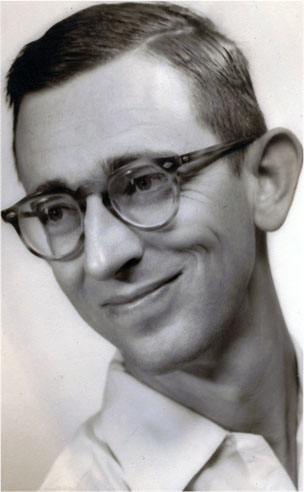 John Eicher as a new faculty member in the department of chemistry, 1952.
He may move slowly, but John Eicher's 93-year-old brain works at a pace unknown to most 20-year olds. The Miami University professor emeritus has lived a life most people cannot comprehend.
From working with Nobel Prize winners to living a secret, double life during World War II, he still talks about complex chemistry concepts and says he feels most at home in a classroom even today.
Eicher retired from Miami in 1989 after a 37-year career in the university's chemistry department. But you can still find him on campus taking and teaching classes through Miami's Institute for Learning in Retirement (ILR).
"He's just right in his element as a student and a teacher," said Eicher's daughter, Nancy. "My dad lives to be in a classroom, and teaching and learning is vital to him right now. For his age he's physically average but mentally, he's far superior."
Curiosity as a child encouraged his love for learning. Eicher collected stamps, books and minerals. He spent his summers traveling with his parents, visiting 49 states. A trip to Pikes Peak in 1926 sparked his interest in exploring old mines.
As a senior in high school, Eicher placed first on a district scholarship test and fourth in the state of Ohio. He graduated in 1938, just before World War II began.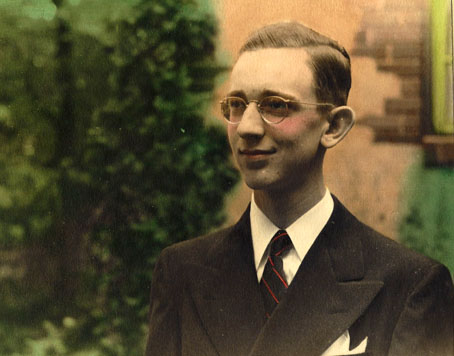 Eicher at the start of his college career at Purdue University. A native of Dayton - where he was friends with Orville Wright and Charles Franklin Kettering - he graduated from Fairview High School in 1938.
"People talk about World War II, and I remember when it started!" exclaimed Eicher, who was an undergraduate student at Purdue University at the time. "In our spare time we collected scrap iron to give to a material drive the war department had. We broke up a locomotive and a bunch of boxcars that weren't being used."
Poor eyesight excluded Eicher from serving in combat, but in 1943, after earning his bachelor's degree in chemistry, he joined the Manhattan Project and continued his education. Conducting research while working alongside Nobel Prize-winning chemists Harold Urey and Willard Frank Libby, Eicher contributed to work on improving the enrichment of uranium-235 for use in atomic bombs, like the one that exploded over Hiroshima in 1945.
 "That was the most peculiar decade of my life," said Eicher. "I lived a double life. I had a nametag that I wore when I was working, but it was collected and kept in the building when I left. I spent most weekends with my friends, visiting museums, vacationing to the islands and exploring New York City, and I had no identification. I only carried a reference number to Washington in my wallet."
Eicher returned to Purdue for graduate school after his work with the Manhattan Project, and completed his doctoral dissertation in 1952. Nobel winner Linus Pauling, largely considered one of the most important scientists of the 20th century, was a guest lecturer on Purdue's campus when Eicher was again in a classroom, and it was here the two men forged a friendship.
After receiving his doctorate in 1952, Eicher joined Miami as a professor in the chemistry department.
"My friend Linus Pauling was a guest lecturer at Miami in 1960, and there were no hotels in Oxford," said Eicher. "He stayed at Howard Ritter's house, who was the chair of chemistry at the time. We watched the first-ever televised presidential debate, between (Richard) Nixon and (John F.) Kennedy on the floor of Howard's house," said Eicher.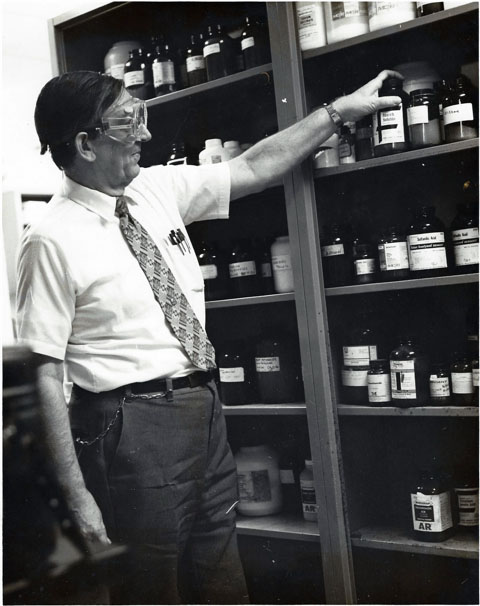 Eicher in his chemistry lab at Hughes Laboratories in the mid-1970s. Speaking of chemicals, Eicher says, "people talk about drug dependence, and I tell them I'm drug dependent on cinnamic acid, truxillic acid and truxinic acid (the chemical compounds in chocolate). I have a drug dependence on chocolate. I eat chocolate whenever I can get a hold of it, and it hasn't contributed to my downfall."
Considered the resident historian by his colleagues in the chemistry department, Eicher watched Miami and Oxford grow and change during pivotal times in the United States.
"When the Kent State shootings happened in 1970, there was a lot of unrest at Miami," said Eicher. "I was stopped by the police on Spring Street, and they asked who I was. I told them I was university faculty, and the officer said, 'That's all right. You can proceed.' It was an exciting time in the world. Dr. Shriver received word that students were throwing Molotov cocktails at Miami buildings, and he closed campus. It was the only time I ever remember the university shutting down due to student problems."
During his career at Miami, he oversaw class scheduling, helped with the design of Hughes Laboratories and was instrumental in establishing the chemistry department's doctoral program. 
He retired from Miami in 1989. Now, however, not only is he teaching for Miami's ILR, he also is a student.
"The classroom is my place," said Eicher. "I have just always liked it – being in class or being in discussion groups."
Eicher became involved with ILR in the fall of 2002, and he has taught 25 classes to date, most of them on history and not surprisingly, World War II, as well as the Civil War. Last semester he also was a student in 12 classes, and he's teaching again in the spring.
"I like to take a lot of them, especially in sequence, and because I am a teacher, I can be a student in as many classes as I want," explained Eicher.
The continuation of being with students who are interested in their classes keeps him ambitious, curious and intellectually challenged, something traditional retirement does not allow, he said.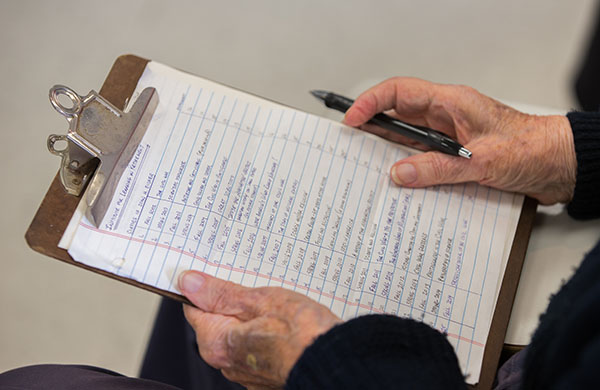 After nearly 90 years in a classroom, Eicher maintains meticulous notes (photo by Scott Kissell).
The Institute for Learning in Retirement at Miami University promotes opportunities for individuals 50 and older. 
Registration for spring semester (March 30-May 1) classes will open in mid-February. Visit the ILR website for more information.