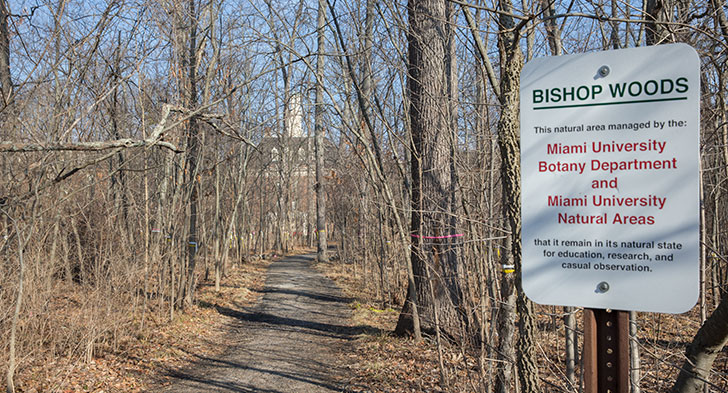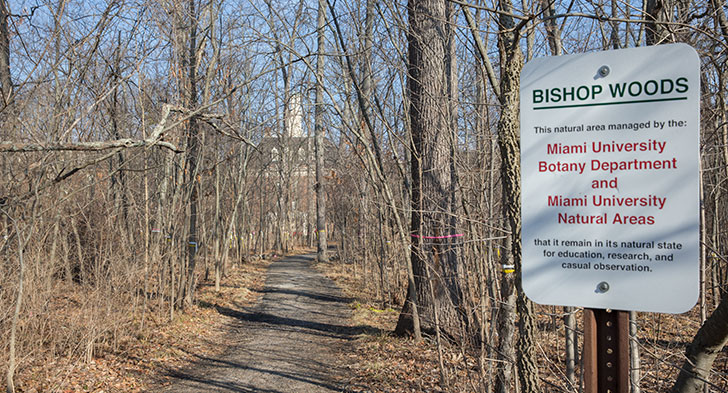 Bishop Woods to undergo restoration.
Photo: Scott Kissell
Feb 12, 2015
Bishop Woods project to restore diverse ecosystem and create safe/accessible pathways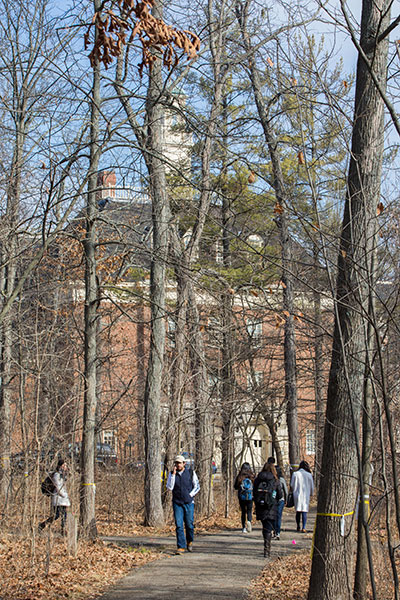 Restoration efforts to Bishop Woods will bring back diverse ecosystem. (Photo by Scott Kissell)
written by Vincent Cirrito, landscape architect, physical facilities, with Carole Johnson, university news and communications
White, yellow and pink tape on several trees in Bishop Woods signal the beginning phase of a restoration project.
The restoration project's scope includes:
* Removal of invasive plant species.
* Removal of dead and diseased vegetation.
* Construction of new paved pathways in compliance with the Americans with Disabilities Act.
* Installation of site lighting.
* Drainage improvements.
* Recreation of mature high canopy diverse forest ecosystem once present on the site.
"As campus development continues to change the surrounding landscape and student traffic patterns, the need to address deteriorated path pavements and their locations, student security and visibility, appearance and the spread of invasive plants throughout Bishop Woods is necessary," said Vince Cirrito, landscape architect.
Work will begin the end of March with the removal of dead and/or diseased trees, including a number of ash trees infected with the emerald ash borer, and invasive plant species and the thinning of saplings.
The landscaping restoration includes reintroducing more than 40 native plant species.
"This will allow for view through the site and continuously changing floral display from spring to fall," Cirrito said.
In addition, a central lawn with seating opportunities is in the plans, allowing for informal gathering within the confines of the woods.
The project also improves circulation through the woods by realigning paved pathways to link destinations and adjacent sidewalks.
Safety improvements include the placement of walkway lighting using pole-mounted LED lighting fixtures to illuminate the area.
Recreating a diverse forest ecosystem once present
Bishop Woods as known today was originally part of a larger wooded area known as the College Grove and then Lower Campus. Much of the undergrowth of these wooded areas east of Elliott and Stoddard halls was removed and replaced with mowed lawn during the 1940s to increase visibility as campus development proceeded eastward. It was not until the 1960s, with the addition of the Bishop Gates and U-shaped drive, that the area bounded by the new drive and Patterson Avenue became known as Bishop Woods.
In 1986, mowing of the lawn areas within Bishop Woods was ceased. After the establishment of the Miami University Natural Areas system in 1992, the natural areas committee and the bioscience departments worked with physical facilities to manage Bishop Woods to allow natural tree regeneration, growth of native understory plants and the retention of standing and fallen logs.
The project is currently in final design documentation. Construction fences will be erected around the perimeter of Bishop Woods in late March. The woods will reopen in fall of 2015.