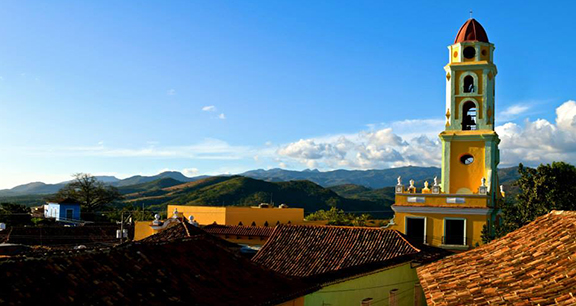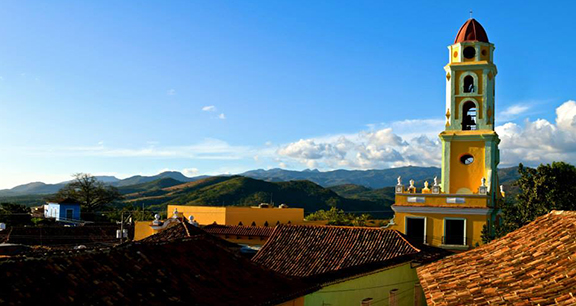 Overlooking the beautiful landscape and colorful buildings of Trinidad, Cuba. Miami students also experienced Havana and other locations during the Cuba in Transition winter term course (photo by Emily Tate).
Feb 05, 2015
Miami students, faculty watch history unfold during study abroad trip to Cuba
Written by Margo Kissell, university news and communications, kisselm@MiamiOH.edu
Before they even arrived in Cuba, the 22 Miami University students and three faculty advisers could tell this was a new day for the Caribbean island nation.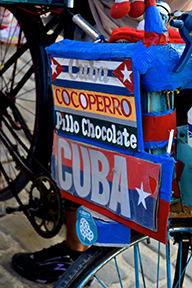 "Cuban pride and nationalism can be seen and felt at every turn," said student Emily Tate (photo by Tate).
Their Jan. 4-14 study abroad trip came less than three weeks after Presidents Barack Obama and Raul Castro announced plans to restore full diplomatic relations after more than 50 years of hostility.
Melanie Ziegler, senior lecturer and chief program adviser of international studies, noticed changes — logistically and in the students themselves — since last year's trip to the Communist Party-ruled island during winter term.
"You could see a change in the students' attitude from one year to the next," she said, calling it "less fear factor."
Last year, a student was pulled out of line and questioned at length after arriving in Cuba aboard an old, white, unmarked plane, Ziegler said. This time, a new plane marked American arrived on time, everyone moved through customs smoothly and the only question asked was if anyone had been to Africa because of the Ebola virus scare.
Now in its second year, the "Cuba In Transition" study abroad program took on new meaning after the Dec. 17 historic announcement. The news broke while Ziegler was meeting with colleagues Juan Carlos Albarran and Walt Vanderbush to prepare for the trip.
"We were hoping that at one point this would happen, but (the timing) really took us by surprise," said Albarran, a Cuban-born lecturer in the Latin American, Latino/a and Caribbean studies program.
For senior Brandon Villa, a political science major with a minor in Latin American studies, the trip was an emotional journey to the country where his 89-year-old grandfather was born, became a medical doctor and came to the United States in the 1950s.
"It was an exciting experience to be there," said Villa, who took photos of some of the places his grandfather, Fernando Villa, remembers, including the University of Havana where he earned his medical degree. "He actually went there the same time as Fidel Castro," he said of the former Cuban president who is one year younger.
A chance to ask questions in Havana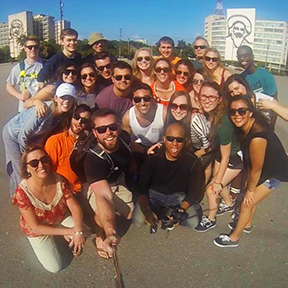 The Cuba in Transition group in Cuba's Revolution Plaza between buildings with the images of Che Guevara and Camilo Cienfuegos (photo by Mark Boushka).
The Miami group kicked off its 10-day journey with a day in Miami, Fla., to get the perspective of the Cuban American community, where some had protested the decision to restore relations.
The students also were required to keep journals for the six-credit course, which aims to expand students' understanding of contemporary Cuba within the global context.
"It's just so different from anything I've seen or studied that I almost feel like I've been dropped into a lost world," wrote Emily Tate, a junior international studies and journalism double major. "The buildings still blow my mind. They are in ruins, just dirty and destroyed. But, inside, the shops and restaurants have so much character."
Tate said she had limited knowledge of Cuba before this trip, which opened her eyes.
On their first full day in Havana, the capital, they started at the Interests Section, which has taken the place of an embassy and will become an embassy once again. 
"We were able to talk to a couple of different people and hear their impressions about the potential changes," said Vanderbush, associate professor of political science and interim director of Latin American studies.
Tate said it helped fill in a lot of the blanks and gave them a better understanding of what was happening. The stop provided "a chance for all of us to ask questions and have an open conversation, instead of just using what the media was putting out."
Villa said people he talked to in Cuba were "ecstatic" about this new relationship with the United States, and they hope it will result in improved living conditions. He does, too.
Villa said he was especially interested in talking to people about their views on government.
"Most of the people that I talked to on the street randomly were very, very hesitant to say anything about the government," he said. "That's one of the reasons my grandpa left, because if you ever speak up about the government and say this isn't right, you get thrown in jail."
From the Bay of Pigs to Hemingway's writing
Amelia Wester, a senior majoring in international studies and Latin American studies with a minor in Spanish, wrote her entire journal in Spanish. She had wanted to go to Cuba for several years "and this seemed like a great opportunity to do so. Opportunities to go to Cuba are very limited; I figured this would be my only chance to go."
When Tate quipped "probably not anymore," Ziegler said she expects travel to Cuba will have to be through these types of programs for a while. "It's not going to be that easy," she said.
Sunset over Havana, where students stayed at the Hotel Capri (photo by Emily Tate).
The new rules will ease sanctions on Cuba, opening the island to expanded U.S. travel, trade and banking relations. However, the U.S. embargo on Cuba will remain in place because only Congress can lift it, Reuters reported.
Ziegler, who has held a lifelong fascination with Cuba, said she has enjoyed going there with Miami students.
"I like seeing it through their eyes," she said." It makes it new every time."
The group spent most of their time in Havana but also visited other places, including the Bay of Pigs, the site of the 1961 failed operation to topple then-President Fidel Castro, and a museum on writer Ernest Hemingway.
The beauty of Old Havana still sticks with Alex Wiley, a junior psychology and Latin American studies double major.
"That was probably my favorite part of the whole trip, just walking around there," she said, adding her family assumed she had used a special filter on her camera to capture the vibrant hues.
Erika Spragg, a senior Spanish and Latin American studies double major, found it interesting to talk to people who chose to work in hotels or the tourism industry because they made a much better living than teaching art or working in finance, their fields of study.
Cuba has a dual-currency system — one for the average Cuban and another set up for the tourist industry so those who have access to tourist dollars can buy more in stores, Ziegler said.
The Cuban government said it will start printing larger bills of 200, 500 and 1,000 pesos that will begin circulating on the island this month, a step toward the government's plan to unify the currency system.
Limited access to the Internet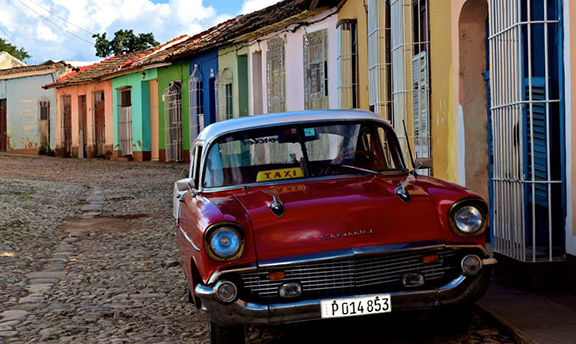 "The old-fashioned cars, here in Trinidad, Cuba, but throughout the rest of the island as well, are testament to the overall feel of Cuba — a country trapped in time," said Emily Tate (photo by Tate).
U.S. officials have said one of their goals is to see an improved telecommunications network in Cuba. Internet access was so limited that the students only used their smart phones to shoot photos — instead of spending time on Instagram and other social media. That ended up being a bonus for those who felt they were able to enjoy the experience more fully without those distractions. That was one of Albarran's hopes.
He enjoyed seeing Miami students discover the country where he grew up and still has family ties and hopes they gained something valuable.
Had Miami not offered this winter term study abroad program, Villa said Cuba would still be a curiosity. Now, it's a place that he can talk more easily to his grandfather about because of the broader view he gained from the trip. 
"A full semester is a long commitment. It's a long time to be away from your family," he said. "Winter term, I was only there for 10 days. I didn't miss much, but I still got an awesome experience."