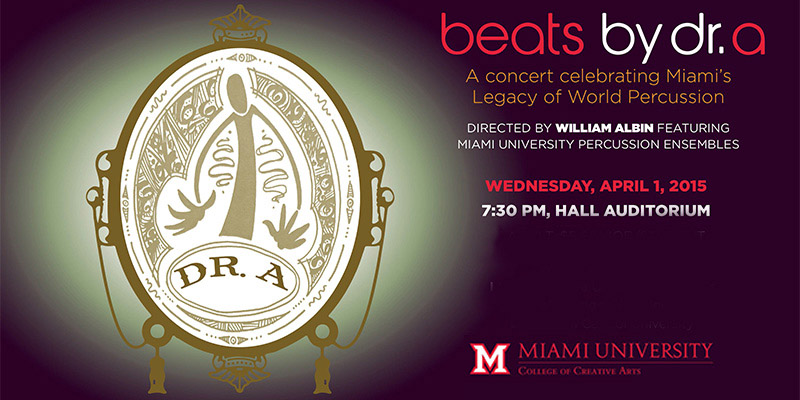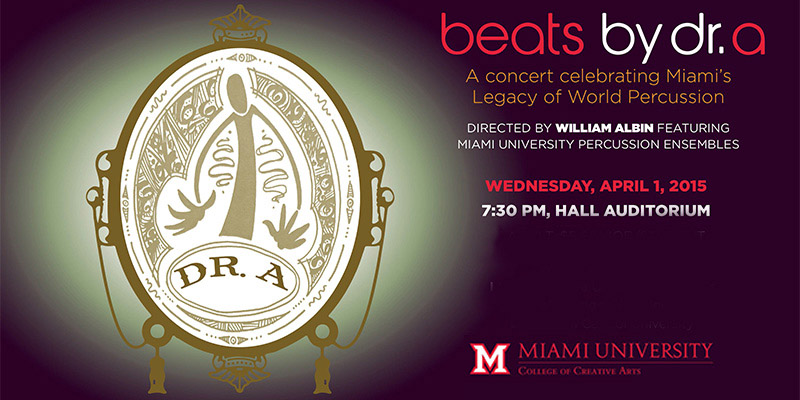 Mar 24, 2015
Beats by Dr. A: A concert celebrating Miami's legacy of world percussion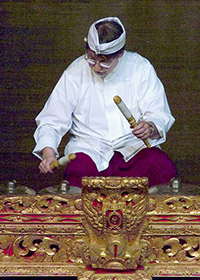 William Albin on the gamelan.
Beats by Dr. A: A concert celebrating Miami's legacy of world percussion, will be held at 7:30 p.m. Wednesday, April 1, in Hall Auditorium.
The Miami University Percussion Ensembles, directed by William Albin ("Dr. A"), will showcase four diverse musical styles spanning the globe: Indonesian gamelan, Brazilian batería, West African dance-drumming and Japanese taiko.
Special guest artists include I Ketut Asnawa, director of Balinese music studies at the University of Illinois; Paschal Younge, director of African and world music at Ohio University; Eric Paton, director of Taiko and Concert Percussion Ensembles at Capitol University; and Jason Koontz, (Miami MM '98) director of percussion studies at Eastern Kentucky University.
Tickets, $7 adult and $5 senior/student, are available at the box office in Shriver Center. 
World Percussion at Miami
This special concert is the last in Albin's 40-year career at Miami. He has promoted world music at Miami since 1994 when the percussion ensembles produced their first World Percussion concert, featuring the newly formed Steel Band and the African Drum and Dance Ensemble with Younge as guest artist.
He created and directs the Miami University Balinese Gamelan Ensemble, which premiered in 2003 after a year of planning, personal study and two trips to Bali, Indonesia, to acquire the instruments. The ensemble has been a regular feature of the annual Global Rhythms concerts sponsored by the Center for American and World Cultures.
Albin has spearheaded a number of off-campus performances featuring Miami's world percussion resources, including in-school presentations and appearances at professional conferences.
View an album of "World Percussion in Photos" through the years on the concert's website.