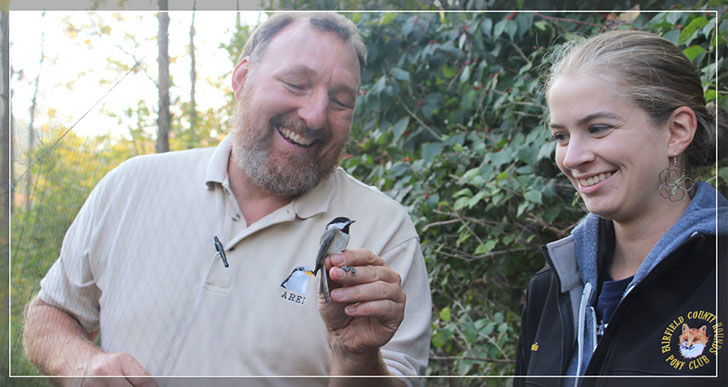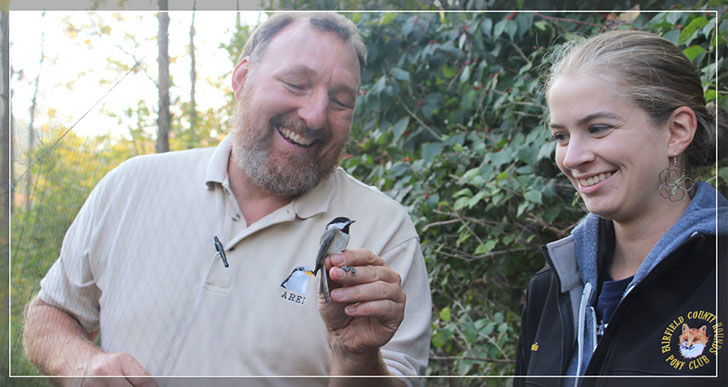 Dave Russell's concern for birds led to a career teaching others.
Photo: Alicia Auhagen
Mar 12, 2015
Dave Russell inspires avian appreciation in students of all ages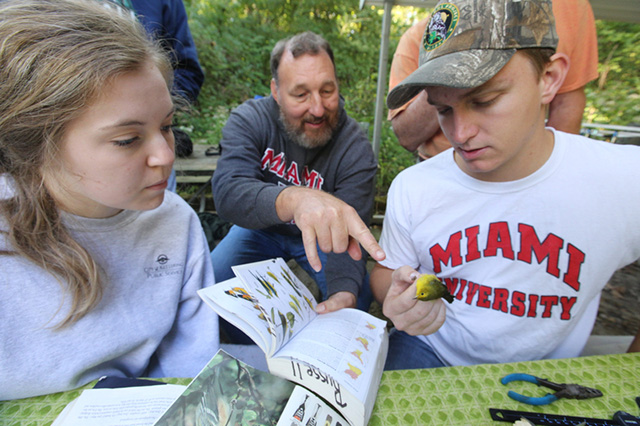 Russell helps graduate biology student Aaron Anderson and first-year biology major Savannah Boerger identify features of this Wilson's warbler. (Photo by Jeff Sabo)
By Alicia Auhagen, university marketing and creative services intern
Aaron Anderson carefully holds a little yellow bird between his index and middle fingers.
The biology graduate student blows on its belly feathers and runs a finger over its chest, checking for body fat and breeding condition. He slides a small metal ruler under the bird's wing to measure its length.
He then secures a band, a tiny identifying bracelet, to its leg. This brightly-colored avian is a Nashville warbler — a "regularly occurring unusual bird" by Dave Russell's assessment.
Russell, senior lecturer in biology and co-founder of the Avian Research and Education Institute, is a master bird bander licensed to handle federally protected species and to train banders. He's one of only 12 master banders in Ohio.
Aspiring banders like Anderson can begin banding at the station after learning proper handling and measuring techniques from Russell. Not all of Russell's students hail from Miami University; some travel from Xavier University, Ball State University, Wright State University, Ohio State University and the University of Cincinnati. Others are Oxford residents, nature center directors and Audubon members.
At the Hueston Woods State Park bird banding station where Russell spends most spring and fall mornings, he lets the student and community volunteers take the lead. He offers a gentle reminder on how to hold the birds, expressing giddy enthusiasm for each species passing through.
Technique is critical for safety of the birds
Each day, the group sets up 25 to 40 mist nets — essentially 40 feet by 10 feet versions of a giant hairnet — against a complex background of trees. The nets remain for a few hours. Birds fly into the nets and are then carefully removed by students who have learned the proper handling techniques.
Russell said they should be banding about 100 birds a day, but construction on the adjacent Acton Lake dam has lowered their average to 35 birds a day. Increased truck traffic, loud noise and habitat destruction scattered many resident birds to other locations. The migrant birds still come through, Russell said; they didn't know about the construction.
During the last 10 years, Russell and his volunteers have been studying the implications of the agricultural landscape surrounding Hueston Woods State Park on resident and migratory birds. Birds are not likely to find food among the farmland, so Russell is trying to determine whether the park offers the appropriate resources.
"These areas that we have set aside having invasive and non-native species like honeysuckle have a dramatic impact on the success and survivorship of a lot of our bird species," he said.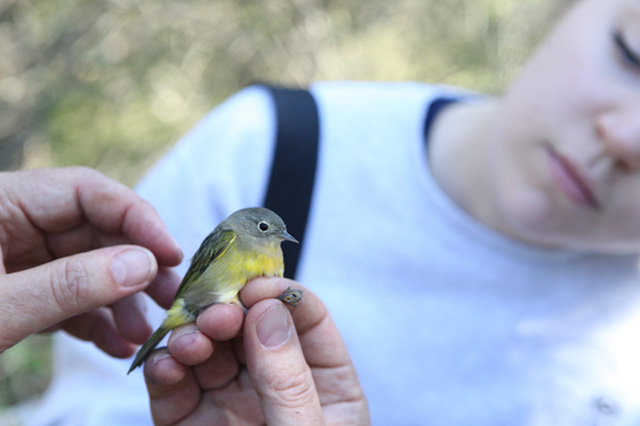 A Nashville warbler (Photo by Jeff Sabo)
Residents can help by removing invasive plants
With a little help from the community, the Oxford area can become a friendlier place for birds.
Russell said one of the biggest changes residents can make is a relatively simple one. By removing honeysuckle and planting native spicebush, yards can become appropriate stopover sites for birds.
"It really helps the birds during the time of year that they could use it, and it still looks nice," Russell said.
But birds passing through Oxford aren't the only ones in need of a little help. According to the fifth "State of the Birds" report, released in September 2014 by the Smithsonian Institution, there are 800 million fewer birds in the United States than only 40 years ago.
The work of the bird bander — collecting data, observing trends and documenting change — is increasingly important in determining how to maintain species diversity and demonstrating the impact of climate change on wildlife.