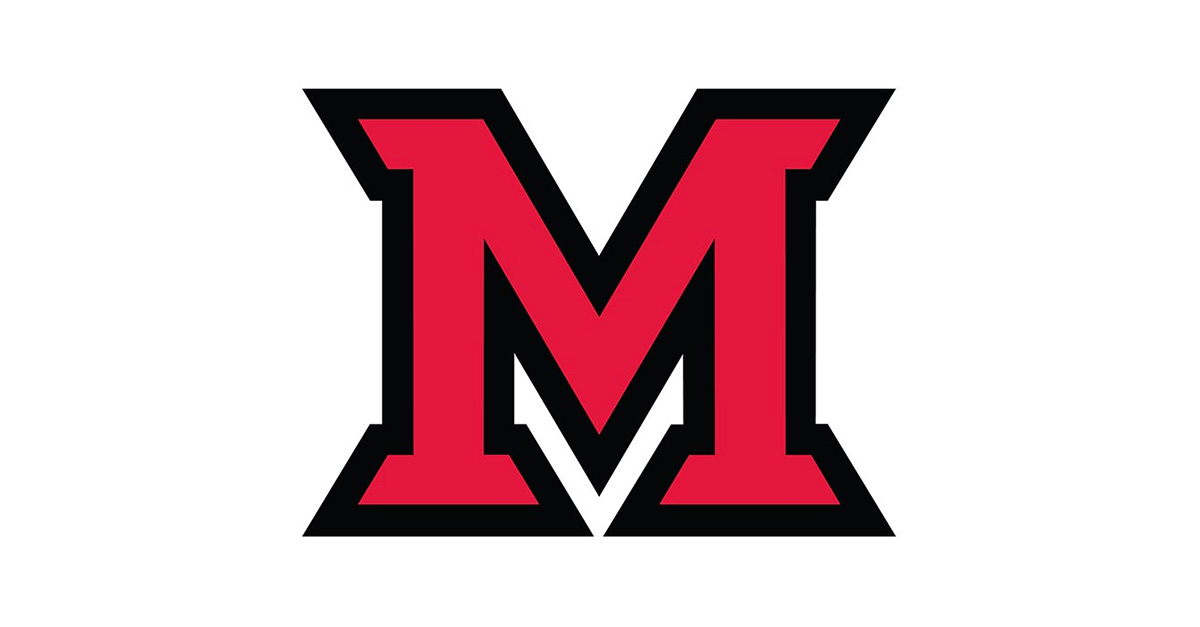 Mar 12, 2015
Shaw and Tate receive Jennie Elder Suel Distinguished Woman of Color Awards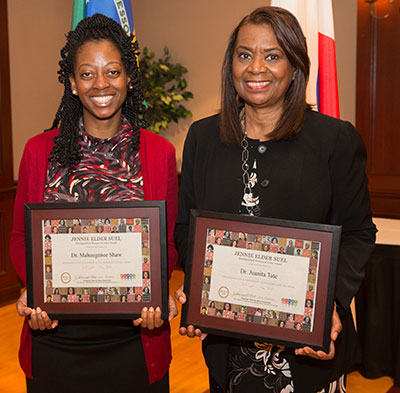 Mahauganee Shaw (pictured left) and Juanita Tate each received the Jennie Elder Suel Distinguished Woman of Color Award. (Photo by Scott Kissell)
Miami University employees Mahauganee Shaw and Juanita Tate each received the 2015 Jennie Elder Suel Distinguished Woman of Color Award.
They were recognized at the Celebrating Global Sisterhood (formerly Women of Color Celebration) reception Tuesday, March 10.
The award recognizes spirited women of color, particularly those who have been warm and welcoming to others. The award is named after Jennie Elder Suel, who received recognition in 1994. Suel volunteered in the Miami and Oxford communities by providing housing, meals and entertainment for Miami students.
Mahauganee Shaw
Shaw, assistant professor in educational leadership, came to Miami in 2012 as a visiting assistant professor and Heanon Wilkins Fellow. Now, she teaches and researches on topics related to student affairs in higher education.
As an active and engaged member of the Miami community, Shaw is one of the co-organizers of the Mobilizing Anger Collective. This is a group of Miami-affiliated people that strives to create space and community to process instances of injustice. The group organizes actions that make literal and symbolic statements about their shared commitment to social justice.
After receiving her bachelor's and master's degrees from the University of Missouri-Kansas City, Shaw completed her doctorate in higher education and student affairs from Indiana University. Through her research, Shaw explores crisis response and emergency preparedness in addition to faculty and student affairs practices.
Juanita Tate
Tate, director of diversity initiatives, creates and implements diversity programs for the office of diversity affairs. At Miami since 2000, she is committed to teaching students the importance of respecting others and celebrating diversity.
Striving to improve the health of African-Americans, Tate studied health planning and administration, receiving a master's degree from the University of Cincinnati.  She completed her doctorate in interdisciplinary studies from the Union Institute and University with a focus in health administration, education and gerontology.  Her research involved improving organ donation among African Americans.  She also served in various administrative positions including as a licensed nursing home administrator and as an administrator at IBM Corp.
Miami's women's center sponsors Celebrating Global Sisterhood and the Jennie Elder Suel Distinguished Woman of Color Award.