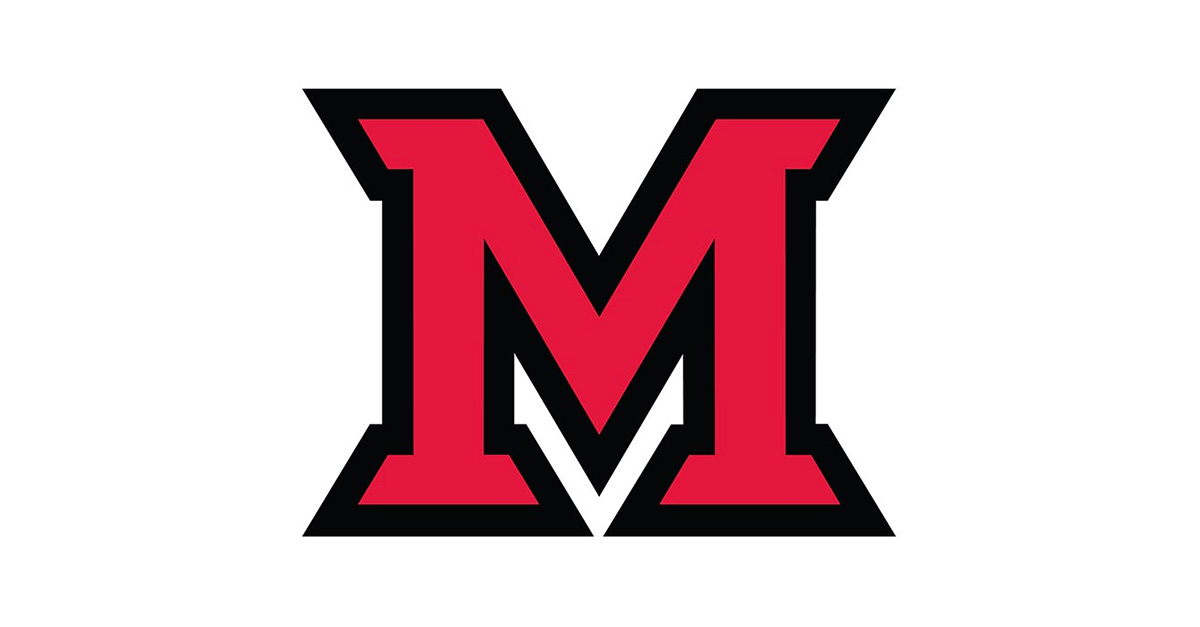 Apr 09, 2015
Miami students find a home in unique clubs and activities
A Miami Moment with JS Bragg
JS Bragg leads by taking the supporting role
JS Bragg teaches students leadership skills. Not by taking the lead himself, but by guiding with unconditional support — even at the midnight hour.
Bragg is assistant director of student organizations, and at Miami, that means more than 450 clubs covering a wide array of interests.
Read more about JS Bragg online.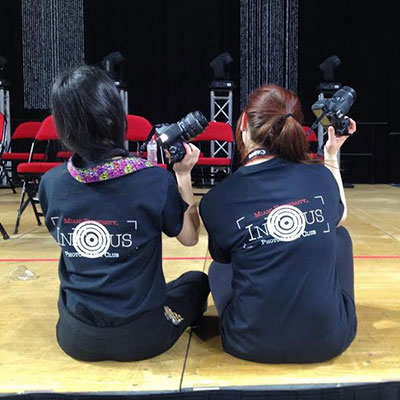 Photography club, one of the more than 450 clubs at Miami University.
By Mekenna Sandstrom, university news and communications intern
Looking to find your passion in life or share your interests with others? Miami students find that joining a club provides those opportunities.
Miami is home to more than 450 organizations, not including Greek life and club sports. This makes Miami truly unique among other universities, said JS Bragg, assistant director for student organizations.
"When you look at universities in comparable size, we have a lot going on," Bragg said. 
More importantly, however, student leadership is one of the many qualities Miami's clubs have.
"Students who join groups on campus are more likely to succeed in college," Bragg said. "The student leaders we have are extremely motivated and work to make everyone's experience at Miami the best."
The following is a sampling of the numerous opportunities available to Miami students.
Some students have a passion for photography
Inspired by two freshmen, InFocus Photography Club was born.
Senior Megan Romeo, co-president for the organization, says their organization is the first of its kind.
"We realized that Miami did not have any photography club, nor had there ever been one in the history of the university," Romeo said.
The club works to provide photography services to other organizations on campus. It also brings in professional photographers to talk with members.
One of the advisers for the club is Scott Kissell, university photographer. He believes the club fosters learning and passion.  
"It offers educational programming, hands-on learning, field trips and new friendships with people with a passion for photography," Kissell said.
Some students have a passion for body and balance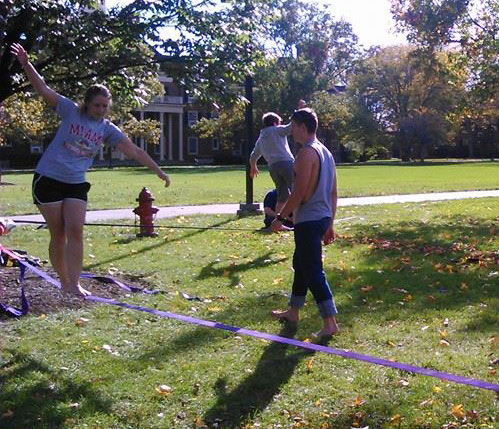 Slacklining is all about balance.
Have you seen a student balancing on a rope-like webbing tied between two trees? That's called "slacklining."
"It's a relaxing hobby, much like riding a bike is," said junior Jeremy Beard, president of Miami's club.
Although this activity may appear daunting at first, Beard says it is simpler than it seems.
"It just takes a certain amount of effort to get your bearings on the line," Beard said.  "After a couple times of slacklining, you will progress."
Slacklining clubs can be found all over the country. Beard wanted to share the experience with others.
"I know how great it feels," Beard said. "It's a great hobby and form of exercise that promotes focus, patience, health and well-being."
Some students are passionate about larger causes
Colleges Against Cancer (CAC) spreads the word on cancer awareness and preventative techniques both on and off Miami's campus.
The group's biggest event each year is Relay for Life.
Relay for Life invites people to come together to fight cancer with awareness and fundraising. It involves staying up all night to walk around a track with a team because "cancer never sleeps." 
This year the event will take place May 1-2 at Withrow Court.
"So many people have been touched by cancer, and it's a way for everyone to fight for a common cause," said senior Scarlett Shader, president.
Some students take up traditional hobbies
Each week, Knotty Knitters meet to knit and crochet items, including hats, scarves, blankets and creatures.
Senior Jessica DeWulf, president, says the club is always experimenting with their abilities.
"We have fun finding new projects to try out and see what we can create with a pair of needles and a ball of yarn," DeWulf said.
Each semester members of the Knotty Knitters make it their goal to create at least one item to donate to McCullough-Hyde Memorial Hospital for patients.
All skill levels are encouraged to join.
"You'd be surprised by how many college students, both male and female, know how to knit or crochet," DeWulf says. "It's just nice to have a break from the hectic college life for an hour each week."
Some students' interests are in the lab
The Miami Chemical Society (MCS) has been brewing science together for 15 years.

The inspiration for the club came when American Chemical Society developed a model to create student-affiliated chapters.

Each year the organization sells general and organic chemistry study guides for students.

Senior Megan Shroder, president of MCS, has been a member since she was a freshman.

"I joined this organization because it offered opportunities to meet mentors who are also interested in chemistry," Shroder said. "[It allowed me] to travel to national conferences to present my research."

Mekenna Sandstrom
Check out the Hub
Find out about Miami's organizations on the Hub, a website for student organizations.
With more than 450 student organizations, students are bound to find something to participate in and be passionate about.
About the writer:
Mekenna Sandstrom is a senior mass communications and journalism double major and an intern with university news and communications.
She also is a member of Miami Television News, Advocates for Animals, Sigma Alpha Iota Music Fraternity and Delta Delta Delta social sorority.