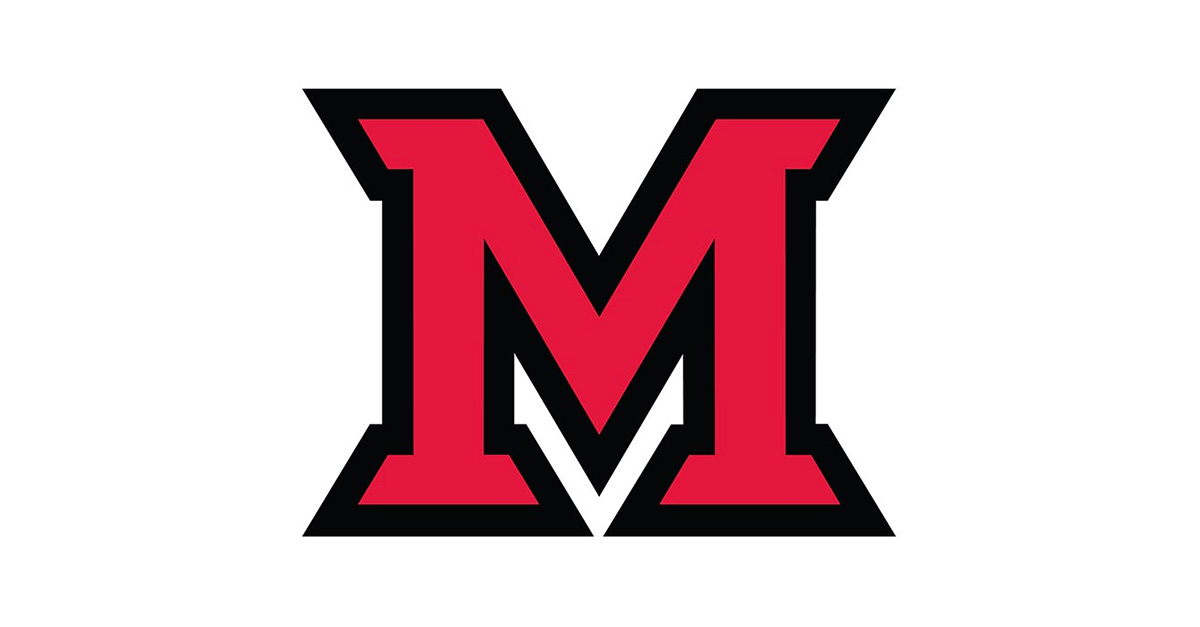 Apr 23, 2015
Miami Mock Trial places third at National Championship
By Susan Meikle, university news and communications, meiklesb@MiamiOH.edu.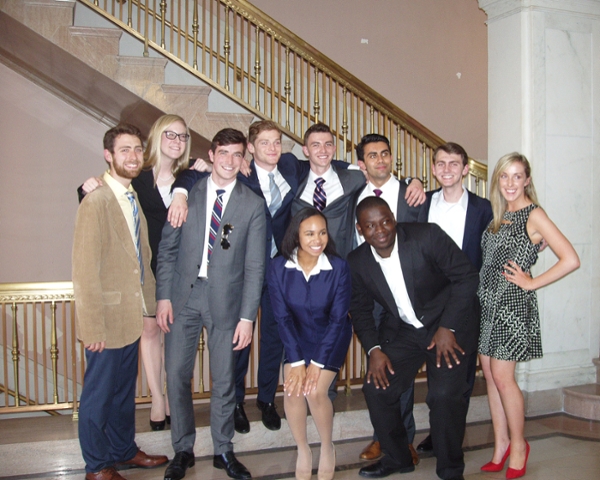 Members of the nation's  3rd place-winning mock trial team (left to right): Ben Sandlin, Danielle Kunkel, Matthew Meeks, Adam Korn, Jazmine Kee, John Spear, Imokhai Okolo, Najeeb Ahmed, Henry Leaman and Katie O'Keeffe (photo by Susan Meikle).
The Miami University James Lewis Family Mock Trial Program team placed third at the 2015 American Mock Trial Association National Championship Tournament held in Cincinnati, April 17-19.
This is Miami's eighth consecutive top 10 finish at the national tournament.
Junior John Spear won an All-American Attorney Award and sophomore Katie O'Keeffe won an All-American Witness Award, tying for the most ranks of any witness.
Forty-eight teams competed in the national tournament after starting the season with a field of approximately more than 600 teams from more than 350 colleges and universities — making collegiate mock trial the largest academic competition in the country. 
The 48-team national championship field is divided into two 24-team fields with the two first-place teams playing for the national championship.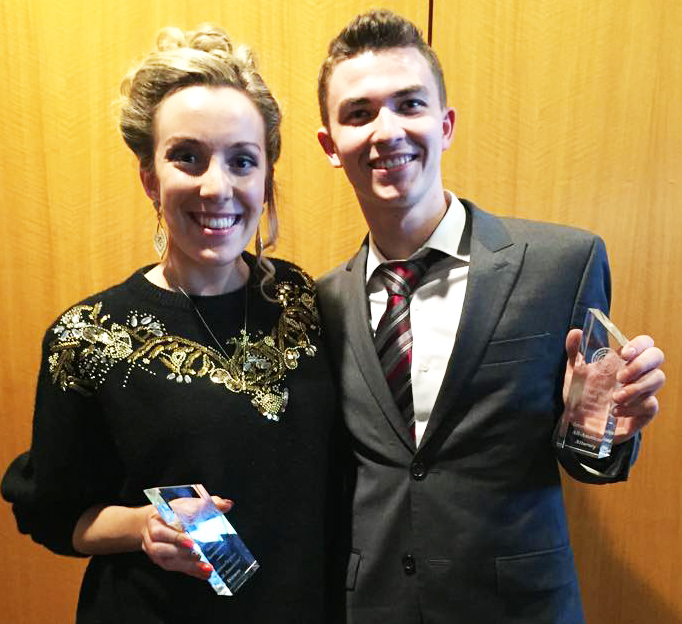 Katie O'Keeffe and John Spear, All-American award winners (photo by Henry Leaman).
The two divisional winners, playing for the national title, were Harvard and Yale universities. Harvard won the 2015 National Championship.
Miami's national championship team was coached by business legal studies professors and attorneys Neal Schuett, Jaime Glinka (Miami '10) and Gus Lazares (Miami '10) and fifth year senior Alex Block (member of Miami's national tournament top 10 teams, 2011-2014).
Miami's third place win is "another outstanding performance on a prominent national stage, with faculty bringing out the best from a cohort of amazing students, bonded together by a desire to excel," James Lewis (Miami '63) said.  
The national championship team members are: 
Najeeb Ahmed, junior finance major, political science minor
Jazmine Kee, sophomore international studies and media and culture double major
Adam Korn, sophomore philosophy major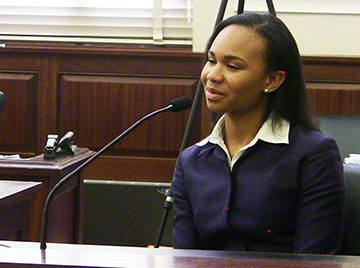 Jazmine Kee on the stand, portraying the defendant (photo by Henry Leaman).
Danielle Kunkel, first-year business economics major
Henry Leaman, sophomore history major, business legal studies minor
Matthew Meeks, senior zoology major, global health minor
Katie O'Keeffe, sophomore political science major, business legal studies minor
Imokhai Okolo, sophomore political science major
Ben Sandlin, junior chemistry major, business legal studies minor
John Spear, junior interdisciplinary business management and chemistry double major
Miami's mock trial program fields four teams each year. This year's "A" team won first place in the American Mock Trial Association Regional Tournament held in Oxford and included four seniors. 
Senior members of Miami's mock trial program and their post-graduation plans are: 
Monika Mudd, an English literature and history double major from Dayton; she will be attending the University of Louisville Brandeis School of Law. 
Matthew Meeks, a zoology major and global studies minor from Massillon; he will travel to the United Kingdom to pursue a master's degree in public health before attending medical school. 
Zachary Stevens, a senior finance major from Cincinnati; he will be working in business advisory at Ernst and Young in Cincinnati.
Taylor Seay, a senior strategic communication and political science double major from Shaker Heights; he will be pursuing a career in politics.
James Lewis Family Mock Trial Program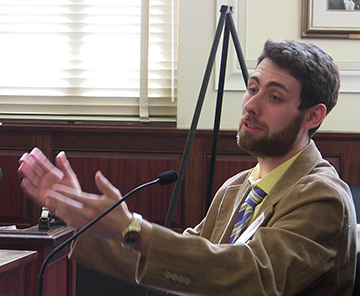 Ben Sandlin on the stand, portraying a witness. He is also a coach for the Talawanda High School mock trial teams along with Miami mock trial members Elias Demeropolis and Samantha Hobbs (photo by Henry Leaman).
The coaching staff also includes business legal studies professors and attorneys Lawrence Hilton and Laura Powell, and Dan Herron, professor of business legal studies and founder and director of Miami's mock trial program.
Zoebedeh (Zowoi) Malakpa (member of Miami's 2014 national tournament team) also coached the developmental team this year. He graduated in December 2014 with a psychology major and ethics and management double minor and will attend graduate school in psychology at Villanova University this fall.
Coach Alex Block, diplomacy and global politics and history double major, will be working in Washington D.C., after graduation for Sen. Dick Durbin of Illinois.
The James Lewis Family Mock Trial Program is housed in the Farmer School of Business and coached by the business legal faculty in the department of finance.  The program is open to all undergraduate students, with a tryout process in early September each year. 
For more information, go to mockhawk.com.
Miami, among the top three percent of collegiate mock trial programs in the country, has qualified teams to the Mock Trial National Tournament for 21 consecutive years, longer than any other program in the country except for Rhodes College.