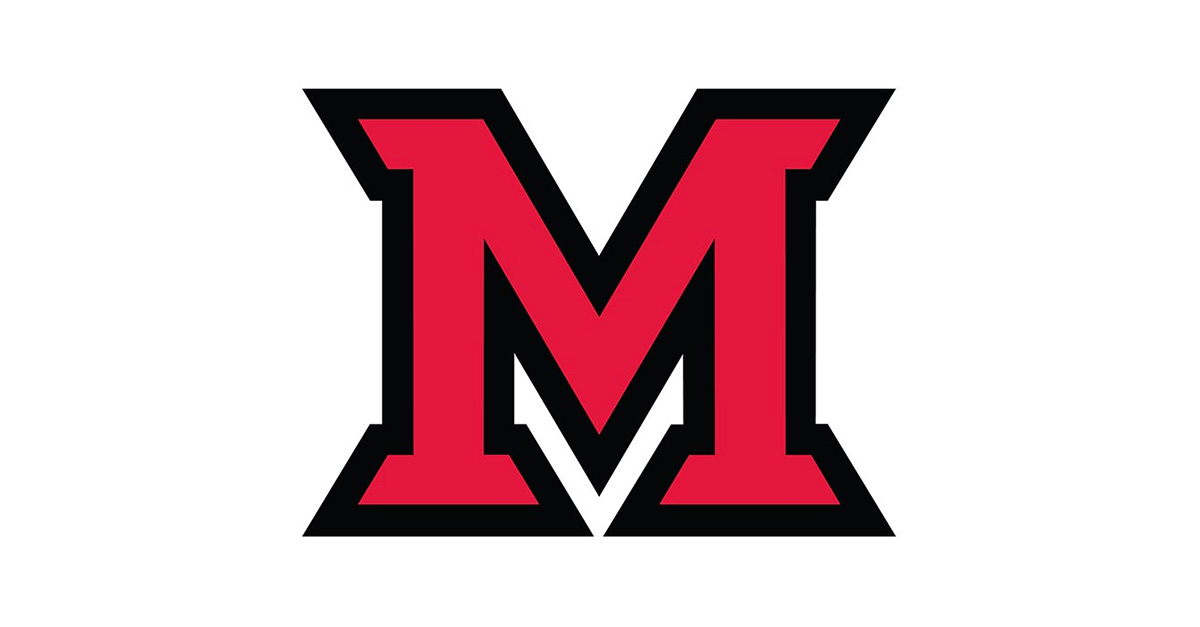 Apr 01, 2015
Dauch family gives back to Miami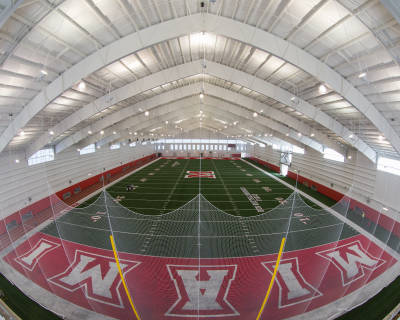 The David and Anita Dauch Indoor Sports Center
By Dave Meyers, Miami athletics
David Dauch, a former Miami University football player, and his wife Anita have made a significant impact on Miami athletics. Miami announced Wednesday, April 1, that the Indoor Sports Center, just north of Yager Stadium, will be named the David and Anita Dauch Indoor Sports Center.
"I want to thank David and Anita for being a catalyst on several fundraising projects for Miami athletics since my arrival," Athletics Director David Sayler said. "Both of them helped get the ball rolling on our facility master plan and have shown a major commitment to Miami athletics with the naming gift."
This 91,000-square-foot facility, which opened for team use in early February, features a full 120-yard football field that is used for all of Miami's 19 varsity sports. It has a synthetic field turf playing surface similar to Yager Stadium. Other features include netting for baseball, softball and golf, along with four 100-yard sprint lanes, a high jump area and a long jump pit. Storage space and an observation deck are also included.
A ribbon cutting ceremony will be held Saturday, April 25, in conjunction with the Miami Spring Football Scrimmage. The ceremony will begin with an open house at noon, followed by the ribbon cutting at 12:30 p.m. and 1 p.m. scrimmage. Those interested in attending the ceremony can do so by registering online.
"Anita and I are honored to have been given the opportunity to work closely with both President David Hodge and David Sayler on the future of Miami athletics and on this exciting project," David Dauch said. "Our goal was to provide a state-of-the-art facility that our student-athletes could train in year-round, thus elevating the athletic experience at Miami. We also feel that this facility will greatly enhance recruiting efforts that will ultimately build on our winning heritage and traditions. This differentiating project, along with the other athletic facility projects that are planned or are underway, will elevate the mission of Miami athletics to Graduate Champions."
David Dauch was a three-year letter winner for Miami from 1984-86, which included a Mid-American Conference Championship and an appearance in the California Bowl his senior season. That same year, Miami recorded one of its all-time upsets, a 21-12 victory over Louisiana State University.
Dauch obtained a bachelor's degree from Miami with dual majors in production/operations and purchasing management. He received an MBA from Michigan State University.
Dauch is chairman, president and chief executive officer of American Axle & Manufacturing (AAM), a Tier 1 automotive supplier of Driveline Systems and Metal Form Products. Leading up to his current role, Dauch held several positions at AAM, including president and chief executive officer, president and chief operating officer and executive vice president and chief operating officer. Prior to joining AAM in 1995, Dauch held several positions at Collins & Aikman Products Company, where he received the President's Award for leadership and innovation.
In addition to serving on the AAM board of directors, Dauch also serves on the Miami University Business Advisory Council as well as other private and public boards.
Anita Dauch, a Purdue University nursing graduate specializing in cardiac critical care, met David in Oxford. They have four children and reside in Bloomfield Hills, Michigan.
Miami has raised approximately $39 million over the past 25 months in private donations that will directly impact Miami student-athletes.
With the Dauch Indoor Sports Center complete, next on the list is the Gunlock Family Performance Center. This facility will feature a weight room, football locker room, offices for coaching staff, players' lounge, team meeting rooms, hydrotherapy area, student-athlete rehabilitation center, recruiting and equipment room and reception area. 
Earlier this season Millett Hall got a face-lift with the addition of red seats and improved lighting. The new weight and conditioning room inside Goggin Ice Center was completed prior to the start of the 2014-15 hockey season. The Legacy Project at Hayden Park is currently underway. Improvements there include locker rooms, offices for the coaching staff and a player's lounge. Expected completion is this summer.