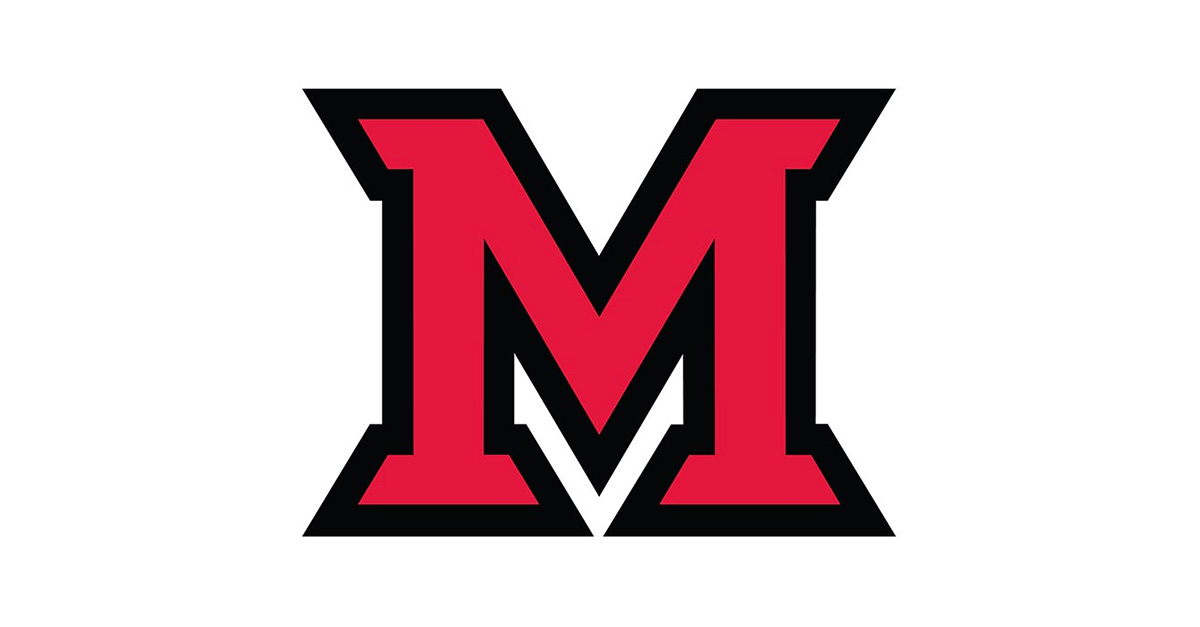 Apr 02, 2015
Student-athletes strive to put others first through community service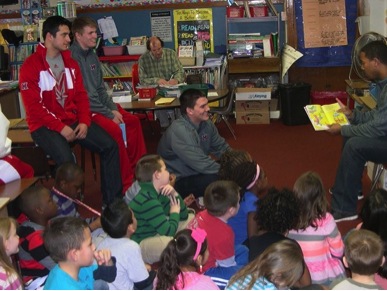 Miami's football team reads with students at Central Elementary in Fairfield
By Adam Marcum, university news and communications intern
Whether it's weekends on the road, home games or early morning practices and meetings, the schedule of a student-athlete at Miami University is a carefully constructed whirlwind of events that would make any college student cringe.

Yet despite their various commitments on campus, student-athletes at Miami managed to provide more than 600 hours of community service in the last nine months.

How did they do it? We sat down with Jennie Gilbert, associate athletic director, to find out.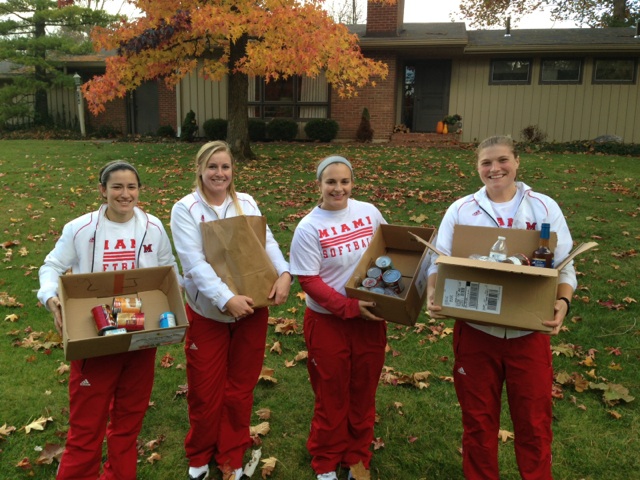 Members of Miami's softball team go door-to-door collecting donations for the Kiwanis food drive.
Q: What are some of the ways student-athletes give back to the community?

A: For several years now the athletic department has been involved in Feed My Starving Children. This year alone we raised $400 to pack meals for children in developing countries. We also volunteer at local school carnivals and challenge kids to participate in our Reading with the RedHawks program, for which Pepsi donates $1,000 to the top reader's school library. In addition, the winning child at each school wins a pizza party for their class where Swoop and the athletes might even make a surprise visit.

Over the holidays, student-athletes visited the Cincinnati Ronald McDonald House to prepare eight different meals for families and children staying there. Roughly 75 people were fed by the students at each meal, who not only cooked the meals, but raised funds and shopped for all of the ingredients as well. Bring Joy To A Child is another initiative of ours in the fall, when we purchase essential items and holiday gifts for needy families in Butler County.

Twice a month, athletes visit Cincinnati Children's Hospital Medical Center to make crafts and play games with children. When the kids are in isolation, they find new and creative ways to interact with each other, such as telephone bingo from the Seacrest Studio on the lower level. Sometimes the students have a hard time keeping up with the kids: It's always fun watching little girls beat the football players in a video game.

I'm also very excited about the upcoming Senior Prom at The Knolls of Oxford retirement community here in Oxford. We have been invited to dance and mingle with the residents there, who are some of our biggest and best fans. They come to every one of our events.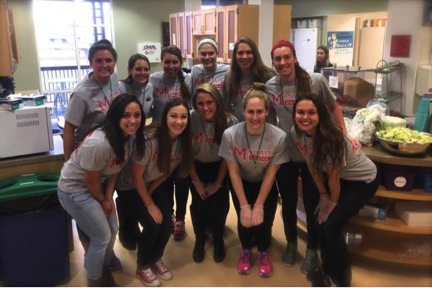 Miami swimming and diving team members visit Cincinnati's Ronald McDonald House.
Each team has its own initiatives with additional community service projects. For instance, our volleyball players enjoy working with Matthew 25 Ministries in Cincinnati, and the softball team holds skin cancer screenings at ball games in coordination with McCullough-Hyde Memorial Hospital.

Q: What is Swoop's Stoop?

A: Swoop's Stoop is a student-run organization created in 2010. It all started when Miami hockey goaltender Cody Reichard (Miami '12) started making regular visits with his teammates to Cincinnati Children's Hospital Medical Center and bringing kids back to campus to participate in hockey games. We still do this today, only now the entire athletic department is involved.
Swoop's Stoop even has a Facebook page.

Q: Who is responsible for maintaining Swoop's Stoop?

A: Student-athletes are running this organization. They are the ones coming up with fundraising opportunities, brainstorming ideas and handling the processes and procedures from start to finish. As their adviser I just answer questions and help them make connections. The planning of these initiatives requires the students to coordinate with others throughout the community and in the case of longer-lasting projects, ensure that next year's group can pick up where they left off.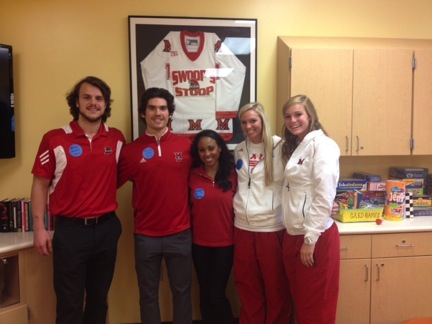 Swoop's Stoop members visit Cincinnati Children's Hospital Medical Center.
Q: What do student-athletes gain from the experience?

A: One of the most amazing things about these opportunities is that the athletes have a blast and meet some incredible kids and families along the way. Many students come away from the experience gaining more from it than the people they served. After the first one they're all in, they want to do more and more. It's important for us to remember that we are very privileged individuals to be able to attend college and play a sport, sometimes on full scholarship. These are excellent opportunities for us to give back to our communities to show them how much we appreciate them.

Q: What projects do the students have planned for the future?

A: We are raising money to create a playground on the roof of Cincinnati Children's Hospital Medical Center.  Student-athletes will work with the kids there to design and create the playscape that they want. This will be a challenging project as the helipad is nearby, so there are certain engineering and safety requirements that must be met.

We also have plans to invest in a special $20,000 MRI wrap for Children's. The wrap is made out of special materials so that it does not interfere with the MRI machine. We're trying to help the hospital create a less intimidating environment for the children who come in for testing. For example, one hospital had an underwater-themed room where the MRI was made to look like a submarine. Another was a beach scene with a sandcastle children can explore.
Both of these projects will take some time, but we are always looking for new ways that both the students and our community can benefit from our service.