Jun 04, 2015
Miami ecologists: Algae in lakes within agricultural watersheds shift to more harmful species during droughts
Effects of climate variation and drought on algae in lakes depend on land use
By Susan Meikle, university news and communications.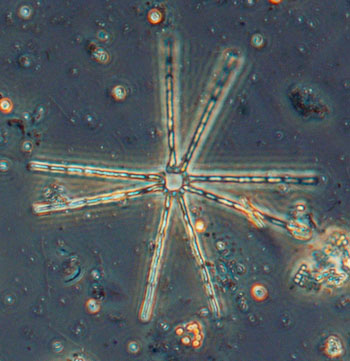 Asterionella formosa, a common species of lake phytoplankton (algae) (photo by SERC).
Climate change models predict more frequent and intense summer droughts for many areas, including the Midwest.  A study of Ohio lakes led by Miami ecologist Nicole Hayes shows that effects of climate variation, specifically droughts, on algae depend on land use — whether a lake is in a forested or agricultural watershed. 
If seasonal drought becomes more common and the shift to more harmful algae species occurs more frequently, there is the potential for more water-quality advisories associated with nitrogen-fixing cyanobacterial toxins, the study authors said.
During droughts, the types of blue-green algae (cyanobacteria) that dominate lakes in agricultural watersheds — such as nearby Acton Lake in Hueston Woods State Park — shift toward a higher proportion of species that can use nitrogen from the atmosphere (nitrogen fixers), the researchers found.

The blue-green algae Anabena, a nitrogen-fixer (photo courtesy ASLO).
"These species often cause water quality problems, including toxin production, so the shift during droughts has the potential to deteriorate water quality and impair ecosystem services" such as drinking water, fishing and recreation, Mike Vanni, professor of biology and a co-author of the study, said. 
Since 2010, 12 Ohio reservoirs have had detectable levels of microcystin, one of the most prevalent cyanobacterial toxins.
Last summer a state of emergency was declared in Toledo after samples from a water treatment plant tested positive for microcystin, which was the result of abundant cyanobacteria in Lake Erie, the water source for the greater Toledo area.
Algae (phytoplankton) photosynthesize like plants and require light and nutrients — carbon (C), nitrogen (N) and phosphorous (P) — to grow.
When one nutrient in a lake is found in excess over the other, phytoplankton are "nutrient limited" by the less abundant nutrient.
Thus, algae populations are sometimes called "N limited" or "P limited." 
The rates at which N and P move from watersheds into lakes are affected by watershed land use — such as whether the landscape is forest or cropland — and thus may determine if algae are N or P limited.
How does drought status affect algae nutrient limitation in lakes with forested or agricultural watersheds?
Nicole Hayes and Mike Vanni (below) sample Acton Lake.
The researchers tested their hypotheses in 42 human-made lakes (reservoirs) across Ohio over a 12-year period.
Three lakes were sampled every two weeks for 6–12 years:
Acton Lake, with a watershed 81 percent agricultural, 12 percent forested.
Pleasant Hill Lake, with a watershed 41 percent agricultural, 46 percent forested.
Burr Oak Lake, with a watershed 6 percent agricultural, 83 percent forested.
The remaining 39 lakes were sampled less frequently,
although they were visited at least once a year during the study period.
Across the 42 lakes, researchers found that for algae in lakes in forested landscapes, growth is almost always limited by nitrogen, regardless of the climate.
Algae in lakes in agricultural watersheds, such as Acton Lake, are usually P limited, but during very dry summers nitrogen becomes the limiting nutrient, Vanni said.
The researchers found that droughts also promoted N-fixing cyanobacteria in these lakes. These species often cause water quality problems, including toxin production, so the shift during droughts has the potential to deteriorate water quality.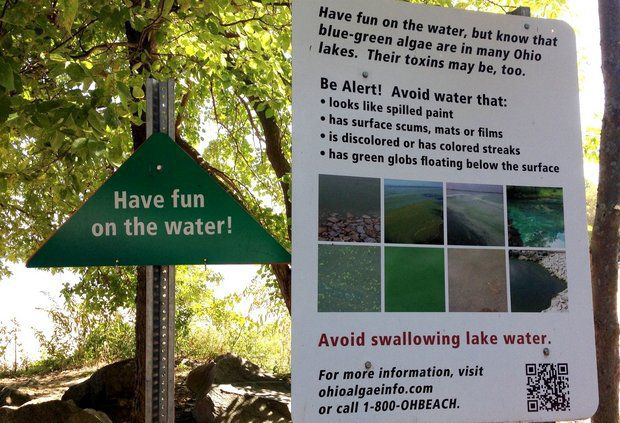 Warning sign, Kelleys Island State Park, Lake Erie (photo by Rich Exner, Northeast Ohio Media Group).
The interaction between land use and drought is likely to impair ecosystem services provided by lakes — including drinking water, food resources and recreational services — in addition to degrading food resources for fish and other aquatic organisms, the study authors said. 
Hayes received her doctorate from Miami in ecology, evolution and environmental biology in May and is now a postdoctoral fellow at the University of Regina, Saskatchewan, Canada. Vanni is her doctoral adviser. The other study authors are William Renwick, professor of geography, and Martin Horgan (Miami Ph.D. '05 ).
Their study, "Climate and land use interactively affect lake phytoplankton nutrient limitation status," was published in the February 2015 issue of Ecology.