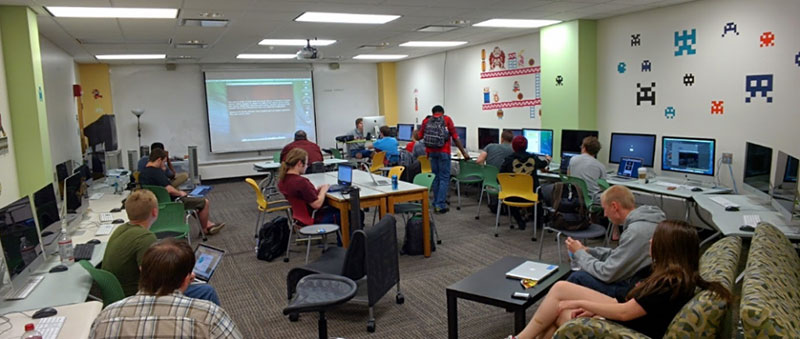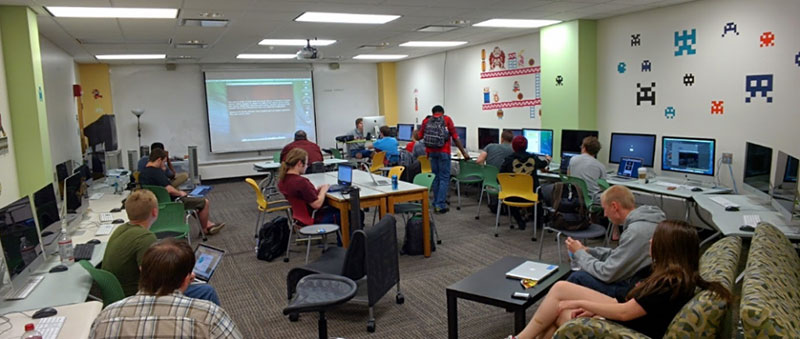 Miami University Libraries put together resources including a well-stocked game lab.
Jun 03, 2015
Miami's game design program scores high in national ranking
by Kristal Humphrey, university news and communications
Miami University's digital game studies program has been ranked No. 12 among public universities and colleges in the United States and No. 33 overall by Animation Career Review (ACR).
Miami's program was also ranked No. 4 among universities and colleges in the Midwest.  



Students learn game design through an interdisciplinary program with collaboration among several academic departments at Miami.
Miami's digital game studies program is interdisciplinary, with collaboration among the Armstrong Institute for Interactive Media Studies (AIMS); the departments of art, English, computer science and software engineering, and teacher education; and the University Libraries.
Among the Miami programs that ACR highlights are a master's degree in experience design, a bachelor's degree in interactive media studies, the opportunity to study at the AIMS/Entrepreneurship Institute's Digital Innovation Center in San Francisco and co-majors and minors.
ACR is an information source for aspiring animation, design and gaming professionals seeking schools, colleges and training programs. It surveyed hundreds of schools that offer programs geared toward animation or game design. Criteria used in compiling the rankings included:
Academic reputation.
Admission selectivity.
Depth and breadth of the program and faculty.
Value as it relates to tuition and indebtedness.
Geographic location.
ACR included geographic location due to advantages students have in major cities that are considered animation/gaming meccas. Miami is the only Ohio university on the list of top overall programs and the top Ohio school on the other two lists.

The complete results of this year's list are available here.