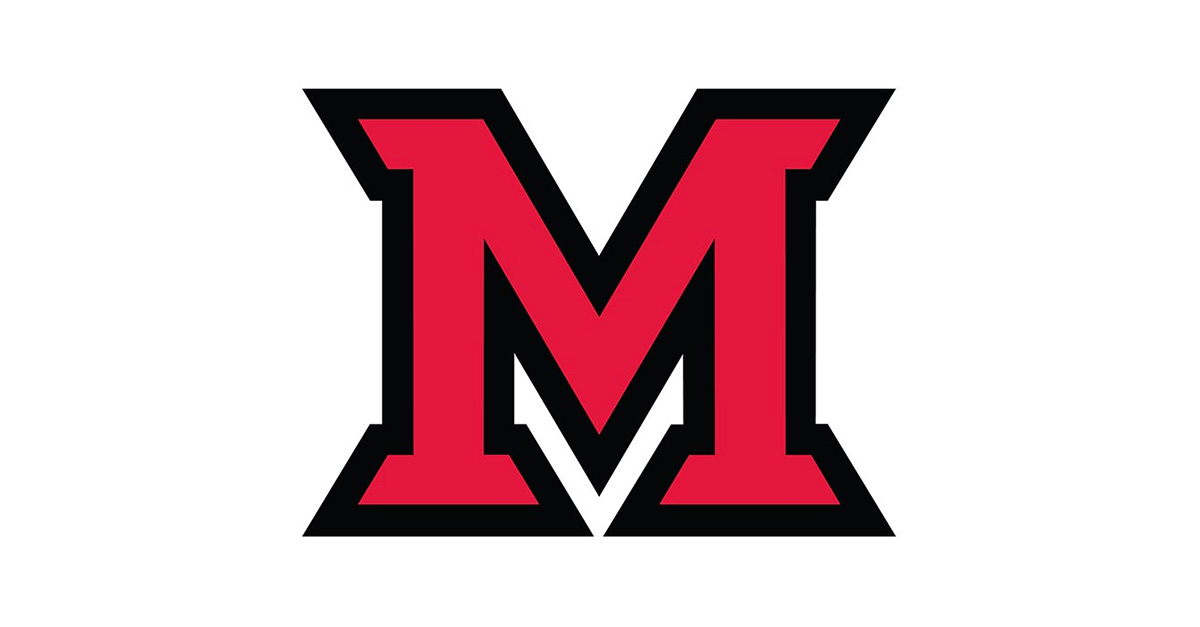 Jun 18, 2015
Ready, set "Go Baby Go": Engineering students help children get moving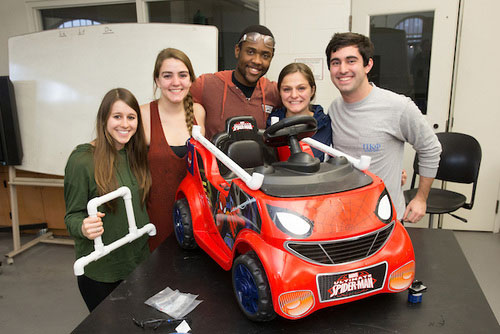 Modifications to this toy car help children with mobility disabilities move. L to R; Lindsay Silver, Kaylene Kelly, Isaiah Fleetwood, Anna Almquist, Colin Petrello
by Ritter Hoy, university news and communications
With just some PVC pipe, foam pool noodles and basic electronics, Miami University engineering students designed a way for local children with mobility disabilities to move.

The students worked with the GoBabyGo! program, which outfits battery-powered kid-sized cars with modifications, making mobility a reality for children with disabilities. The program is administered through the Butler County Board of Development Disabilities.

"Being able to move and explore is crucial for a young child's speech development, cognition and growth," said Wendy Planicka, community relations coordinator of the county board. "The cars empower kids to be a part of the action at home, in day care and on the playground."

The cars are therapeutic tools that prevent isolation and spawn curiosity. But the board's car inventory, modified only with push-button starts, didn't address various mobility disabilities.

"We were using the blueprints we got from the national GoBabyGo! program," said Planicka. "But not all children have the same abilities. Having one start button wasn't helping the kids who aren't able to move their arms but can use their heads."

Miami students — Anna Almquist, Isaiah Fleetwood, Kalene Kelly, Colin Petrello and Lindsay Silver — stepped in to design cars to help all children, regardless of their disability.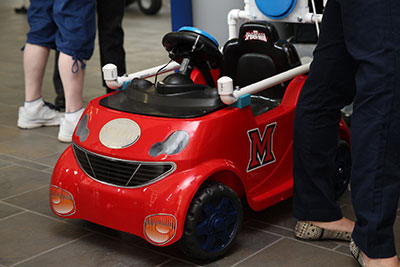 "I hope our prototype car will help physical therapists build better, more personalized cars for each child's specific needs," said Kaylene Kelly.
The students designed a prototype motorized toy vehicle the board will use when assessing a child's mobility challenges. In addition to a push-button start, the test car also has a head-starter and stand-starter.

"We gave the therapists, parents and children safer and more reliable options," said Silver, a senior majoring in mechanical engineering. "We designed a test vehicle to help them tailor a car to any child's specific needs."

But it took the students more than just one trip to the hardware store for supplies to get their design right. In the fall, the group selected a toy car to base their design on, but it was discontinued before they could order it. They started from scratch in the spring with a new model. Spring semester meant students not only designed the modifications but also built the car to meet the deadline.

The student engineering group displayed its finished product at the College of Engineering and Computing (CEC) senior design expo. The annual design expo showcases CEC students' work on senior capstone projects. Students select a project at the beginning of the year and form teams to complete client work before commencement.

"In the engineering field," Silver said, "most jobs are part of a big production to help a company with something minor, and the designs are never used. GoBabyGo! has a direct impact on therapists and children. There is no better feeling than creating something completely new that will help change someone's life."

The students who worked on the GoBabyGo! project said their decision was simple. They wanted to help.

"I need to feel I am impacting someone on more of an emotional level to do my best work," explained Fleetwood. "The other projects didn't offer a human-service factor."

Kelly, who's now working as an operations supervisor with Exel in Columbus, loved working with and helping children.

"I made a difference with this project," she said.

Almquist agreed with Silver, "I plan on incorporating service into my future, and if my engineering skills are needed, I will be fully amenable to using them to help others."

As for Fleetwood, he knew he didn't want to work in a factory, but he wanted to contribute to the field through human service projects.

"After working with GoBabyGo!, I know I can do both."

The students' project was delivered to the county board earlier this month. The cars are offered to clients at no cost with funding from the Haunnah Meyer Memorial Fund. Almost 20 local families have benefitted from the GoBabyGo! program in Southwest Ohio.