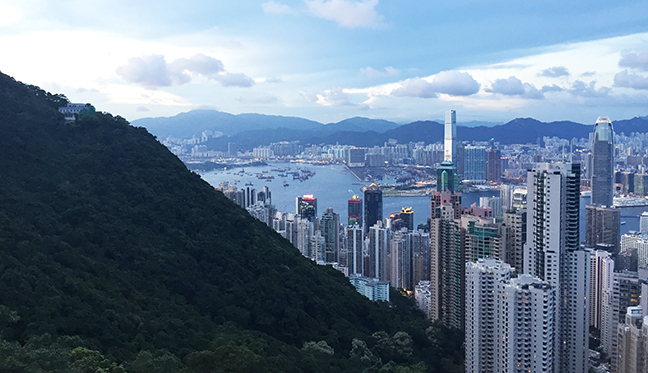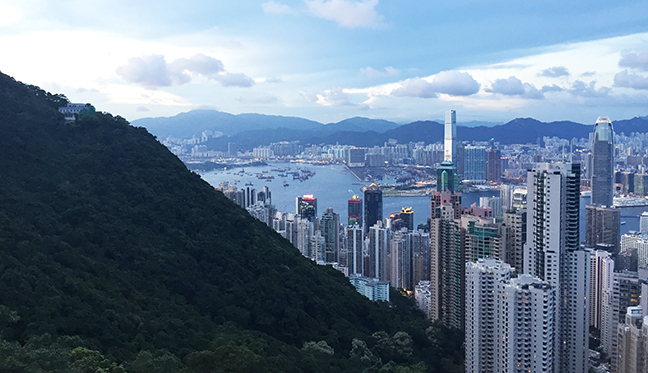 View of Hong Kong's Victoria Harbour, situated between Hong Kong Island and Kowloon (photo by Gabrielle Garlitz).
Jul 16, 2015
19 Miami students + 15 companies in Hong Kong = one unforgettable summer internship experience
By Margo Kissell, university news and communications, kisselm@MiamiOH.edu
"Booming with opportunity" is how one Miami University junior describes Hong Kong. She is among 19 students from Miami's Farmer School of Business completing internships at 15 companies there this summer.
This is the second year the FSB has offered the summer international internship program. Last year, 14 students interned at 10 companies in Sydney, Australia.
"Hong Kong is one of the financial centers of Asia and offers good cultural and business opportunities for our students," said Terri Feldman Barr, senior director of FSB's international programs and professor of marketing.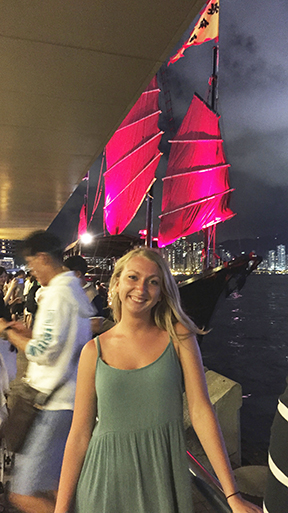 Hong Kong internship program member Gabrielle Garlitz  at Hong Kong's Victoria Harbour.
Barr and Zafer Ozdemir, professor of information systems and analytics, accompanied the students to Hong Kong for the May 20-Aug. 1 program that offers valuable work experience and six credit hours.
Companies sponsoring the internships include Ernst & Young, LexisNexis, Burberry, Landor, DHL, AIA and RR Donnelley.
Gabrielle Garlitz, a junior marketing major and interactive media studies minor from Cleveland, is working at Burberry's Asia headquarters. She called the experience "life changing."
Garlitz said she stays busy creating weekly sales reports, comparing the year-over-year product sales data; helps prepare merchandising orders that will be shipped to each store location throughout Asia; and assists in creating a merchandising strategy as the team gears up for the 2016 spring and summer sales seasons.
"The Asia market is growing so rapidly in the business world," she said. "Hong Kong especially is booming with opportunity."
Garlitz said this nearly 8,000-mile journey — a giant step outside her comfort zone — also has taught her a lot about herself. She has learned to open her mind to new concepts, whether it's working on a project with co-workers from Hong Kong, exploring culturally significant landmarks such as the Big Buddha and the Tin Hau Temples, or eating traditional Chinese cuisine with chopsticks.
"You realize that the American Dream isn't the only way of life," she said, "and that there are endless possibilities that we never even thought of all across the globe."

Hong Kong cuisine (photo by Terri Feldman Barr).
Cultural competency and company visits
The Farmer School of Business received a Freeman Foundation grant of approximately $100,000 to help defray program and travel costs for students, said Tim Greenlee, FSB's associate dean for curriculum and professor of marketing.
The 11-week program includes coursework and placement in internships, allowing students to put into practice what they have learned in the classroom. Some classes are associated with building cultural competency and developing career-related skills, Barr said.
The students stay in a hotel and eat at local restaurants. They also have participated in company visits (Uber, Cathay Pacific, Swire Group and others) and have met with Miami alumni who live and work there.
Barr said interning in Hong Kong addresses one of the requirements for students in FSB's China Business Program, who must spend the equivalent of one semester in China or Hong Kong.
"These students have some capabilities in Mandarin, too, so this is a great opportunity for them to utilize that, as Mandarin is one of the official languages of Hong Kong, along with Cantonese and English," she said.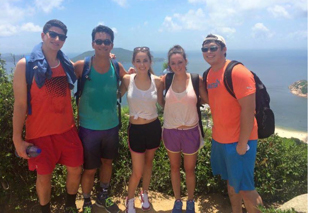 Intern participant Isaac Shapiro (far left) on Dragon's Back mountain.
Exploring both the metropolis and the mountains
Isaac Shapiro, a junior supply chain operations management major with a Chinese minor from Highland Park, Illinois, pursued an internship in Hong Kong because he thought it would help him best prepare for his future while giving him a chance to explore the vibrant metropolis with traditional Chinese and western British influences.
Shapiro, who is in FSB's China Business Program, is working for Smart Shirts, Ltd., a 60-year-old clothing company based in Hong Kong that makes dress shirts and sportswear for places like Nordstrom, Polo and J. Crew. Part of his job has entailed trying to solve a price variance issue, he said.
Meeting with Miami alumni "helped ease me into this culture change," Shapiro said.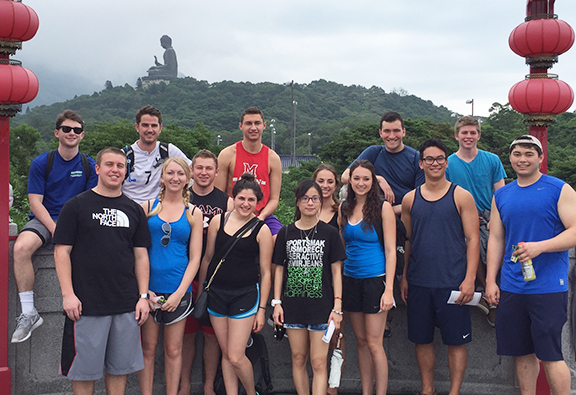 Hong Kong internship program members, with the Big Buddha (Tian Tin Buddha) in the background. Big Buddha, 112 feet tall, faces north to look over the people of China (photo by Terri Feldman Barr).
Shapiro said he has really enjoyed "exploring the part of Hong Kong people don't really think about: the mountains. You can be in a very urban busy area, and twenty minutes later hiking these large mountains over the water."
Ozdemir said he hopes the students return with an appreciation of the Chinese culture and an interest in spending part of their careers in Asia.
Reading the students' written reflections on visits to companies such as Uber, PwC, and Commonwealth Bank of Australia has already shown Ozdemir many would like to work for those companies one day. He finds that very encouraging.
"The Hong Kong internship experience will be invaluable when this batch of students apply not just for full-time jobs based in Asia but also for jobs based in the U.S., because experience in Asia is becoming more important for U.S. companies," he said.