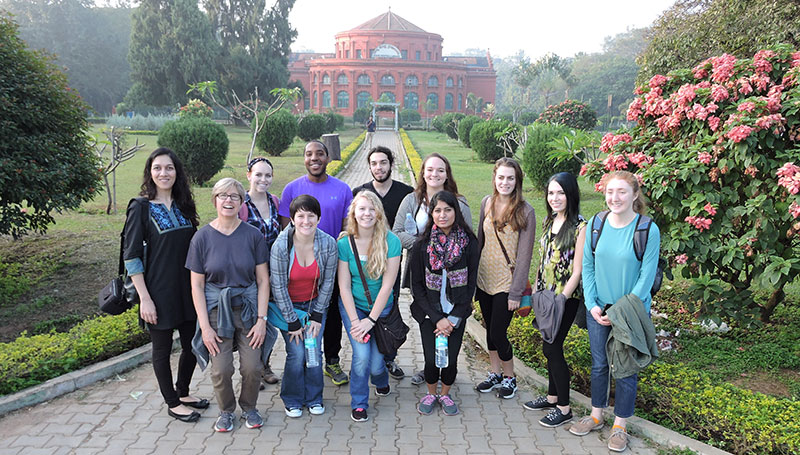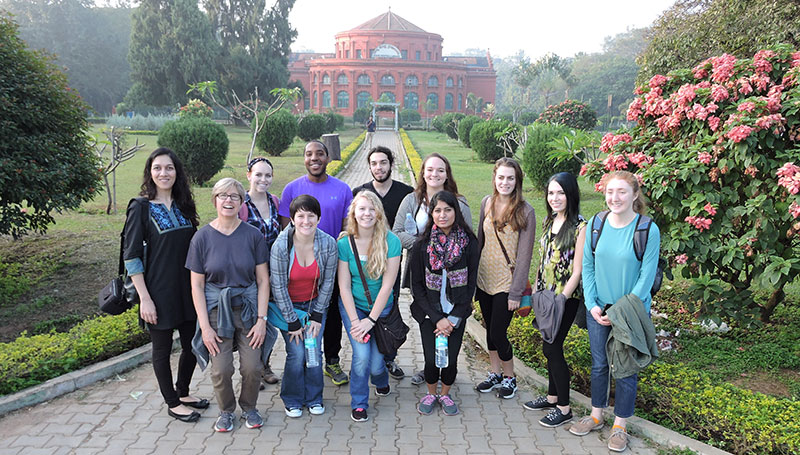 Vaishali Raval and Miami students in Bangalore, India. Raval says culture matters in mental health.
Jul 16, 2015
Miami professor leads an international team to create cultural-centered mental health education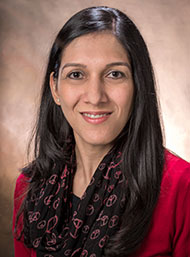 Vaishali Raval
by Carole Johnson, university news and communications
They may be as subtle as pronoun use, but cultural differences take on significance for mental health professionals, according to Miami University's Vaishali Raval, who will lead a team to develop teaching curricula with a global perspective.
Miami is one of only four institutions in the U.S. to receive a $190,000 grant (effective fall 2015) from the Indo-U.S. 21st Century Knowledge Initiative distributed by the U.S. Department of State. Miami shares the grant with the department of psychology at Christ University in Karnataka, India.
Raval, an associate professor of psychology, became aware of the need for more culturally-centered teaching tools while visiting Christ University. Much of what faculty there use in curricula is from a Western perspective, which fails to take into consideration Eastern cultural differences and the tremendous diversity within India, she said.
Case in point is the use of pronouns. In Eastern cultures, the emphasis is on the 'we' perspective as opposed to the 'I' or individualistic-centered way of thinking found in Western cultures.  Raval explains that people suffering from mental health illnesses like depression may experience different symptoms depending on their culture.
For instance, in Asian cultures, people describe frustration in not being able to fulfill their societal duties: as a daughter, wife or coworker. In Western cultures, patients focus more on internal symptoms, such as sadness or hopelessness.
"This means that Western methods of diagnosing and treating mental health issues don't necessarily work in India and other Asian countries," she explained, "because of this way of thinking."
Members of the Christ University team also stressed the importance of gathering data to diagnose and treat patients and incorporating cultural elements, mirroring a national call for more local research by India's government in its 2014 mental health policy update.  This too is consistent with the guidelines on multicultural education and training of psychologists by the American Psychological Association.
At home, Raval and her colleagues in the psychology department discussed at length ways to provide a more global perspective for students at Miami. 
"This is a great opportunity to enhance the expertise of our faculty, increase our students' cultural awareness and train equally competent public health professionals," Raval said about the grant.
The grant's components include:
Assess training needs of students, faculty and community practitioners.
Assess needs of patients experiencing mental health difficulties and of their families for culturally sensitive care.
Develop a training model for postgraduate curriculum at both institutions.
Promote development opportunities for junior and senior faculty at both universities through exchange visits, workshops and peer-mentoring groups.
Promote professional development for current mental health practitioners "on the ground" through on-site and online certificate programs.
Develop a resource center that provides e-content and consultation to other postgraduate training programs.
Although the focus is the graduate-level student, Raval is enthusiastic that Miami's undergraduate students also will benefit.  Plans include conducting classroom visits with Indian faculty to reach Miami students from various disciplines: nursing, family studies, counseling, education and others.
"Emerging research shows that culture matters," Raval said, whose goal is to take a step further and ask, "What is it about culture that matters?"
(See a full 4 minute video of Raval's discussion about why culture matters online on the Miami News YouTube Channel.)
In November 2009, Prime Minister Manmohan Singh and President Barack Obama announced the Indo-U.S. 21st Century Knowledge Initiative as an affirmation of their commitment to building an enhanced India-U.S. partnership in education.  Each government pledged $5 million for this endeavor, for a total of $10 million.
Joining Miami in 2007, Raval's research examines emotion communication in the family context and child health outcomes in international populations and ethnic minority groups in the United States, particularly Asians and Asian Americans. She received the American Psychological Association's Division 52 Early Career Professional 2014 Award.