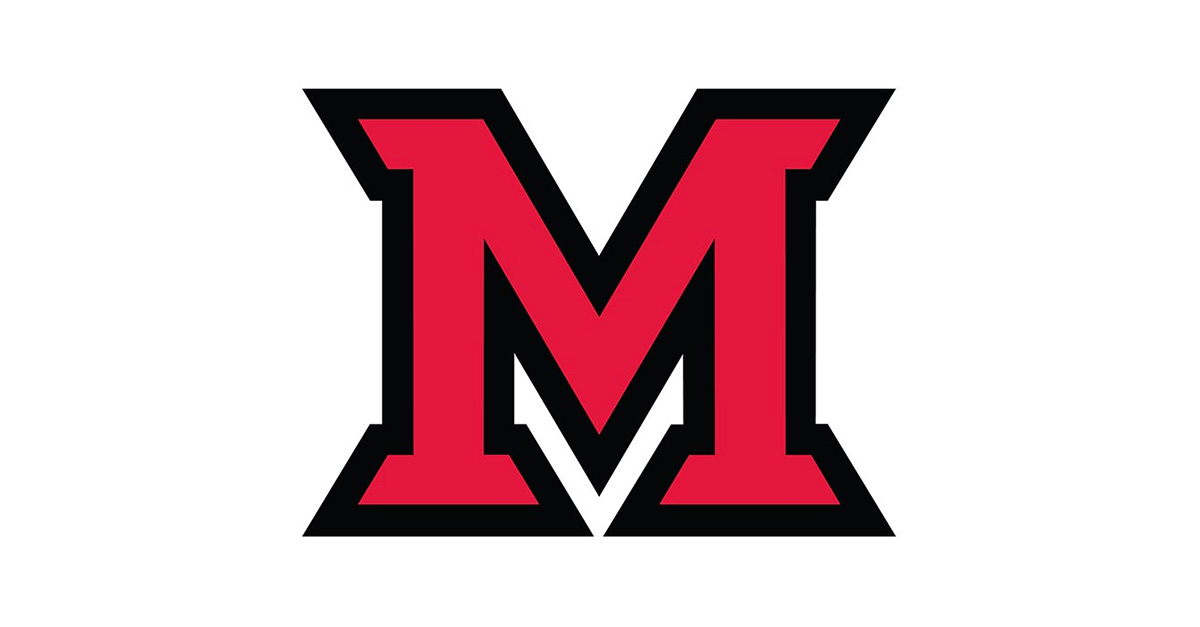 Aug 05, 2015
Miami's Buddies chapter best in the country
President of Best Buddies proud of the title he never expected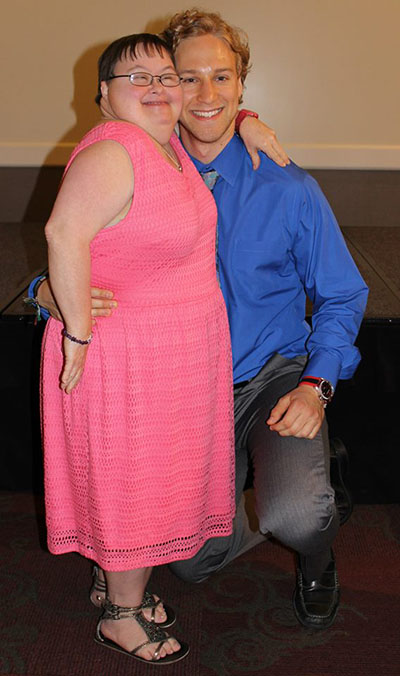 Daniel Persson with Donna Puckett.
by Ritter Hoy, university news and communications
As a first-year student, Daniel Persson just wanted to join a club. He was approached by Best Buddies at Mega Fair, and now the senior psychology major from Girard, Ohio, is the president of Miami's top ranked chapter. Persson says he's proud to be known on campus as the "Best Buddies Guy," and it's a title he wasn't ever expecting.

Q: What did you know about Best Buddies before you became a member?
A: I knew Best Buddies worked with people with intellectual or developmental disabilities, but that was it. I had no idea what to expect. The recruiting members were so energetic and their excitement was contagious, and I've been hooked since the first informational meeting.

Q: What have you learned through your three-year membership with Miami's Best Buddies chapter?
A: This organization has taught me a tremendous amount—everything from leadership, communication and patience, especially patience. In Best Buddies, you have to be very patient with your friendships and let them grow at their own rate. As I started trying to make new friends through Best Buddies I've learned to let people open up at their own rate.

Q: How do you apply patience as a leader?
B: Being a leader in any college organization, you have to be very patient when it comes to working with other college students. Students are so busy and sometimes forgetful, and as the president of Best Buddies, I have really had to learn to be more patient when it comes to collecting T-shirt payments or registration forms.

Q: What did you learn that surprised you most?
A: When I first joined, I only expected to learn a little bit about disability rights and its history, but I have learned so much more. I learned how to be a real friend. My friendship with my buddy (Nick) is real, and I will always have this amazing friendship with him. Spending time with him isn't a requirement for me. We're both busy, but we always make time for each other.

Q: How will your role as president of Best Buddies affect your life after you leave Miami?
A: Best Buddies has created this passion and drive within me for disability rights and equality for all of mankind. I will continue to be an advocate for inclusion and equality throughout my life.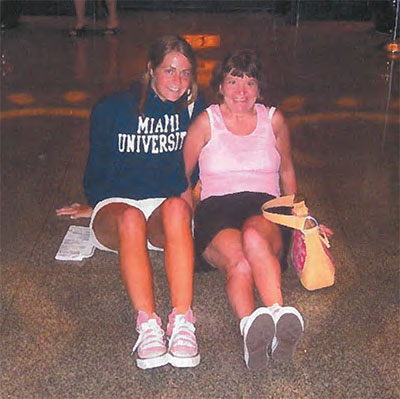 Jody Mann and Stefanie Hayes modeling their matching pink hi-tops.
by Ritter Hoy, university news and communications
Jody Mann would tell you she knew she had the perfect match 11 years ago when she met Stefanie McAnall.
"We showed up wearing the same pink Converse high-tops, and I knew she was going to be my friend forever," said Mann, a Best Buddies ambassador with the Butler County Board of Developmental Disabilities (BCBDD).

Mann, she was right. Mann was in the church this year when her buddy became Mrs. Stefanie Hayes.

"The Miami University Best Buddies program has brought so much joy and friendship over the last 11 years," said Connie Mehlman, advocacy coordinator for the BCBDD and host-site coordinator for Miami's Best Buddies chapter. "The friendships continue as students graduate."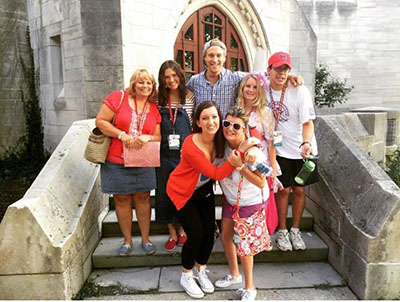 Miami's Best Buddies won the "Most Outstanding" Chapter Award for its efforts in the 2013- 2014 academic year. Front Row L- R; Tanner McClellan, Jody Mann, Back Row L-R; Connie Mehlman, Anna Baich, Daniel Persson, Macy Fraylick, Jonathon McDowell.
Mehlman and then senior Ashley Johnson founded the Best Buddies chapter at Miami in 2004. The club, which has grown to include more than 250 participants, is still categorized as an expansion program and doesn't have a state office.
"Our chapter doesn't have the resources or funds that other chapters do," said Tanner McClellan, a senior kinesiology major and founder of Miami's Best Buddies Friends Choir.

Knowing how it feels to be the underdog made victory sweeter for Miami University's Best Buddies program when members learned that they won the Overall Most Outstanding College Chapter of the Year Award at the Best Buddies International Leadership Conference last month.

"It's a huge deal considering the number of competitors," said Mehlman. "It proves the dedication of this organization and students."
More than 430 chapters up for award
Miami was up against more than 430 college programs from around the world, many of which have state offices. Schools were evaluated on the amount of awareness raised in the community by the chapter and the quality of friendships established through the program.

"The award is great, but the lasting impact the Best Buddies program has on all the students is what's most important," said Mehlman.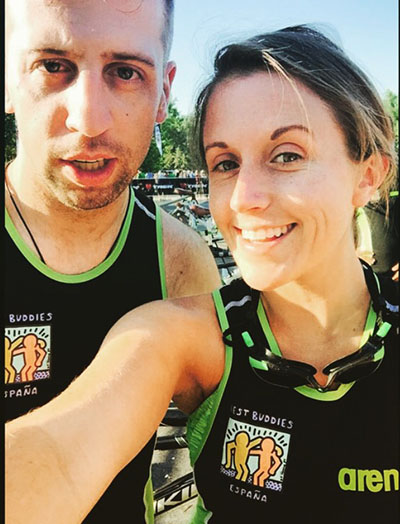 Jennifer Allen with her buddy Antonio after completing a triathlon in Madrid.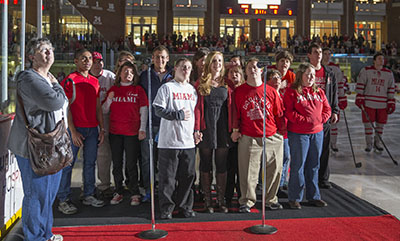 Best Buddies Friends Choir performing the national anthem at a Miami hockey game.
Jennifer Allen knows firsthand. She found her life calling after joining Best Buddies her first year at Miami.
Finding a job for life
Soon after graduation in 2011, Allen accepted a position at the Best Buddies International headquarters in Miami, Fla. In three years, she visited more than 15 countries to promote social inclusion for people with intellectual disabilities. She was recently transferred to work more closely with Best Buddies Europe and is based in Madrid, Spain.
"An opportunity I was given my freshman year at Miami has profoundly shaped my life and career path," said Allen. "I can only imagine that other students who participated in this club are forever impacted."

McClellan is one such student. She founded the Best Buddies Friends Choir in the spring of 2013, her first year at Miami. So far the choir has performed at Miami athletic events, a TEDx seminar and countless campus club activities. The choir was specifically mentioned this year when Miami was honored with the outstanding chapter award.

"Being a senior is so bittersweet," said McClellan. "Being a part of this chapter is one thing that truly makes Miami feel like home to me. Best Buddies has changed my life forever."