What do you do with the largest first-year class ever?
Simple.
Make them feel welcome.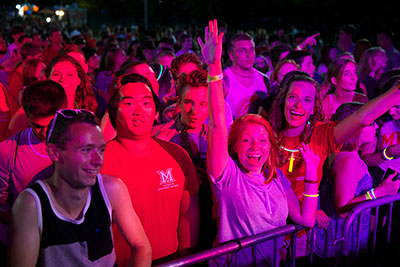 Students dance at Welcome Fest concert event during Miami's Welcome Week activities.
The largest, most academically accomplished and domestically diverse first-year class moved in last Thursday (Aug 20), and Miami's Division of Student Affairs jumped into high gear with its most extensive welcome programming in history.
Welcome Week 2015, which continues through Sunday, Aug. 30, includes 137 events with more than 40 different departments throughout campus involved in some form of planning, preparing and implementing.
Total attendance for all events is expected to reach 60,000 plus.  New this year is a Welcome Week app that tracks first-year, second-year and transfer student events. Event categories covered a broad span, including those that helped students meet new people, learn about involvement and leadership, campus resources, recreation and wellness, academic engagement, diverse perspectives, community engagement and service, career exploration, and safety.
Also new, Welcome Fest, an activity planned by the office of student activities and the student organization, Miami Activities and Programming.
Elizabeth "Buffy" Stoll Turton, director of the office of new student programs, couldn't say enough about the event, and was impressed by the organization's leadership.
"They had zip lines, a climbing wall, a trampoline and a concert by the group, We the Kings, whom the students were really excited about," she said.
Welcome Week kicked off with the First Night Block Party hosted by the recreational sports center, Goggin Ice Center and the office of student wellness. Goggin Ice Center personnel coordinated an ice show for the first part of that event.. Ice skaters, hockey players and broomball enthusiasts shared their love for the cold with a warm welcome.
"That took tremendous effort to organize, and it was a slam dunk," Turton said. "The students loved it."
Other notable highlights:
More than 60 students attended the transfer student social, Aug. 23 —the largest number in its five-year history.
One new event, The Commuter Center Drop-In, had 50 students attend. Darian Rader, vice president of Commuter Council and junior psychology major, was excited to see incoming commuter students at Mega Fair. "It's great to see incoming commuters attending welcome week events and looking for ways to get involved on campus."
More than 125 students attended the Winter Term Study Abroad Fair and 45 additional students attended the first of two Study Abroad workshops.
The full schedule of events can be found on the Welcome Week website at www.MiamiOH.edu/welcomeweek, or on the Welcome Week app at https://guidebook.com/app/miamioh.