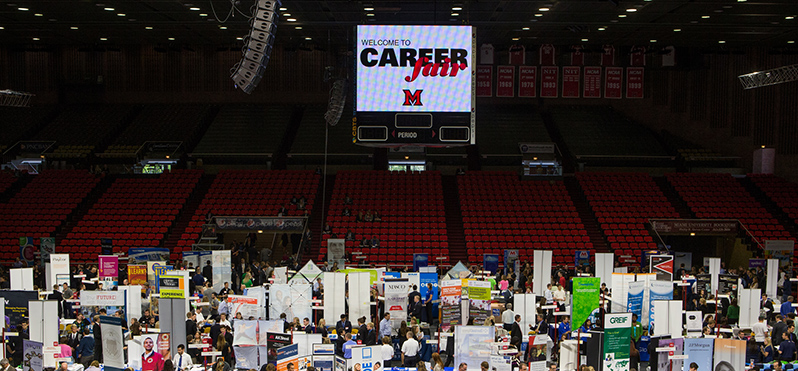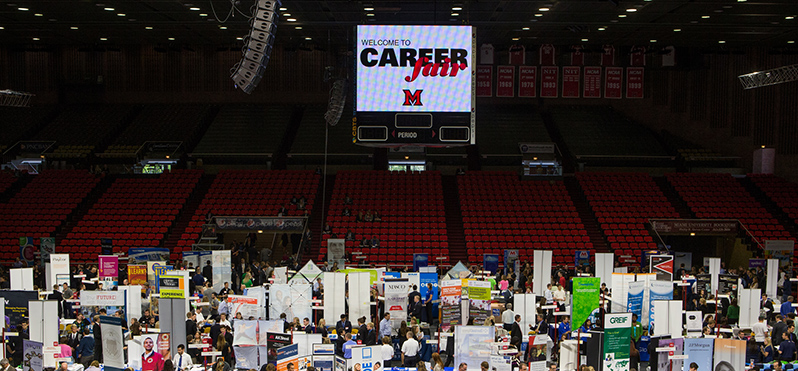 Miami's annual Career Fair is one of the largest events of its type in the country (photo of Career Fair 2014 by Ashley Niemann)
Sep 10, 2015
Career Fair 2015: Recruiters from nearly 300 employers focus on Miami students to fill positions
By Craig Patrick, career services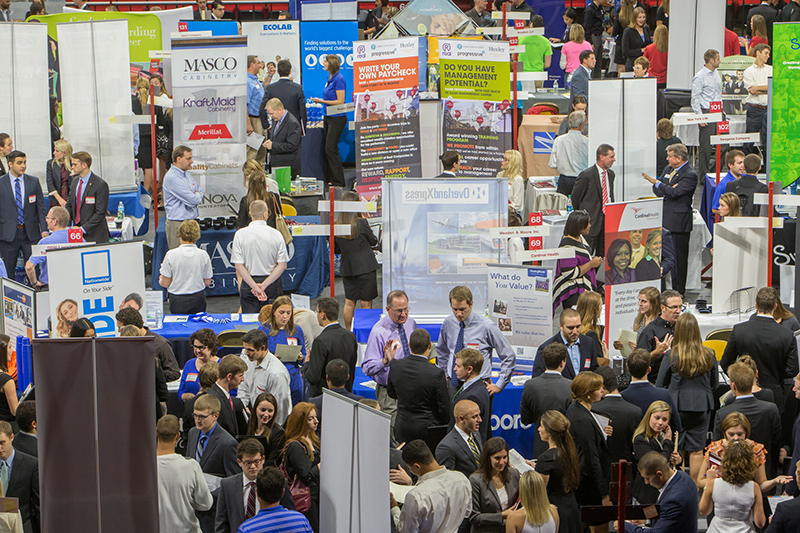 Students and employers at Career Fair 2014 (photo by Ashley Niemann).
Miami University students of all majors, and especially those graduating by August 2016, will have an opportunity to explore job opportunities with regional and national employers at Career Fair 2015, one of the largest events of its type in the country.
The fair will be held 1-6 p.m. Wednesday, Sept. 16, at Millett Hall and will feature employers from business and industry, as well as selected governmental and public service agencies. 
The annual event will bring together an expected 4,000 students and more than 280 hiring organizations seeking to fill a variety of positions. Students in attendance will have an opportunity to distribute copies of their resume, speak directly with employer representatives and gain insight into a variety of career opportunities. Employers use the event to help them identify talented candidates to invite for interviews.
 "We're very proud of our track record in attracting a diverse array of employers to campus," said Mike Goldman, director of career services. "The great success of our on-campus recruiting program speaks to the quality of our students and the commitment of our faculty and staff to their academic preparation."
Employers confirmed to appear at Career Fair 2015 include PwC, KPMG, Deloitte, Ernst & Young, Peace Corps, Procter & Gamble, Cintas, Nielsen, Marathon, Coyote Logistics, Johnson & Johnson, JPMorgan Chase and the U.S. Department of State.
For more information, go to www.MiamiOH.edu/careers, email careerservices@MiamiOH.edu or call 513-529-3831.