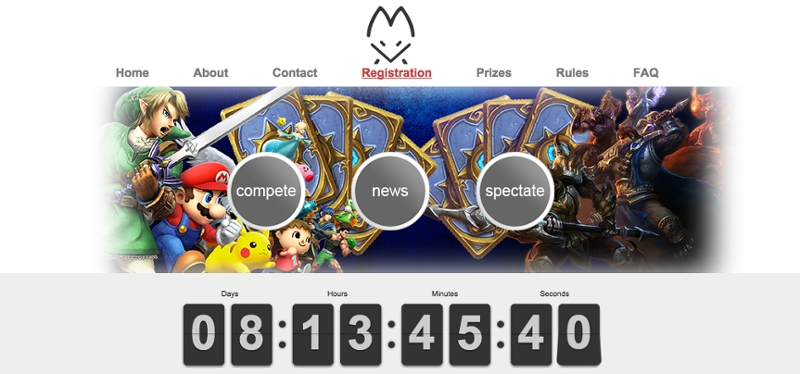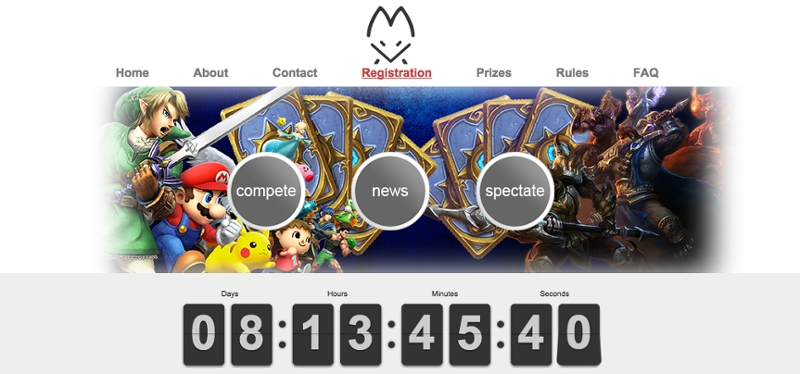 AllMid's website counts down the days until the region's first collegiate competitive e-sports tournament.
Sep 24, 2015
College e-sports clubs hope Oct. 3-4 event shines spotlight on Midwest gaming
Miami student teams with students, alumni from UC, Xavier and OSU to host event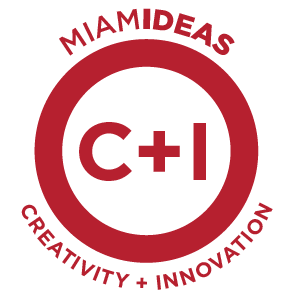 By Margo Kissell, university news and communications, kisselm@miamioh.edu
Miami University's eSports Club president Stelanie Tsirlis knows the Midwest is not a popular hub for electronic sports. The East and West Coasts tend to grab the attention, packing Madison Square Garden and the Staples Center in Los Angeles with thousands of gamers who love to watch professionals compete.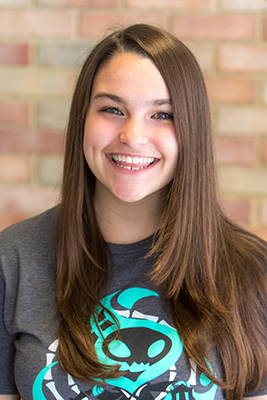 Miami senior Stelanie Tsirlis
Tsirlis and five others (students and alumni) with ties to the University of Cincinnati and Ohio State, Xavier and Case Western Reserve universities are so passionate about wanting to shine a spotlight on Midwest gaming that they formed AllMid, a limited liability company, to do just that.
They're promoting the first event Oct. 3-4 at UC's Fifth Third Arena as "the Midwest's most epic e-sport event" and the region's first collegiate competitive e-sports tournament.
"The Midwest gamer, we feel, is often overlooked. If you want to go to a big event, you have to go to the coast. That can be frustrating, especially for a college student who probably doesn't have the funds for that plane ticket and for even the ticket to get into the venue. So we thought, 'Why not just bring the events here?'" said Tsirlis, a senior marketing and interactive media studies double major who is AllMid's chief marketing officer.
Organizers of next week's AllMid Collegiate Invitational hope to draw 500-750 participants packing their own computers to compete for thousands of dollars worth of prizes in featured tournaments like League of Legends, Hearthstone and Super Smash Bros. They've had about 250 register so far, with most of those coming in the last two weeks.
The event will stream live on the homepage of Twitch, the world's leading video platform and community for gamers.

AllMid is short for All Midwest, but it's also a gaming reference: There is a type of game called ARAM (the acronym for All Random All Mid) in League of Legends.
"Our name is a reference to our Midwest community as well as homage to one of the games we love," said Chris Postell, a UC senior majoring in political science with a minor in Asian studies and AllMid's chief executive officer.
He created UCLoL (League of Legends), which has more than 700 members and is one of the largest club sports on campus. 

UC senior Chris Postell
Postell and Tsirlis grew up in the gaming world and both point to the sense of community they have found there.
"I personally think gaming is just another activity that brings people together," said Postell, who also really enjoys the competition.
"What we do at UCLoL or Miami eSports, or any gaming group really, is create that home for students where they can share their passions with other people. That's the real appeal of gaming — you can experience it with so many others," Postell said.
Nick Costaras, 31, a Cleveland lawyer and 2007 Xavier alumnus is AllMid's chief financial officer who wrote its operating agreement. Costaras, who also grew up with video games, works to develop and promote e-sports platforms for aspiring competitive gamers in his spare time.
"It was the team that really sold me on 'This is going to be amazing,' and I went with my gut feeling," he said. Creating the company made sense, he said, for liability protection and because their vision is to grow into "a regional powerful presence in the U.S. To attract the kinds of attention from our customers, partners and sponsors that we wanted to attract, we knew we needed to step up and represent ourselves as a legitimate entity."
So far, they've been able to line up at least 20 sponsors, including Microsoft, which will have a wing featuring 10-12 of its portable Xbox stations for gamers to use.
The AllMid officers have been planning the event for months. Others include OSU alumnus Ben Ng, a professional web developer who is the chief technology officer; Albert Maah, who sits on the executive staff of Ohio State's E-sports Initiative; and Sebastian Cheng, a Hong Kong native who attended Case Western Reserve until he returned home after becoming ill. He is able to participate in their meetings via Skype as they finalize details for the event.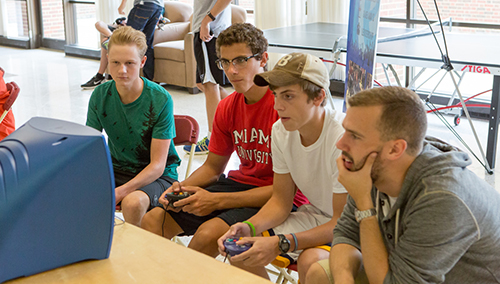 Miami students at a recent eSports club event at Tappan Hall (photo by Andrew Katko).
Tsirlis believes the gaming industry will continue to grow.
"E-sports right now is very much a baby industry. Maybe certain games will die out, but e-sports as a culture and as a community, I do not see dying anytime soon," she said.
Costaras echoed that sentiment.
"This new industry is here to stay for the next generation," he said. "All millennials are going to grow up with gaming and e-sports. To be part of this now as the exponential curve has yet to hit that turn is beyond exciting," he said.