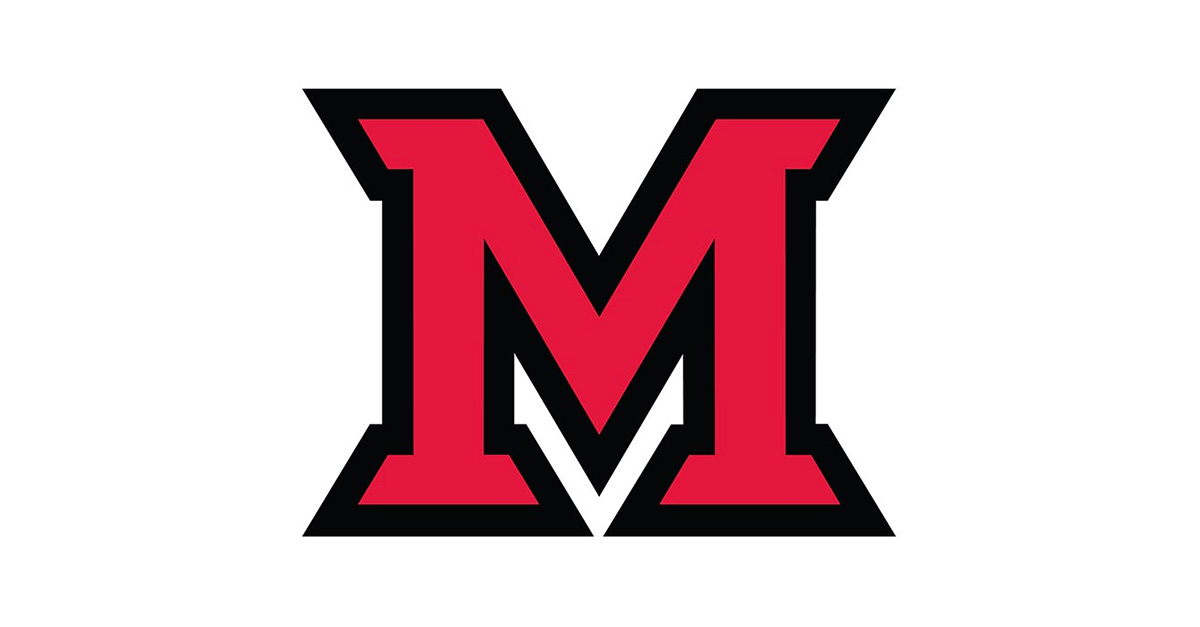 Sep 17, 2015
Miami strengthens ties with Suncorp Group in Australia: Three corporate recruiters travel 9,000 miles to be at fall Career Fair
By Margo Kissell, university news and communications, kisselm@miamioh.edu
Cory Christopher (Miami '14) said working in Australia has been "an amazing experience" as he has become immersed in a new culture and been given a wide range of freedom and responsibility in his work.
Kate Le Pontois (Miami '14) called this past year the "best year of my life" as she has enjoyed growing as a young professional and having the opportunity to explore Australia's beauty. She has even picked up "some Aussie slang, which is evident when I FaceTime my friends and family back home."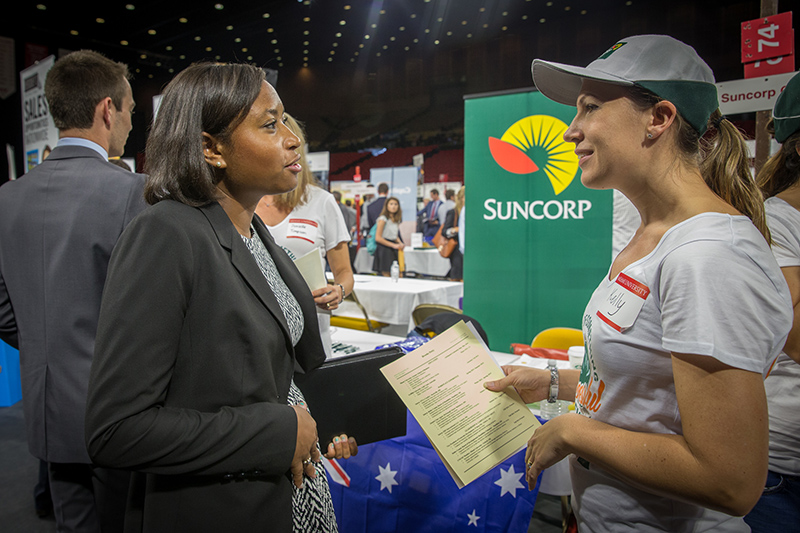 A Suncorp recruiter talks with a Miami student at the Career Fair Sept. 16 (photo by Scott Kissell).
Christopher and Le Pontois are two of the 10 Miami University graduates currently working for Suncorp Group, a finance, insurance and banking corporation with headquarters in Brisbane.
The company sent three recruiters to Miami's Career Fair on Wednesday, hoping to add to that number. They traveled 9,000 miles with plans to hire 20 people from Miami, if possible, for business intelligence officers, business technology officers, business analysts and category officers.
"Suncorp takes great pride in thought diversity," recruiter Alexandra "Alex" Kemp said. "We found great diversity with those students we have at Miami and the way they think and what they provide to Suncorp as being so valuable that we want to keep coming back."
Miami and Suncorp join forces on Agile Launchpad
The university forged a partnership with Suncorp two years ago. A key player in forming that connection was then-Suncorp Business Services CEO Jeff Smith (Miami '84), who has since become IBM's chief information officer.
 Smith — who was instrumental in establishing Miami's Agile Launchpad program — is a major proponent of the agile methodology, an alternative to traditional project management typically used in software development. His IBM corporate bio says that "his mantra as CIO is creating an agile culture to drive fundamental change and material benefits for IBM."
Miami officials call the agile way of doing business a growing trend.
"That's why our students have an advantage because they are ahead of the curve," said Michael Goldman, director of Miami's career services. "As companies are converting their coding to using agile methodology, Miami students are very well prepared and can help those companies kick-start their agile initiatives."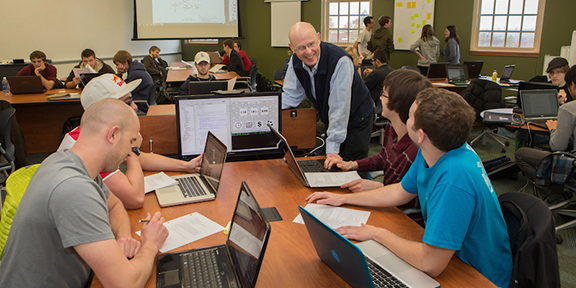 Doug Troy (standing) with Agile Launchpad students (photo by Scott Kissell).
Doug Troy, director of the Agile Launchpad and professor emeritus of computer science and software engineering, said there are two main reasons so many Miami alumni end up working for Suncorp.
"It's an opportunity to work for a leading company doing agile and to have an international experience," said Troy, who is also director of the College of Engineering and Computing's graduate programs.
Allie Rosemann, a senior majoring in marketing, spoke to a Suncorp recruiter at the career fair and landed a follow-up interview the next day.
Rosemann said she studied abroad in Sydney, Australia, last semester as part of an internship program that allowed her to work full time for a marketing company and earn credits approved by Miami.
"I absolutely loved the corporate work culture there," she said of Australia. "When I saw Suncorp is recruiting from Sydney … I was immediately drawn to it."
Living and working Down Under
When she was a Miami student majoring in professional writing with a minor in interactive media studies, Le Pontois interviewed with a Suncorp recruiter at a Miami career fair. 
After graduation, Le Pontois moved to Australia to work for the company, where she started with the internal communications team before taking a human resources position in the company's Business Services division in Brisbane.
"I have learned so much about the business and have had many career development opportunities," she said. "The culture here at Suncorp makes coming to work enjoyable, and it's really cool to see the agile way of working used across the company, even here in HR."
Christopher, who majored in computer engineering, now works in Sydney as a DevOps engineer for Suncorp's platform team in digital media that supports the company's movement to the cloud.
"Suncorp has challenged me to drive my career and development through great culture and opportunities to innovate within my teams," he said.
At Miami, he was iteration manager for Agile Launchpad, maintaining client relations and work direction for their project.
This semester, 18 students are taking Troy's Agile Launchpad (CEC205) course. They are working on a Suncorp-based project and connect via video conferencing three times a week with Kemp, the recruiter who also is an agile business analyst for Suncorp.

Jerry Gannod (back row, second from right) with Miami alumni and interns at Suncorp's office in Sydney, Australia.
Suncorp has been using agile for seven years, and it is at the core of its approach, Kemp said, noting other companies have started using it, too.
Jerry Gannod, professor of computer science and software engineering, will be teaching the Agile Launchpad course spring semester. He spent the 2013-2014 academic year working at Suncorp during faculty improvement leave.
"Suncorp is known as one of these places that has been on the journey for a long time and has done it on a wide scale," he said.
He wanted to see firsthand how Suncorp uses agile and the company's work environment that uses an open floor concept instead of the traditional cubical environment.
There he was able to experience "hot desking," an office organization system that allows teams to work closely together on projects anywhere. "Every computer that is there is something everyone can log into, so you don't own your own computer," he said. "There really was no cube, no offices. It's almost like a laboratory setup and this is becoming really common in organizations that do use agile."