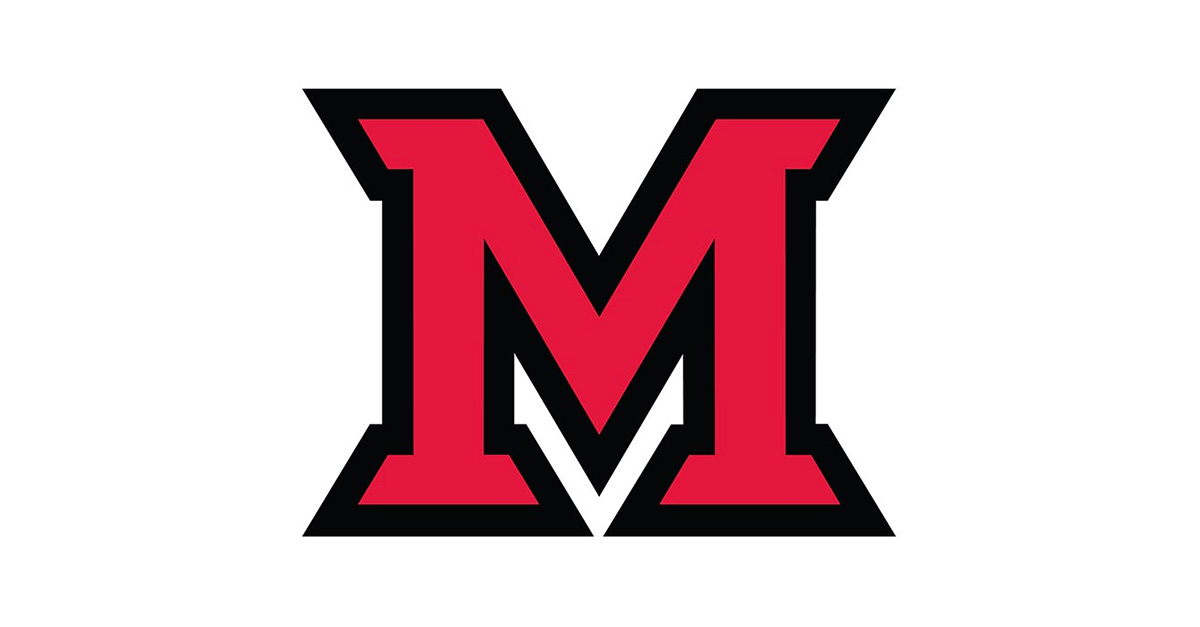 Nov 10, 2015
Dayton Peace Accords@20: Conference and a capstone
by Kerry McFadden, news and communications intern

A fall journalism capstone, "Dayton Peace Accords @ 20: Stories of War and Peace," introduced Miami University students to the Bosnian War, its media coverage and the peace agreement signed 20 years ago in Dayton, Ohio, that ended it all.
When class began, students admitted they knew very little about the war, the Peace Accords or the Balkan region. Their instructors, Patricia Gallagher Newberry and Bill Steiden, reassured them that "we would embark on a journey of learning together."
Meet the students and the faculty members in the department of media, journalism and film in a special Dayton Peace Accords 20th Anniversary Conference website. Follow the students on Twitter as they count down to the conference – DPA@20|Miami.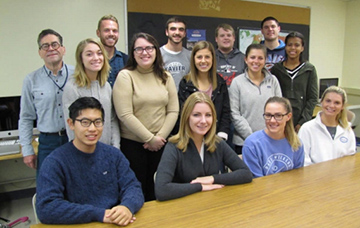 Students in JRN 421, Dayton Peace Accords @ 20: Stories of War and Peace.
The students interviewed experts, read texts and met influential journalists and policymakers, some of whom will speak at Miami University Nov. 16-18 during events dedicated to remembering the 20th anniversary of the Dayton Peace Accords.
The Miami community and the general public are invited to participate in panels, forums, open discussions and presentations all relating to both the historic events of 20 years ago and the cultural, social and political tensions of today. 
The complete schedule about the conference's events can be found online.
Kenneth Merten (Miami '83), former U.S. Ambassador to Croatia, will give the keynote address at 7:30 p.m. Wednesday, Nov. 18, at the Armstrong Student Center.
 DPA@20 Miami events include:
Cartoon journalist Joe Sacco and graphic artist Zeina Abirached:  "Drawing the Middle East," 4 p.m. Monday, Nov. 16, Harry T. Wilks Theater.
Photojournalist Ron Haviv:  "Propaganda, Media and Genocide: Former Yugoslavia and Rwanda," 5:30 p.m. Monday, Nov. 16, 102 Benton Hall.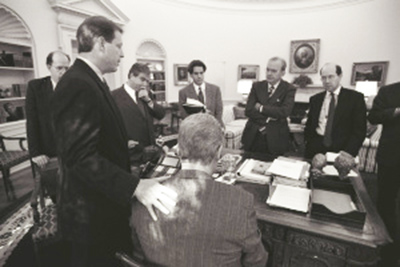 November 21, 1995: President Bill Clinton (seated), Vice President Al Gore, and others discuss the president's remarks, delivered later that day, announcing the Dayton Peace Accords. (Credit: William J. Clinton Presidential Library).
A moderated forum for students: "For Humanitarian Reasons: How should we help countries in crisis?" 11:30 a.m.–2 p.m. Tuesday, Nov. 17, in the John E. Dolibois Room, Shriver Center, featuring Balkan journalists participating in the DPA@20 events.
Events Wednesday, Nov. 18, in Armstrong Student Center:
Policy experts panel, 9 a.m. Panelists: Carl Dahlman, director of international studies at Miami; Philippe Leroux-Martin, director of justice and security in the Center for Governance, Law and Society at the U.S. Institute of Peace; and Muhamed Sacirbey, former Bosnian ambassador to the United Nations.
Panels: "Witnesses to the war," 1-2:30 p.m.: a Bosnian native and a former Croatian child soldier will share their experiences; Journalists panel, 3-5 p.m.: journalists from the Balkans and the United States.