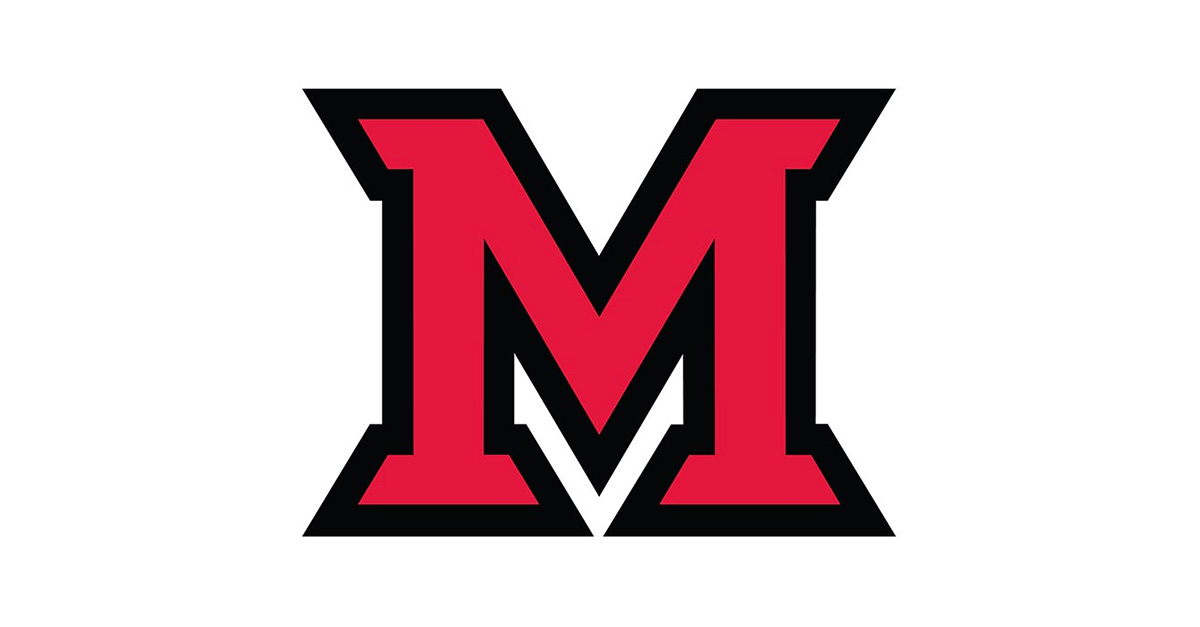 Dec 03, 2015
Bridges Program introduces culturally diverse, high-achieving students to Miami
By Margo Kissell, university news and communications, kisselm@miamioh.edu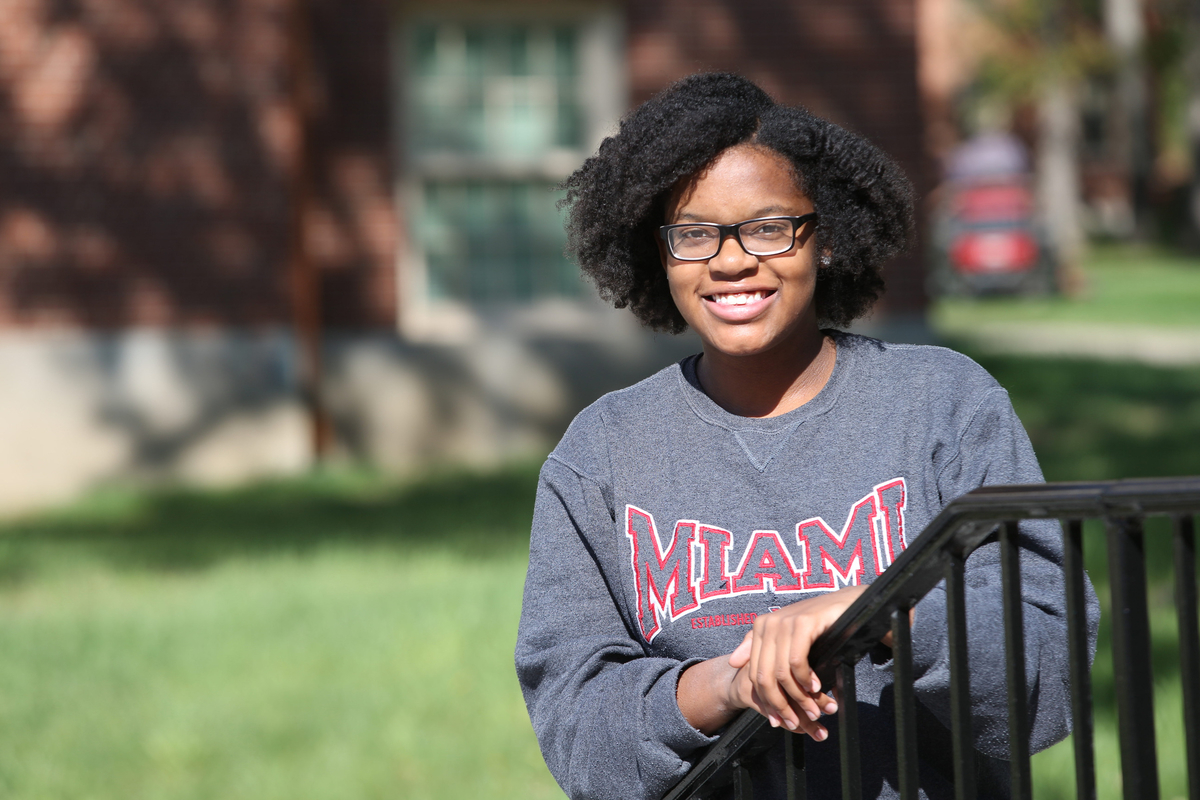 Tori Collins, a junior international studies major, was a Bridges Program participant in 2012. She remains active with Bridges through her involvement with Miami Ambassadors Creating Change.
Tori Collins was considering mostly out-of-state universities when she was a senior at a suburban Toledo high school.
Her parents and high school counselor urged her to look closely at schools in Ohio, too, specifically Miami University.
At her counselor's suggestion, Collins signed up for Miami's Bridges Program, an overnight visit program for high-achieving high school seniors who have a commitment to and appreciation for cultural diversity. She instantly liked what she saw.
"The 'aha' moment came when we pulled up right by Pulley Tower," she said, recalling seeing the red brick buildings, the changing leaves and students walking to class during that fall semester in 2012.
Over the next two days, she discovered what else the university had to offer and came away feeling like "they genuinely wanted me to come to Miami." She applied and was accepted, receiving a $10,000 Bridges scholarship over four years.
Collins is now a junior international studies major with a minor in international business and is active in several student organizations. 
Experiencing Miami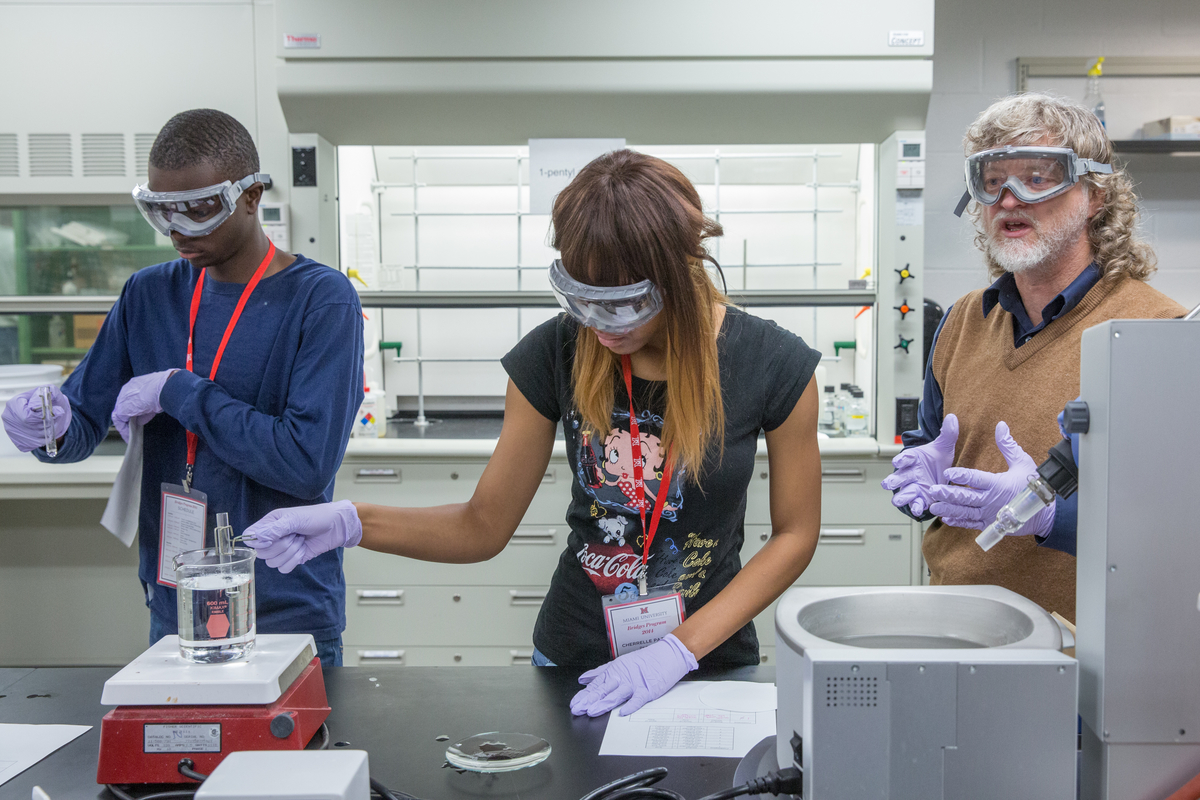 Participants in the 2014 Bridges Program worked in a lab with Michael Kennedy, Ohio Eminent Scholar in Structural Biology (Scott Kissell).
More than 600 high school students participated in this year's Bridges Program. Students came from Columbus and Chillicothe; Dayton and Cincinnati; Cleveland, Akron and Toledo; and out of state.
They spend one night in a residence hall, eat at the Western Dining Commons, tour the campus, learn about programs and activities and have a chance to interact with students, faculty and staff. Academic modules give them a classroom experience.
Mariana Huerta, a student from Troy High School interested in engineering and computing, enjoyed touring the engineering facilities. "I thought they were really cool," she said.
It was looking through an electron microscope that wowed Brennan Henry from Springfield's Kenton Ridge High School.
"It's one of those things you hear about but never think you'll get to use," he said.
Friends Sierra Evans and Raynasha Cannon, both students at the Cincinnati State STEM Academy, came together. They stayed at McFarland Hall with a student host. By the end of the Monday luncheon, both said Miami had climbed up their short lists to become their No. 1 choice for where they hope to spend the next four years.
Evans said she's been to other colleges in Ohio and elsewhere, "but this right here, it seems like home," she said. "It just makes me feel good to be here."
Increasing diversity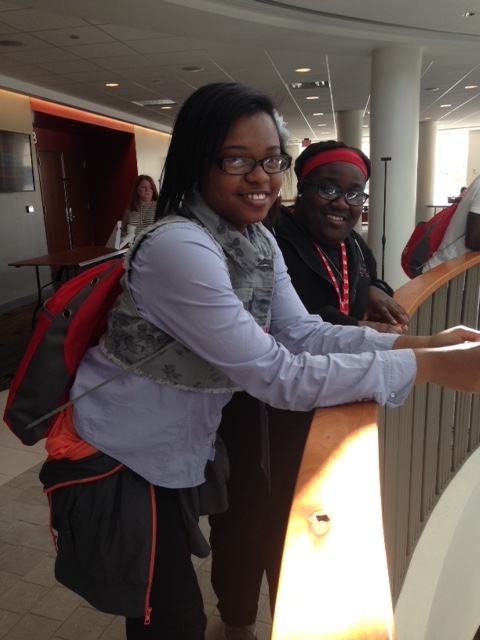 Raynasha Cannon and Sierra Evans, students at Cincinnati State STEM Academy, participated in the Bridges Program this fall.
The Bridges Program, introduced in 2007 for students entering Miami during fall 2008, has contributed to increasing diversity at Miami. It was expanded to out-of-state students in 2010.
Many who visit campus during the program end up applying, according to statistics from the office of admission, which runs the program.
Forty-one of the 95 Bridges participants who visited in 2008 enrolled at Miami in fall 2009.
Last year, 588 of the 607 (97 percent) applied to Miami. Of those, 510 (87 percent) were accepted and 256 (50 percent) are first-year students this fall.
Interest in the program has been growing, up from 102 applicants the first year to 1,194 last year.
Northmont High School senior Jordan Aguilar was among eight students who visited this semester from his school north of Dayton.
"It's a great opportunity to see what campus is like," he said.
Northmont guidance counselor Beth Kessler said recently that four of the five students who report to her have since applied to Miami.
"I think it's just drawing the students to campus. That's a huge thing," she said, adding that many find the scholarship potential appealing, too.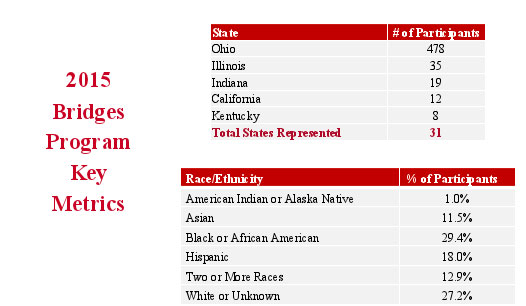 Source: office of admission (View another chart that shows the overall program impact from its beginning. See online.)
Students who successfully complete the program, apply and are accepted for fall 2016 admission, and enroll full time at Miami University's Oxford campus, will be eligible to receive a scholarship. Last year, Bridges Program participants received scholarships ranging from $2,500 to full tuition annually.
President David Hodge welcomed Bridges Program students during Armstrong Student Center luncheons, where they dined with faculty and staff members.
"I think the most important part about Miami is the incredible set of opportunities that you have here," Hodge told students from Cincinnati and Dayton. "Miami seems to work best for students who like to seize those opportunities. The fact that all of you are here today says that you already passed that first hurdle, that you've demonstrated your desire to seize those opportunities."
Collins has done just that. She serves as public relations chair for Miami Ambassadors Creating Change, social culture chair for the Black Student Action Association and vice president for the Black President's Caucus, which focuses on retaining diverse students.
Despite her busy schedule, she has remained active with the Bridges Program. "I remember the impact it made on me, and if I can be a part of making an impact on them, that makes the entire experience worthwhile."