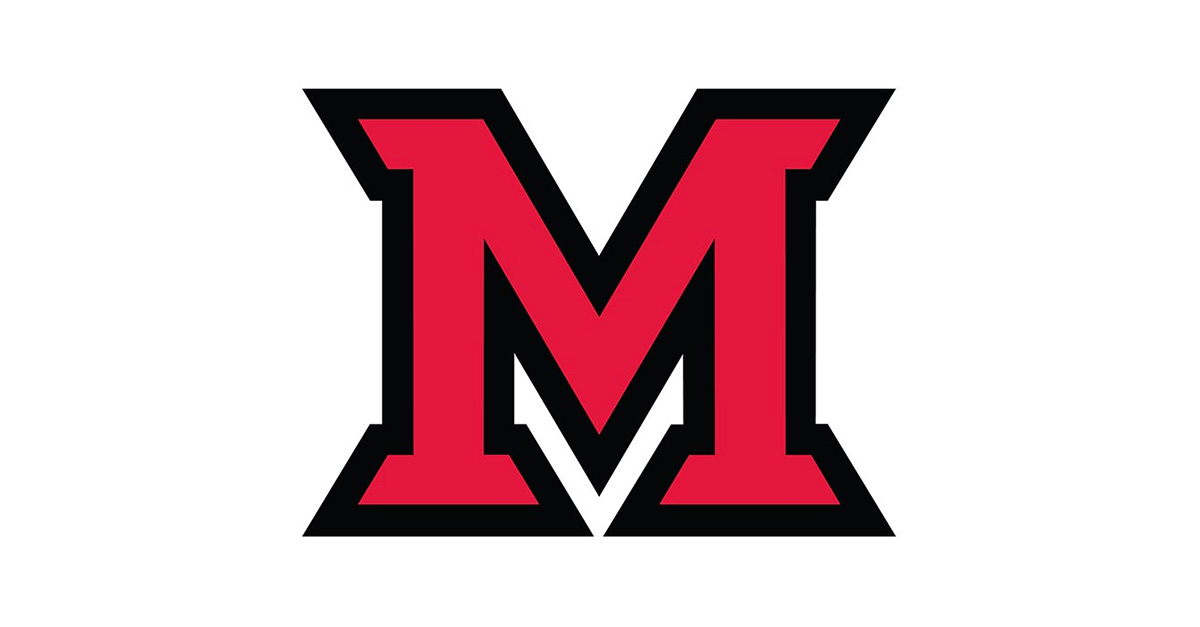 Dec 03, 2015
How do you attract young professionals? Ask educated millennials
By Margo Kissell, university news and communications, kisselm@miamioh.edu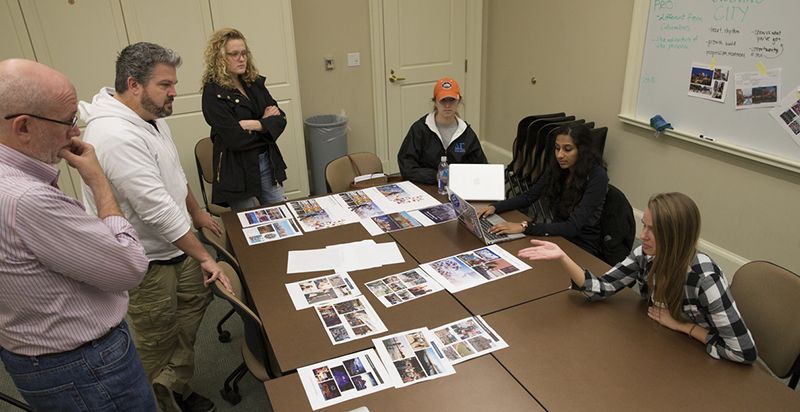 Highwire Brand Studio faculty Mike McCarthy and Ray Claxton meet with a student team working on a potential branding campaign for the Cincinnati USA Regional Chamber of Commerce (photos by Jeff Sabo).
It's a Monday morning in late November and faculty members Mike McCarthy and Ray Claxton are on the move in Miami University's Farmer School of Business.
They maneuver among three conference rooms, meeting with student teams competing against each other to produce the strongest potential branding campaign for Agenda 360 — a young professionals initiative of the Cincinnati USA Regional Chamber of Commerce.
The teams will pitch their proposals in Cincinnati on Dec. 11, the Friday of finals week. Time is ticking.
"Help them fall in love with your idea," McCarthy, a longtime marketing professor, tells one team of seven after reviewing a draft of its campaign, which would feature a logo, website, social media component and billboards.
Welcome to Highwire Brand Studio, a 400-level senior capstone course that gives students an opportunity to develop creative and innovative approaches to help clients enhance and market their brands.
"Clients come here for the ideas," said McCarthy, a former ad man-turned-professor who started at Miami in 1993. He and Claxton, a visiting instructor in graphic design based in Rochester, N.Y., co-teach the course this semester. They provide feedback to the 23 students, who create the campaigns from scratch.
Through the program, which typically charges a fee to clients, Miami students have produced work for Procter & Gamble, Taco Bell, Pepsi, Hunt's, Nestlé, Hasbro and GM Goodwrench.
Using millennials to market to millennials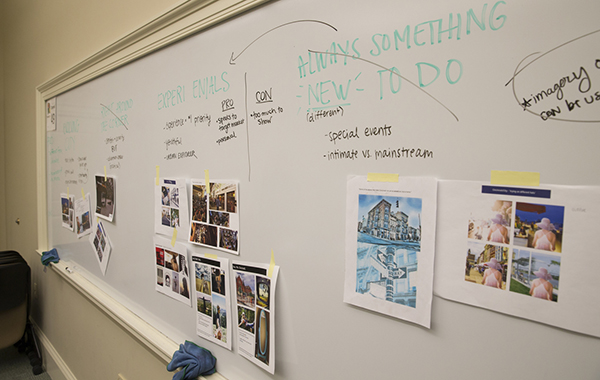 A Highwire project in development
The students' work over the years has ranged from making recommendations for developing an approach to in-store marketing of products to producing social media and gaming ideas to increase brand awareness.
Many companies are interested in seeing what the Miami students come up with because of their growing interest in millennials. That's the nickname for American youth born between 1982 and 2000, according to the U.S. Census Bureau. The Miami students are part of that demographic (at 83.1 million), which this year surpassed baby boomers (75.4 million) to become the country's largest living generation, the Census Bureau reported in June. 
Mary Stagaman, the chamber's vice president for regional initiatives and executive director of Agenda 360, said everyone is chasing that generation, which makes up one quarter of the population. The chamber is increasingly focused on attracting and retaining talent, especially young professionals, and Stagaman said the work Miami is doing is critical in helping them become a talent magnet.
"Our hope is that they would give us a playbook," she said.
Stagaman said they were interested in tapping into the students' best thinking on how they might make inroads into markets like Chicago. "When we mapped out the migration patterns a couple of years ago, we were surprised to learn there were more people moving from Chicago to Cincinnati than Cincinnati to Chicago," she said.
After arming the students with that kind of insight, Stagaman said they "turned them loose" to put what they've learned at Miami "to use in a real world set of solutions that we could actually think about implementing in the new year."
Working with clients on real issues
Casey Wood, a senior marketing major with a minor in interactive media studies, hopes to go into advertising when he graduates in May.
He's looking forward to being one of his team's presenters in Cincinnati and likes how the Highwire program, which students must apply for, is set up to be like an advertising agency.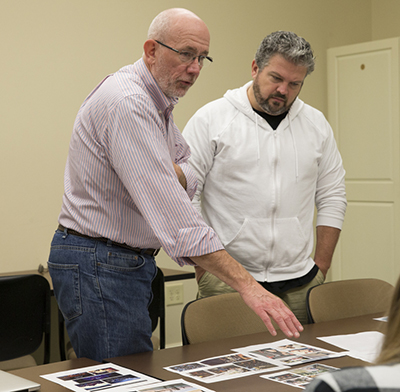 Mike McCarthy (left), professor of marketing, and Ray Claxton, visiting instructor of graphic design
In addition to meeting two or three times a week with McCarthy and Claxton in the workshop sessions, the students also have class time where they learn the keys to marketing strategy and how to craft a strong campaign.
"The in-class experiences are very strong too, but when you can merge that with an actual client opportunity, it's really powerful," Wood said.
Wood said he also likes how Highwire "bridges the gap between marketers and designers."
McCarthy said they've worked hard through the years at getting marketing students and graphic designers to work more collaboratively in the workshop sessions than in silos. That hard work has paid off by increasing better ideas addressing the clients' branding challenges.
Claxton said Highwire students gain some valuable experience. The program gives them a chance to demonstrate an ability to work together as part of a team, conduct thorough marketing research and display creative thinking through the iterative design process.
"Employers are looking for recent grads with exactly this type of experience on their résumés," Claxton said.
100-plus branding campaigns and counting
In all, Miami students have worked on more than 100 campaigns for clients since the program started 44 years ago. Known as Laws, Hall and Associates from 1971 through 2007, it worked on more than 80 advertising and promotion campaigns.
It became Highwire Brand Studio in 2008 and expanded its focus to include all aspects of branding.
McCarthy has been with the program for nearly 20 years. He has seen plenty of changes during that time, including the emergence of the digital world, the popularity of social media, cellphones and apps. Those changes naturally have led to how some products are marketed.
For instance, last year Miami seniors worked with Taco Bell and media agency Spark to develop a program to increase awareness, downloading and repeat usage of Taco Bell's new mobile ordering and payment app and to identify new features for a subsequent app upgrade.
McCarthy urges the students to keep those things in mind when they're working on their ads, which may be featured in traditional media like newspapers but also pop up on Pandora.
"How do you tell a story if you can't show a picture?" he tells one team after viewing their logo treatments.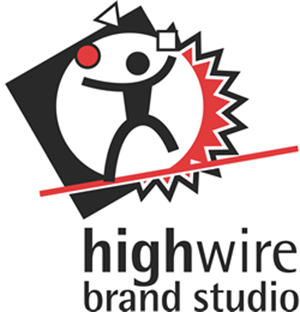 The students spend many hours crafting their message, debating which phrase would be best to target young professionals and entrepreneurs. Sometimes the discussion centers on one word. Or which colors or particular design to use for its logo after narrowing the list to those scattered across the table.
"There is going to be a fine line between how much is too much," Claxton tells a team that's still divided on a key detail.
Claire Anderson, a senior graphic design major and Spanish minor who will be one of the presenters in Cincinnati, said the most challenging part of Highwire is probably getting to know the team early on because everyone comes with their own ideas and opinions. Now though, she said, they have moved into a productive routine of combining their work and ideas, refining, expanding some more and refining.
"I think that's something we really succeeded at, working together," she said.
Stagaman said she's anxious to see the proposals, which will be judged by some representatives of the Greater Cincinnati community. They will evaluate the proposals and help provide feedback. She said they have also invited members of the board and others in the community who might enjoy hearing the students' ideas.