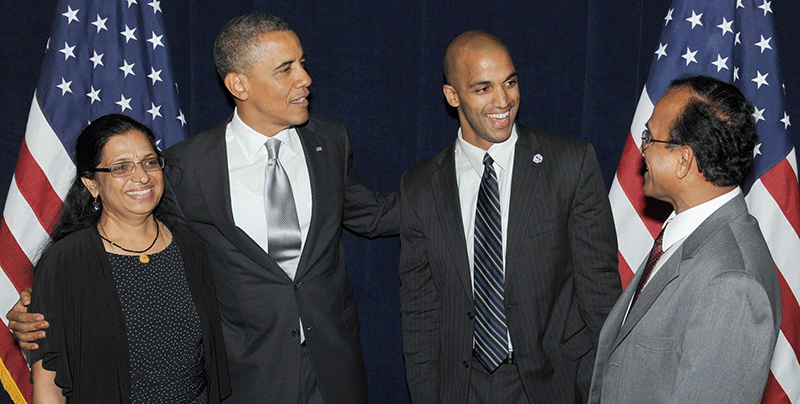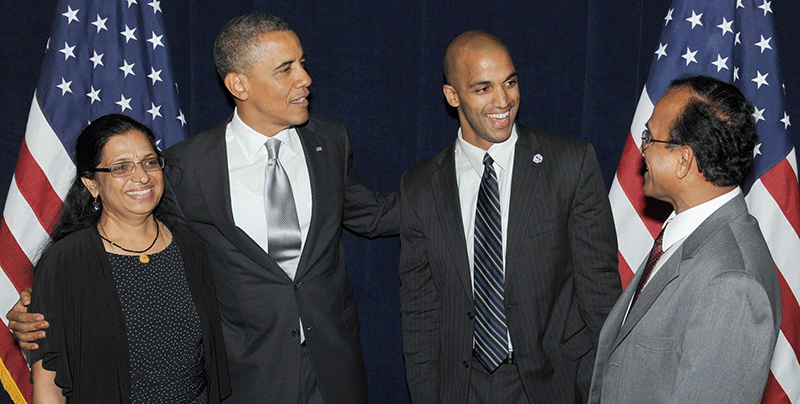 Kevin Samy and his mother and father with President Barack Obama during a 2012 Presidential campaign event. During the campaign, Samy helped build and carry out campaign events.
Jan 14, 2016
Kevin Samy (Miami '09) chased his passions and found success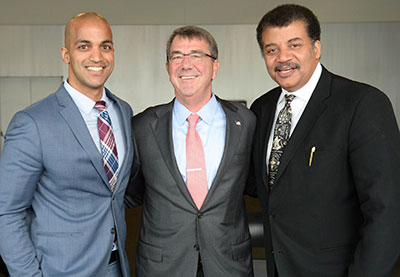 Kevin Samy poses with U.S. Defense Secretary Ashton Carter and astrophysicist Neil DeGrasse Tyson after the two of them sat down for an interview for Tyson's TV show. While working at the Pentagon, Samy helped orchestrate the event.
By Carole Johnson, university news and communications
Miami University alumnus Kevin Samy, named a Top 30 under 30 by Forbes magazine, credits his professional success to writing his own playbook after life tackled him at the age of 20.
Named in Forbes' Law & Policy category, Samy, now 28, whose career is writing speeches for others, has a message of his own for students.  
"All good speeches tell a story," Samy said, and his begins with the RedHawks.
Early in his second season playing defensive tackle for the RedHawks, he suffered a serious injury that put an abrupt end to his promising football career.  After two surgeries and a year of grueling rehabilitation, it was clear to him that a comeback would be out of reach. 
"As a kid, I dreamed of playing for the Cleveland Browns," the Northeast Ohio native said. "Football was my life, my singular motivation." 
For years, he woke up early to train and stayed late after practice, ultimately earning a scholarship to play at Miami.
His parents, immigrants from India, didn't fully understand the rules of the game.  But they learned and became his biggest fans.

Kevin Samy (far left) followed his dream to Miami where a promising football career was cut short.
Following his own set of rules
After his injury, a new set of rules came into play. 
"It struck me, a kind of reckoning; I had to ask myself, now what? What am I going to do with my life?"
With support from his parents and coaches, he said goodbye to the game he loved. He took a semester off his senior year to do some soul searching. Instead of binge watching Netflix, (OK, maybe a show or two), Samy took action.
He talked to people, a lot of people, to friends, family and anyone who'd offer their advice. He discovered a pleasantly surprising interest in politics and public service – and found himself swept up into the excitement of the 2008 elections.
"I felt a visceral connection. President Obama's father belonged to a farming family in Africa, and my father, too, belonged to a farming family in India. It pulled me in; the story of possibility and hope, it was one that I benefited from myself," he said. "Public service gave me new purpose; it became a new passion to pursue."

Samy advises Administrator Gina McCarthy, head of the U.S. Environmental Protection Agency, before a historic speech announcing carbon pollution limits for power plants.
Finding new passions
Chasing his interest in public service, Samy jumped into the world of nongovernmental organizations (NGOs) working primarily on environmental policy. He finished his Miami degree in 2009, then got his master's degree in climate change policy from Yale in 2012. He worked on Obama's 2012 campaign, and soon he was working on climate policy. He eventually worked his way into writing speeches in various roles throughout the Obama administration.
According to Forbes magazine, "Kevin helped shape the narrative on policy issues throughout the executive branch."
Most recently, he served as a speechwriter for Secretary of Defense Ashton Carter. He also was chief speechwriter to Gina McCarthy, administrator at the U.S. Environmental Protection Agency.
Before that, he was a member of the White House climate team, "where he leveraged his communications and climate policy expertise to influence Obama's Climate Action Plan," writes Forbes.
"If chasing a passion doesn't work out," Samy said, "sometimes all you need to do is widen your view, and seek new passions, new pursuits and new fulfillment." 
His message to students: "Don't be complacent or passive. Be comfortable being uncomfortable. Grab opportunities. And if they're not there, be creative and make them."
Editor's Note: Magic Johnson named Samy among his selection of "32 under 32" leaders via his digital platform, "The Playbook."