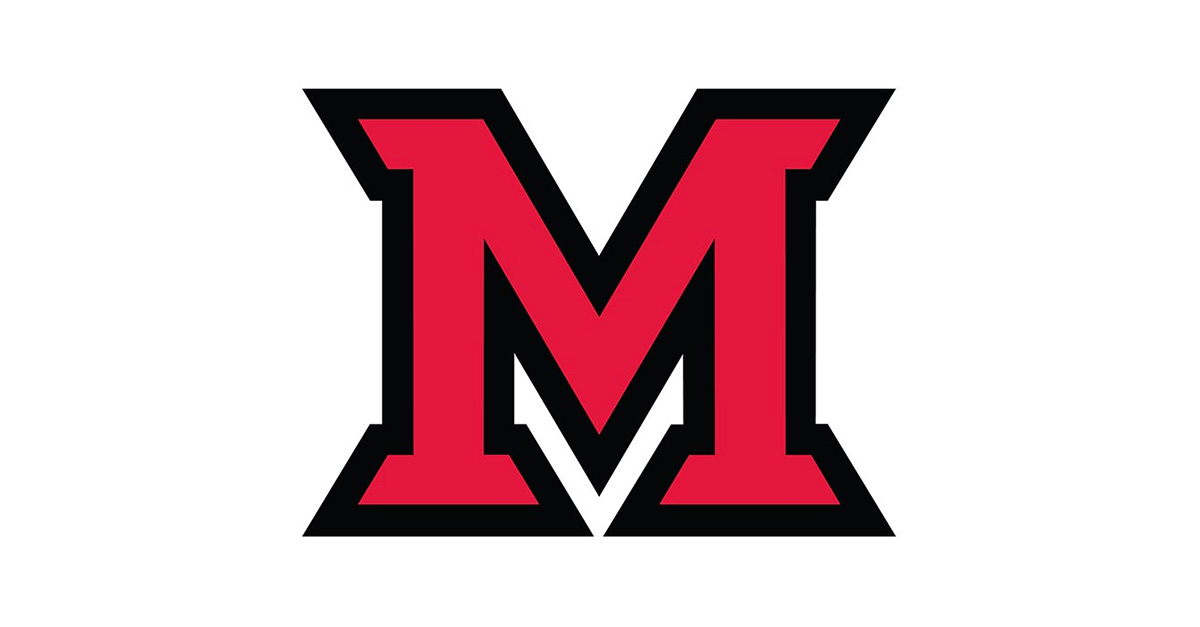 Jan 14, 2016
Miami students get career boost working in startup community
By Margo Kissell, university news and communications, kisselm@miamioh.edu
Miami University is extending its reach into Cincinnati's startup business community through an initiative aimed at helping increase internships and job opportunities for students.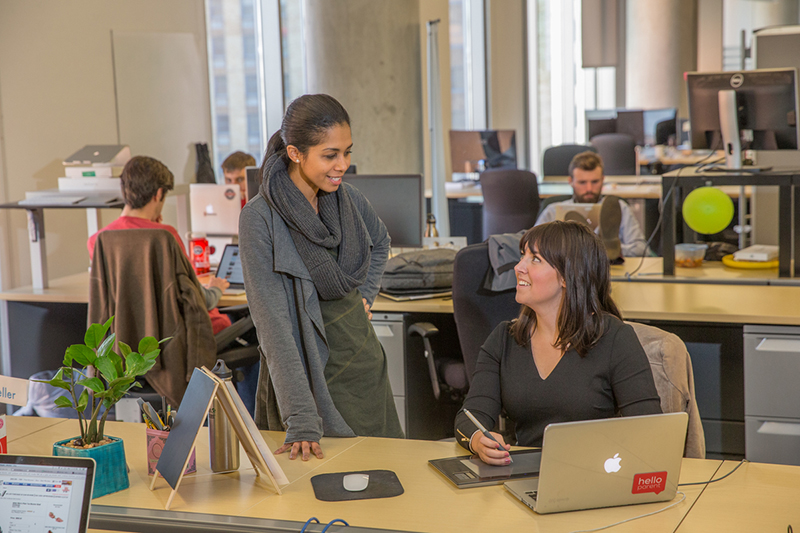 Hannah Foster, who graduated in December from Miami University, interned last semester at Hello Parent (photo by Scott Kissell).
Miami launched its Cincinnati Digital Innovation Center (CDI) this fall. The program — a collaboration among Miami's Armstrong Interactive Media Studies (AIMS) and its Institute for Entrepreneurship — allows students to spend a semester working at digitally-focused startup companies four days a week while earning 16 credits for four different courses, including a senior capstone.
The students spend the fifth day visiting local startups and meeting with executives, as well as Miami alumni who work at startups.
As part of the Miami #StartupCincy initiative, AIMS, the Institute for Entrepreneurship and career services have leased a shared work space in Union Hall.

The newly renovated, historic building at 1311 Vine St. houses The Brandery, a nationally recognized startup accelerator; CincyTech, a public-private seed stage investor; and Cintrifuse, an entrepreneurial support organization that is the overarching organization representing #StartupCincy.
Miami's entrepreneurship program has been running a summer internship program in the Cincinnati startup community since 2010.
"We're now extending it to be year-round in full-time and part-time (internships) so that we can supply talent that the StartupCincy region needs," said Mark Lacker, the John W. Altman Clinical Professor of Entrepreneurship at Miami.
Ohio grant funding a key
The Cincinnati Digital Innovation Center received an $86,511 Ohio Means Internships and Co-Ops (OMIC) grant that was part of the overall $760,000 in OMIC funding Miami received in 2014.
At least 102 Miami students have secured internships with 49 Ohio companies from spring 2015 to spring 2016 through the OMIC program, according to statistics from career services.
Of those students, 32 have interned with 25 startup companies in Cincinnati.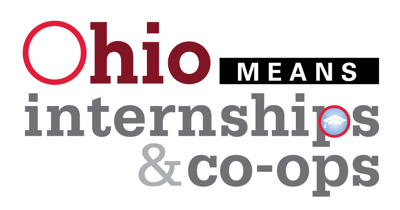 Hannah Foster, an interactive media studies major who graduated from Miami in December, was one of them. She spent last semester interning at tech startup Hello Parent, which developed a family scheduling mobile app. Foster worked as a designer on the app, website, branding and social media presence.
She called her participation in CDI the highlight of her time at Miami and said the opportunity to work for a tech startup was an invaluable experience.
"Being able to work full time as a designer accelerated my professional skills and, in particular, working at a startup provided me the chance to challenge myself, dream big and execute on projects that were crucial to the company," Foster said.
Miami students are among nearly 2,500 students at Ohio universities, community colleges and technical centers who benefited from new or expanded co-op and internship programs, thanks to the OMIC program.
The universities use the grant money to send checks to the employers, reimbursing them 40 percent of the wages paid to interns, up to $2,400.
Lacker called it a good deal, especially for small startup businesses, which can get "really good talent at a very affordable price."
Some internships lead to jobs
​Miami students have interned at several technology startups, including Cerkl (pronounced "Circle"), which automatically creates personalized communication for each member of a client's audience based on their interests.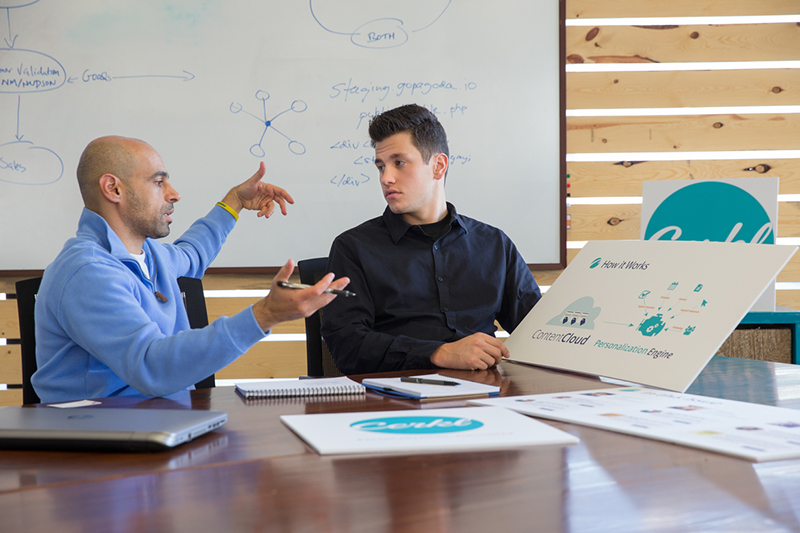 Miami sophomore Sam Huber (right) talks with Tarek Kamil, founder and president of Cerkl. Huber interned at Cerkl last fall (photo by Scott Kissell).
"Tapping into young talent only enhances Cerkl's energetic, innovating culture," Cerkl co-founder Sara Jackson said. "At Cerkl, we find that students are willing to learn and our internships satisfy their hunger to grow in a fast-paced, hands-on environment." She said the startup also provides interns with "a rich network of resources and experts to further open doors despite where their career journey will lead."
Miami sophomore Sam Huber, an interactive media studies major, interned this fall with Cerkl, where Jackson said his design work was an integral part of its marketing strategies.
"Because of his stellar work, we continue to contract with Sam on design projects," said Jackson, adding that the company has employed two Miami interns so far and "based on our positive experience will continue to seek out quality talent from Miami."
Catherine Couretas, project manager for CDI, said the program had four students who interned this fall with area startups and all received offers to remain working with the companies in some capacity.
"There is such high demand in Cincinnati for these smart students who understand digital, who understand technology," she said.
Introducing more students to startup community
On Friday, Jan. 15, 20 Miami students will take part in a winter term immersion program introducing them to the startup community.
They will see two Over-the-Rhine startup businesses — Roadtrippers, a tech company that has developed a trip-planning website and app; and the Frameri, an eyewear company known for its interchangeable frame and lens system.
Heather Christman, senior associate director for career development and employer relations at Miami, said the startup community is "an area where there has been and will continue to be some economic growth, particularly in Cincinnati."
As startups become more established, Christman said, "We know they are going to be ramping up the number of positions they have available, and we want them to think about coming to Miami before anywhere else."

Miami student internships through the OMIC program
21 interns at 16 startups in Cincinnati
11 interns at 9 companies working with CDI
70 interns at 24 other companies in region
Total: 102 interns at 49 companies  (Source: office of career services)
Miami #StartupCincy
A collaborative effort among Armstrong Interactive Media Studies, the Institute for Entrepreneurship, career services and university external relations to increase Miami's presence in the Cincinnati startup community.
Other highlights:
AIMS is supporting 11 students with semesterlong internships working in #StartupCincy this academic year as part of the Cincinnati Digital Innovation Center.
The Altman Scholar Internship Program supported 18 interns in #StartupCincy during summer 2015. It has supported a similar number of interns every summer since 2010.