Mar 25, 2016
Miami celebrates Cesar Chavez Day with events March 30-April 1
Miami's fourth annual César Chávez Celebration Program features three days of events including a social justice forum, student and keynote presentations and a traveling exhibition.
Cesar Chavez Day — a national commemorative holiday — is aimed at celebrating the birth and legacy of the civil rights and labor movement activist on March 31, his birthday.
One of the "heroic figures of our time," noted the late Sen. Robert Kennedy, Chavez influenced and inspired millions of Americans to seek social justice and civil rights for the poor and disenfranchised.
He forged a diverse national coalition of students, middle-class consumers, trade unionists, religious groups and minorities.
Jacqueline Rioja Velarde, associate director of the Center for American and World Cultures (CAWC) and a celebration program organizer, credits this commitment to coalition building for the cross-campus support for the program.
"One of the special features of this year's program is the engaging participation of Miami students," Rioja Velarde said. Hannah Noel, visiting assistant professor of Latin American, Latino/a and Caribbean studies, designed the panels to engage graduate and undergraduate students in scholarly research focused on social justice and activism, Velarde said.
Program highlights include:
For a full program schedule and contributors go to the CAWC Facebook page.

March 30: "Latinos in Rural America" exhibition opening reception, presentation r
4:30 p.m., MacMillan Hall Gallery (lobby, first floor)
Presentation by Clara Román-Odio, director of Latino/a Studies at Kenyon College and director of the public humanities and oral history project "Latinos in Rural America." Reception follows.
The exhibition is on display through April 12.
March 31: Keynote talk on the immigrant rights movement; student presentations/roundtable on "Latino Futures"
6 p.m., 322 McGuffey Hall.  Keynote: "'Obama Escucha, Estamos en la Lucha': Civil Disobedience in the Immigrant Rights Movement" by Kevin Andrew Escudero. Escudero, of Asian and Latino descent, is a Presidential Postdoctoral Fellow in American studies at Brown University.
8 p.m., 322 McGuffey Hall.  Latino Futures: Student presentations and roundtable discussion with local activists and Latino studies scholars
Moderator: Hannah Noel, visiting assistant professor of Latin American, Latino/a and Caribbean studies.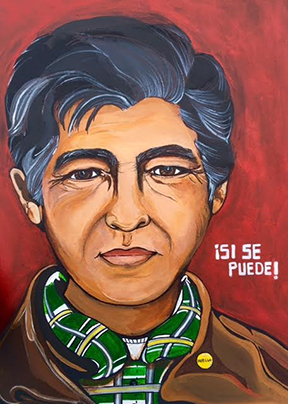 Painting of Cesar Chavez by Esther Claros-Berlioz, doctoral student in educational leadership and member of the Cesar Chavez Celebration planning committee. The painting won the CAWC's "Latinidades in Ohio" art contest.
April 1: Social Justice Forum, 212 MacMillan Hall
9-10:15 a.m. "Lost in Translation," graduate student panel.
10:30-11:45 a.m.  "Latinos in Ohio: Cross-Racial Coalition Building and Social Activism," undergraduate student panel.
1-2:15 p.m. "Latino Leadership in Southwest Ohio" panel and address by Lilleana Cavanaugh, executive director, Ohio Commission on Hispanic/Latino Affairs and recipient of the 2016 United States Hispanic Leadership Institute (USHLI) Cesar E. Chavez Community Service Award. Moderated by Yvania Garcia, assistant director, office of diversity affairs.
The César E. Chávez Celebration is sponsored by the CAWC and the office of diversity affairs, in partnership with Latin American, Latino/a and Caribbean studies, and with contributions from many Miami organizations. 
President Barack Obama proclaimed March 31 as Cesar Chavez Day in the United States, with Americans being urged to "observe this day with appropriate service, community, and educational programs to honor Cesar Chavez's enduring legacy." 
Celebrations in his honor are held in Arizona, Michigan, Nebraska and New Mexico. The day has been observed in California since 1995, in Texas since 2000 and in Colorado since 2003 as state holidays (optional in Texas and Colorado).