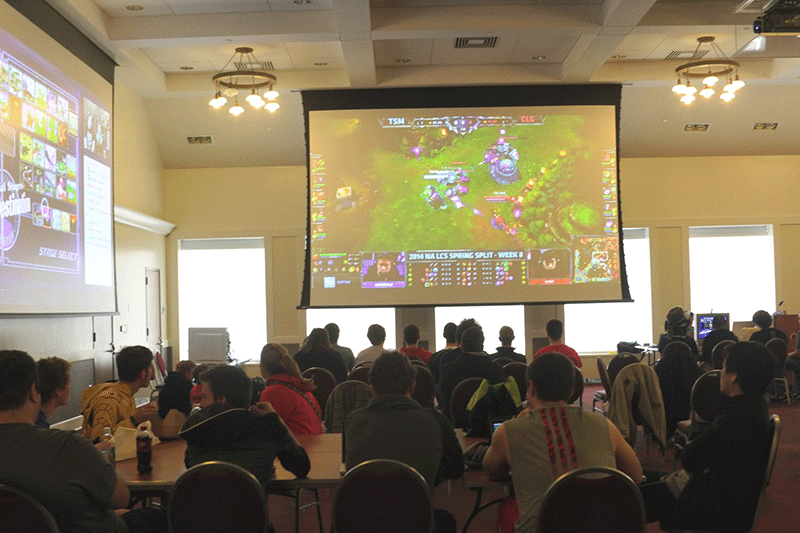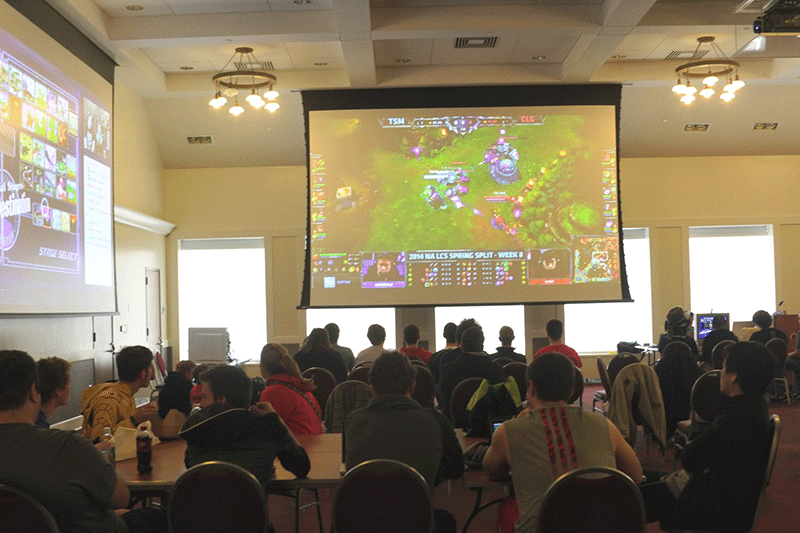 Miami students participate in an eSports competition. (Photos provided by Miami student Stelanie Tsirlis.)
Mar 14, 2016
Miami University announces varsity eSports program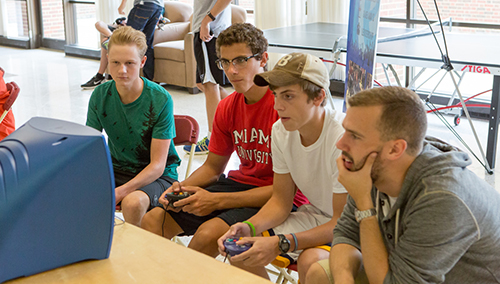 Miami students at a recent eSports club event at Tappan Hall (photo by Andrew Katko).
The first varsity eSports program at a top tier U.S. university is being launched by the Armstrong Institute for Interactive Media Studies at Miami University. Teams will start competing in fall 2016.
With varsity eSports, Miami joins a growing community. In 2014 there were 89 million eSports fans, but that number is projected to nearly double by 2017 to 145 million, a number roughly equal to the fan base of the National Football League according to Repu.com Report on the Growth of ESports. Currently a $250-300 million industry, by 2019 eSports is expected to generate just over $1 billion in revenue annually, per Repu.com.
"This is something we've been working on with our students all year," said Phill Alexander, visiting assistant professor of composition/professional writing and Heanon Wilkins Faculty Fellow at AIMS. "Miami University and AIMS, in particular, have some of the most innovative, dedicated, creative students in the country, and our students have their fingers on the pulse of eSports and are engaged with the community. Thanks to their grassroots efforts, this initiative has gone from a student dream to a reality."
Miami eSports will participate in five games at various events in the fall. Teams will be open to any interested students who wish to try out for them.
The announcement comes during Miami University's Year of Creativity & Innovation. Along with the varsity eSports launch in the fall, Miami University will offer a first-of-its-kind course in the comprehensive study of eSports. Miami offers a digital gaming minor that is nationally ranked.
"Miami University is looking forward to working with our peer institutions to create new opportunities for our students and the eSports community alike," said Glenn Platt, AIMS director.
The class will be team-taught by AIMS senior Stelanie Tsirlis and Alexander, and will include an online component open to the eSports public. The class represents Miami's commitment to working with students and with the eSports community to forge valuable new connections and provide opportunities for collaboration.
For more information, contact Alexander at alexanp3@MiamiOh.edu or Platt at plattgj@MiamiOh.edu.