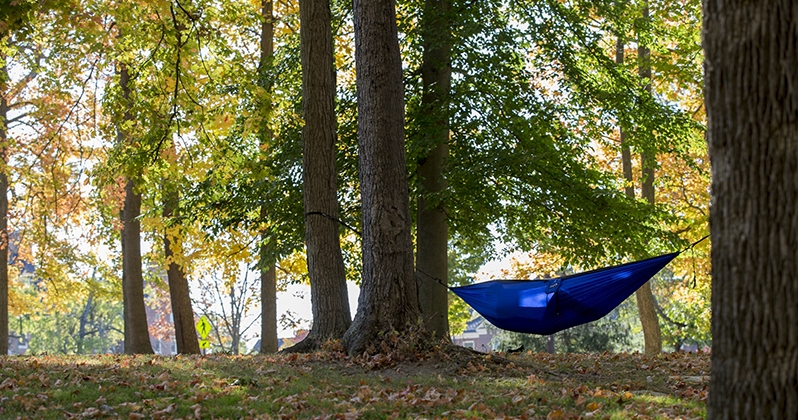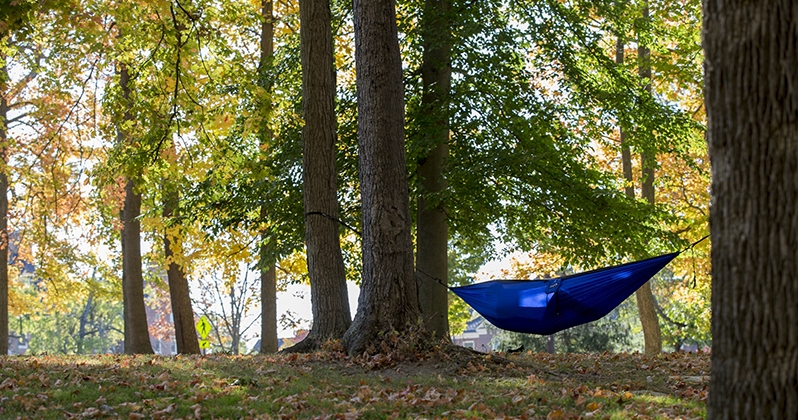 Miami's big trees were little trees 100 years ago when somebody had the foresight to plant them, said Dick Munson. Now we enjoy the shade and the beauty of these trees (photos by Scott Kissell and Jeff Sabo).
Apr 28, 2016
Campus beauty rooted in its trees
By Margo Kissell, university news and communications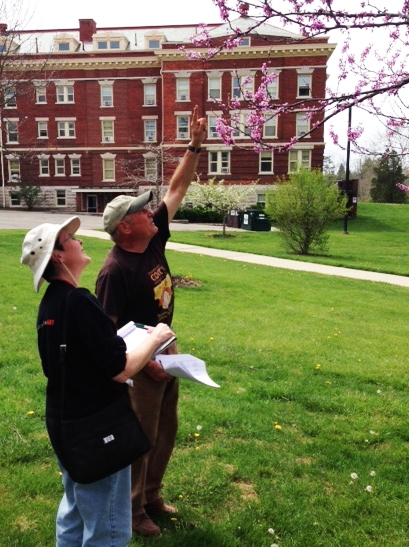 Dick Munson points out a redbud.
Most people probably have trouble remembering when Arbor Day falls on the calendar, but not Richard "Dick" Munson. It's his favorite holiday and this Friday, he'll plant a tree for the 44th consecutive year.
His impressive streak of planting on the last Friday in April started in 1972 on the campus of Cornell University, where he earned his master's and doctorate degrees in ornamental horticulture.
Munson, who retired as manager of The Conservatory of Miami University and lecturer of botany in 2014, continues to share his vast knowledge with students through Miami's Institute for Learning in Retirement. His phenology class spent the past five Tuesdays documenting the growth of new signs of life on 48 species of trees and bushes on Western campus.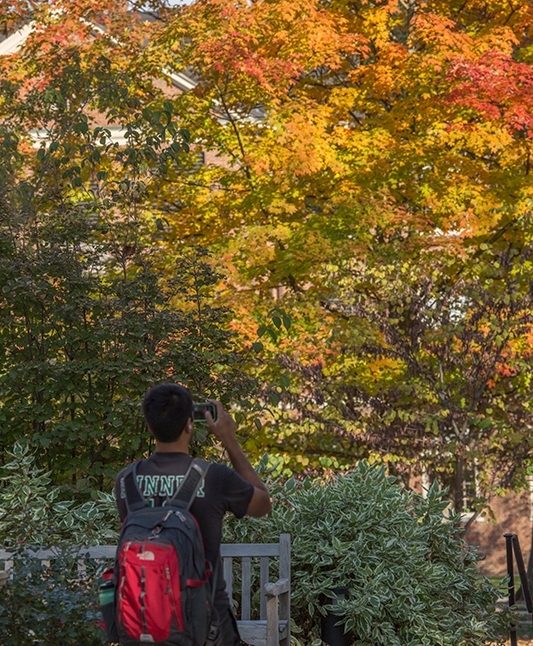 Capturing the beauty of a maple
The horticulturist said he loves the permanence of trees, and their variety, especially on Miami's sprawling, leafy campus dotted with approximately 7,500 trees. There are about 200 species, including sassafras and tupelo, persimmon and sycamore — even the Kentucky coffeetree, whose common name refers to the large woody pods early settlers used as a coffee substitute.
There are also plenty of the familiar dogwood, elm, redbud, maple and giant oak trees, among others, all bursting with new life. 
"I always like to point out that these big trees were little trees 100 years ago when somebody had the foresight to plant them," said Munson, standing beneath a burr oak near the Arthur F. Conrad Formal Gardens on the northeast side of campus. "Now we enjoy the shade and the beauty of these trees, but they all started out — in this case, as an acorn."
At the corner of the greenhouse by the Formal Gardens stand two dawn redwoods, considered the shortest of the redwoods. Fossils indicated that millions of years ago, the fast-growing, coniferous tree species had been one of the most widespread in North America, Asia and Greenland, but they were then believed to have gone extinct. That was, until 1944 when a forester discovered a giant one in a remote valley in China. "To the Chinese people, the dawn redwood is second only to the panda as a conservation icon," the Save the Redwoods League reports.
Miami's Formal Gardens are flanked to the south by a few towering Norway spruce. Looking at them reminds Munson of that first Arbor Day celebrated in 1872 in Nebraska City. As a result of J. Sterling Morton's call to action, an estimated one million trees were planted in Nebraska, according to the Arbor Day Foundation.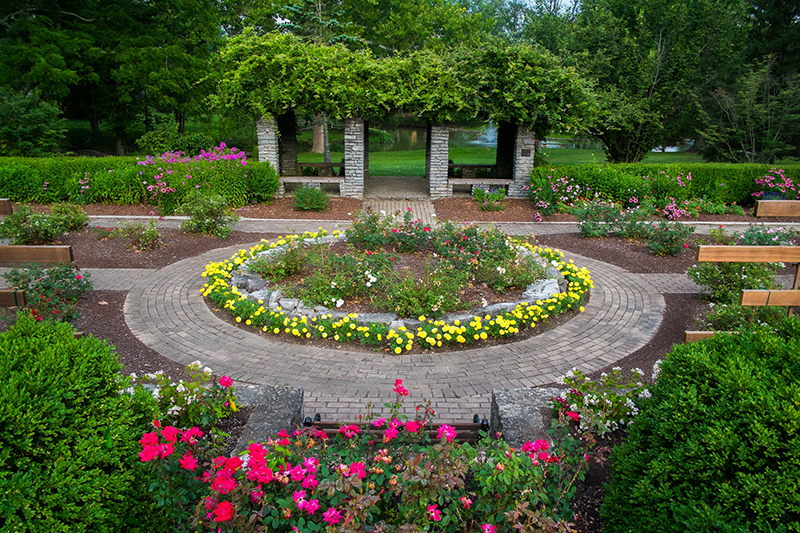 The Formal Gardens are flanked by Norway spruce.
"Many of them were Norway spruce," Munson said. "They formed all these windbreaks around the homesteads."
As he looks around at the variety of trees and plants near Miami's Formal Gardens, Munson said all the horticulturalists and landscape architects in the university's history "were instrumental in making Miami's campus what it is."
"Right up through today, Vincent Cirrito, the campus landscape architect, is continuing that process," he said. "We're in the Arthur Conrad Gardens here, and Art Conrad was very instrumental in (planting) a lot of these trees."
Chat with Munson about trees for a few minutes and you're guaranteed to learn something new. Tag along with him and his class for more than an hour and you'll be tempted to start tasting the slightly sweet redbud flowers right along with the rest of them. The young, heart-shaped leaves and fresh seedpods are edible, too.
"These things make a great addition to salads," he noted.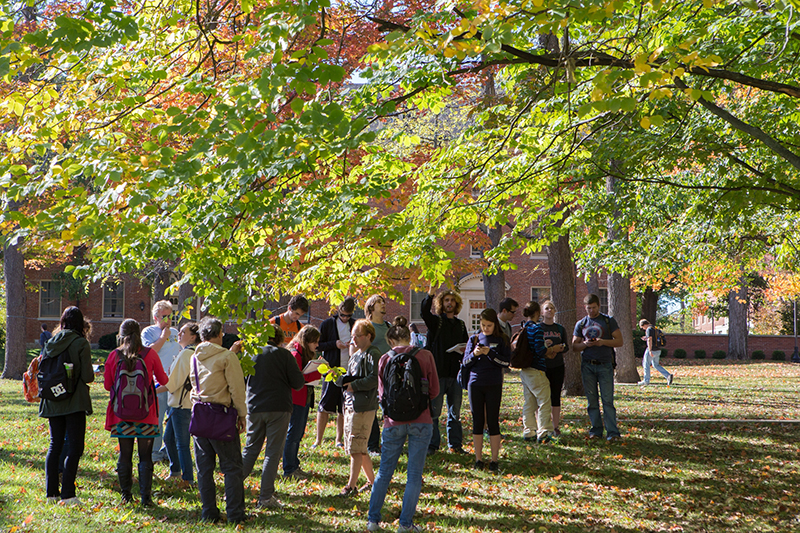 Miami's trees provide a field lab for a botany class.
Kay Griffith, a retired fourth-grade teacher at Marshall Elementary, took Munson's class because she's interested in nature and she had been a student in his one-day class that was part of the gardening series.
"He was so good, I thought 'I want to take that,'" she said. "Whatever he teaches, I'll take."
Arbor Day is a nice occasion to introduce children to the concept of planting for the future, Munson said.
"I never met a seed I didn't like," he said, quickly adding that the few exceptions are invasive species of plants that choke out native ones. 
A tree-killing invasive insect from Asia — the emerald ash borer — is why Miami has had to cut down hundreds of ash trees on campus in recent years.
Munson explains how to tell the difference between pine trees and other conifers.
The pest first appeared in Butler County in 2007, Cirrito said. Miami's staff arborist Fred Rader began treating the ash trees with soil-applied insecticide know as the "soil drench" method.
Unfortunately, that method is "no longer effective in the management of the pest as it fully infests area trees," Cirrito wrote in a column last July. Miami has since adopted an insecticide injection-type process that kills the larvae before tree damage. Because it's more expensive and time-consuming, Cirrito said only the trees that are prominent in the landscape or of other importance were selected for treatment.
Though many ash trees have been removed from Miami's campus, the university continues to plant other types of trees, including gingko and Valley Forge elm, among more than 50 other varieties of shade and ornamental trees.
"About 500 trees have been planted in the past four years," Cirrito said.
The newest one — an American yellowwood — has been planted in the hub quad to commemorate Arbor Day.

Miami's trees add to the beauty of campus in every season.