Apr 14, 2016
Genocide and Holocaust Education Program: Keynote, film series, Reading of the Names
By Susan Meikle, news and communications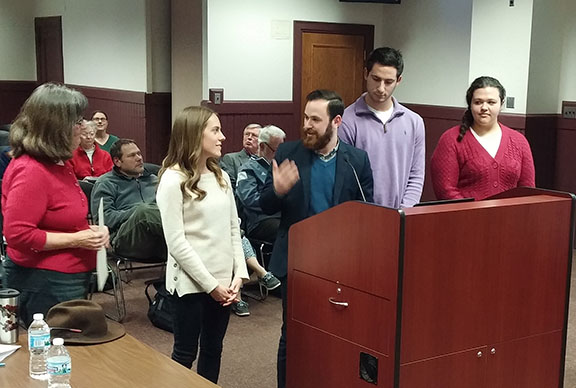 Student members of the GHE committee spoke at the April 5 Oxford City Council meeting. Left to right: Aryn Swing, Cody Philips, Dan Ginsburg and Natalie Roberts. Council member Edna Southard at far left (photo by Mike Johnson).
The annual Genocide and Holocaust Education (GHE) Program at Miami University April 19-May 5 includes events that reflect on and acknowledge historical and contemporary genocides.
Miami students demonstrated their support this year with two significant actions:
The Associated Student Government issued a resolution declaring April as Genocide and Holocaust Education and Prevention Month;
Student members of the GHE committee petitioned the Oxford City Council to pass a similar resolution. Oxford Mayor Kate Rousmaniere signed a proclamation declaring April "Genocide and Holocaust Education and Prevention Month in the City of Oxford."
Program events reflect on and acknowledge the Rwandan genocide (Remembrance Day April 7); the Armenian genocide (Remembrance Day April 24); the Holocaust (Remembrance Day May 5) and other contemporary genocides. 
The program is organized by the Center for American and World Cultures (CAWC) and GHE committee. It is sponsored by the CAWC, the department of history Holocaust Education Fund and the HIllel Foundation of Miami University with support from the Associated Student Government and many Miami organizations.
Genocide and Holocaust Education Program Events
"From Hitler to ISIS: The Appeal of Extremist Propaganda" keynote presentation by Steven Luckert
Tuesday, April 19: 5 p.m., Miami University Art Museum
Luckert is senior curator of the Levine Institute for Holocaust Education, United States Holocaust Memorial Museum. He is co-author of State of Deception: The Power of Nazi Propaganda.
Genocide and Holocaust Education Film Series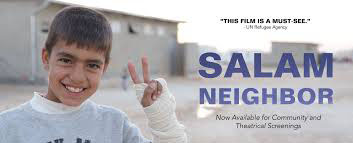 Tuesday, April 26: 10 a.m.-10 p.m., Heritage Room, Shriver Center
Five award-winning films will be screened. Discussion afterward. Refreshments will be served.  
10 a.m.: "Salam (Hello) Neighbor," about life in a Syrian refugee camp in Jordan. "Salam Neighbor" is an award-winning film and campaign created to connect the world to refugees.
2 p.m.: "Enemies of the People," about the Cambodian genocide.
4 p.m.: "Granito: How to Nail a Dictator," about the Guatemalan genocide.
6 p.m.: "The Cut," about the Armenian genocide.
8 p.m.: "The Roundup (La Rafle)," about the Holocaust.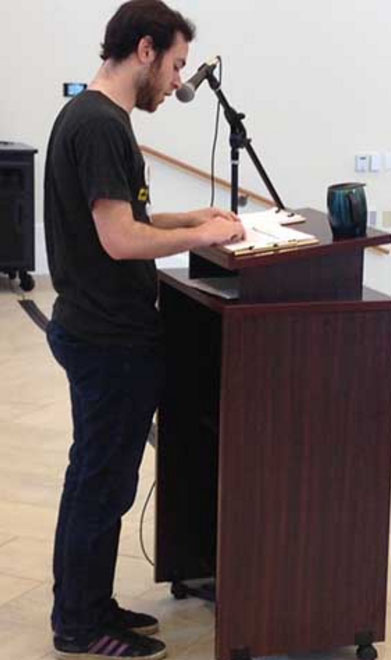 Cody Philips, one of the many community members who read the names during the 2015 Holocaust Day of Remembrance.
Reading of the Names program
May 5: 8 a.m.-5 p.m. at the HUB (rain location TBA)
A Reading of the Names ceremony on Yom HaShoah, or Holocaust Remembrance Day. 
This is the second year for the daylong event at Miami. It was first organized last year by student members of the GHE committee.
Those interested in reading may sign up for a 15-minute slot here, or contact organizers Cody Philips or Natalie Roberts.
The Genocide and Holocaust Education program is supported by the ASG; departments of comparative religion, German, Russian, East Asian and Middle Eastern languages and cultures, and political science; Ford Family Initiative on Spirituality, Meaning, and Purpose; honors program; Interfaith Center; the film studies, international studies and Jewish studies programs; and Miami University Students Against Genocide.