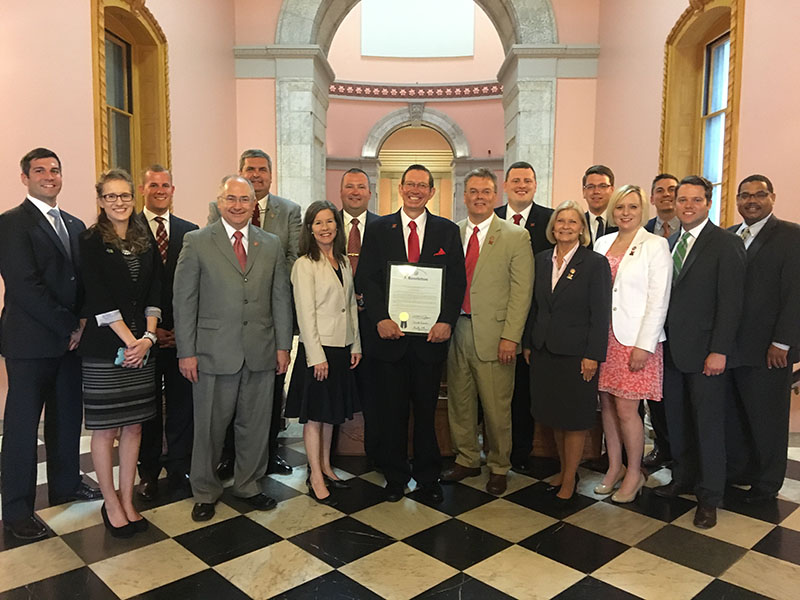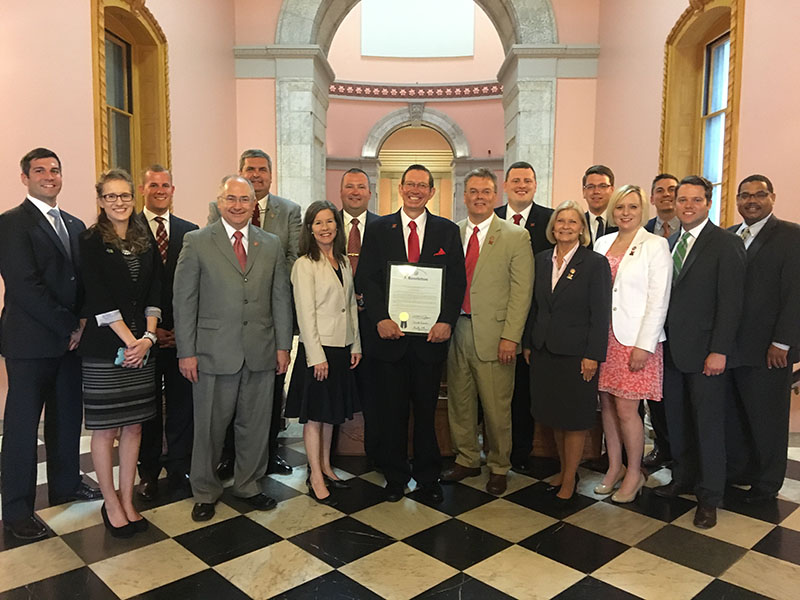 President David Hodge, honored for his service to higher education, is surrounded by statehouse workers and officials, many of whom are Miami alumni.
May 26, 2016
President Hodge honored at Ohio statehouse for his leadership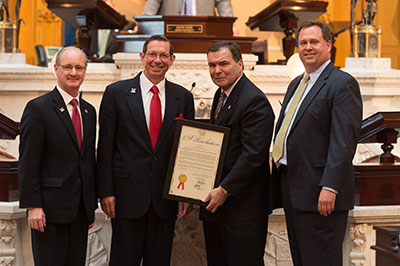 Pictured are: Ohio Sen. Bill Beagle, President David Hodge, Sen. Bill Coley, Sen. Kevin Bacon.
Pictured in the large group photo are: Front row, l-r, Allison Lawlor, legislative aide to State Rep. Conditt; Rep. Kent Smith; Rep. Denise Driehaus; Dr. Hodge; Rep. Tim Derickson; Rep. Margaret Conditt; Rep. Sarah LaTourette; Scott Lundregan, deputy legal counsel for Ohio House Republican Caucus.Back row: l-r, Ben Webb, deputy chief of staff to the speaker of the house; Cameron Garczyk, Miami senior; Rep. Scott Ryan; Rep. Wes Retherford; Mike Dittoe, chief of staff to the speaker of the house; Justin Hucke, legislative aide to Rep. Jonathon Dever; Mark Kylander, legislative aide to Rep. Bill Reineke; and Randi Thomas, Miami's director of institutional relations. All but Reps. Conditt and Retherford (and current student Cameron Garczyk) are Miami alumni. 
by Claire Wagner, university news and communications
Miami University President David Hodge was recognized for "unwavering dedication" to higher education and "a record of professional achievement that is worthy of emulation" by the Ohio House of Representatives and the Ohio Senate, Wednesday, May 25.
The legislature honored Hodge as he is about to retire after 10 years as president of Miami. He will complete 42 years in academia.
The House resolution cited Hodge's support for countless students over the years. "Always sincere and energetic in his approach to his work, David Hodge has displayed a genuine commitment to attaining his myriad goals in a skillful and professional manner, and he is truly deserving of high praise," the resolution said in part.
The Senate resolution said in part, "Throughout his career, President Hodge has clearly shown the potential for each person to have a positive effect on the quality of life in our society."
State Sen. Bill Coley, who sponsored the Senate resolution, said, "It's an honor to recognize President Hodge for the impact he has made on the students and faculty of Miami University throughout his decade of service to Miami University and southwest Ohio."
The House resolution was sponsored by Reps. Tim Derickson, Margaret Conditt, Wes Retherford, Michael Henne, Scott Ryan, Denise Driehaus, Dorothy Pelanda, Kent Smith and Sarah LaTourette, and co-sponsored by Reps. Ron Amstutz, Andrew Brenner and Bill Hayes.
"Miami University is a special place in this state …," Derickson said. "Every president (at Miami) has accomplished a lot, but President Hodge, frankly, you've accomplished as much as any that have preceded you."
Upon receiving the honor, Hodge said, "It's been a privilege to be here in Ohio, to work with the legislature, to work with my fellow presidents throughout the higher education system, and above all, to work with the dedicated staff and faculty and Miami who have an unbelievable commitment to making sure that our students, that our state, and our nation have a better future. And in the words that we like to give to each other that symbolize commitment: Love and Honor."