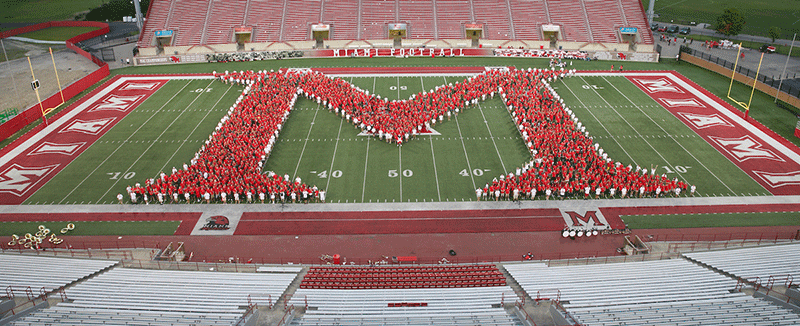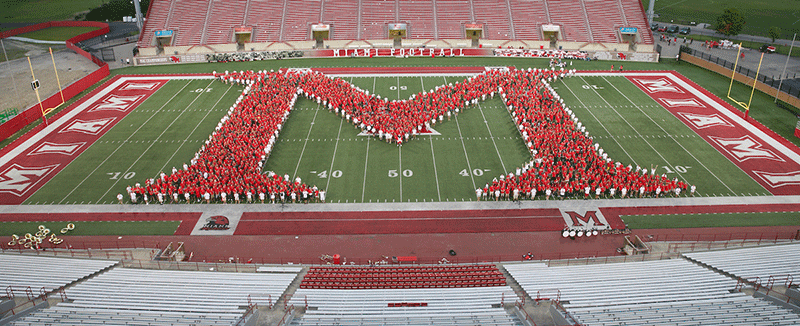 The class of 2020 will join the Miami family this week when they move in and get ready for the first day of classes Aug. 29.
Photo: (Photo of class of 2019)
Aug 24, 2016
Miami's class of 2020 breaks new ground, sets sights on a bright future
New president welcomes more than 3,800 to the Miami family in Oxford
As Miami's Oxford campus springs to life this week, more than 3,800 members of the Class of 2020 – Miami's most academically accomplished and diverse enrolling cohort in its history – will move into their new "home."
This incoming class was selected from the largest applicant pool in Miami's history, at 29,771.
The fall 2016 semester commences with Gregory Crawford, Miami's 22nd president, at the helm. Crawford and his wife, Dr. Renate Crawford, moved to Oxford in July.
"This is an incredibly exciting time to be at Miami and to welcome such a talented group of new students," Crawford said. "Imagine the potential for positive impact these students will have on Miami and on the global communities where they will eventually work, live, and lead."
The academic quality of the incoming class has continued to increase, with 37 percent of the incoming students scoring a 30 or higher on the ACT. The average ACT (28.5) and GPA (3.77) are the highest in Miami's history. The class is also the most diverse yet at 15.5 percent, an increase from 13.7 percent last year. International students comprise another 7.7 percent of the class; 15 percent of the incoming students are the first in their family to attend college. Members of the class of 2020 hail from 45 states, the District of Columbia, and 35 countries across the globe.
"We could not be more impressed with the class of 2020. They applied in record numbers, and ultimately, those arriving on our campus this fall are among the nation's brightest and best," said Susan Schaurer, assistant vice president for enrollment management and director of admission.
Schaurer said that Miami's ability to attract students of this caliber from Ohio, across the U.S. and around the globe illustrates the demand for a Miami degree is at an all-time high.
"Miami is increasingly recognized by prospective students as a Public Ivy whose alumni are consistently recruited by the nation's top employers and graduate and professional school programs," she said.
More than 95 percent of Miami's 2015 graduating class were employed or in graduate school within six months of graduation.
Author, journalist Joshua Davis to speak at Convocation
The Miami experience for new students officially begins at Convocation Friday, Aug. 26, with guest speaker Joshua Davis, writer and journalist.
Davis is the author of Spare Parts: Four Undocumented Teenagers, One Ugly Robot, and the Battle for the American Dream, the 2016 Summer Reading Program book. "This book embodies the spirit of courage, unity and imagination," said President Crawford. "It's a thought-provoking story that encourages us all to embrace challenges, to celebrate our differences and to dream."
New at Miami
Along with President Crawford, his wife Dr. Renate Crawford, and their "first dog," Emma, Miami opens the school year with an array of new programs, new dining options and newly renovated residence halls. Read more online at What's new @ Miami this academic year.
Welcome Week activities for all students begin Thursday, Aug. 25, with #MoveinMiami and continue through Sunday, Sept. 4. There are more than 100 events at which students can meet new people, connect with campus resources, learn their way around, prepare for first semester and have a great time.