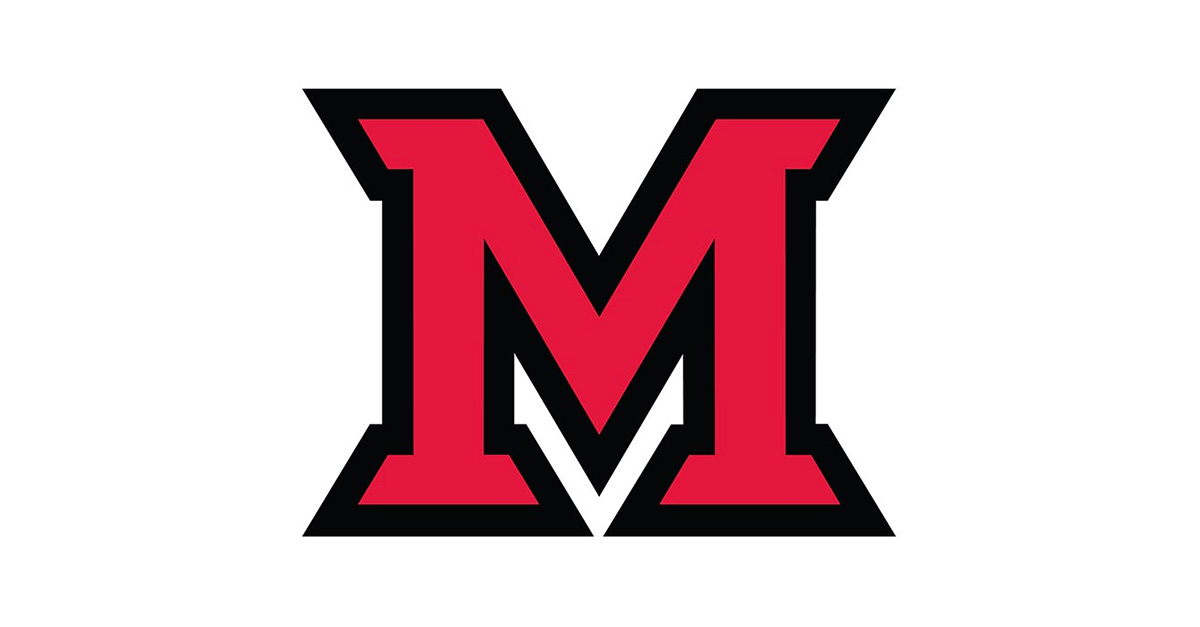 Aug 18, 2016
Community focus unites Miami and Zambia scientists in environmental research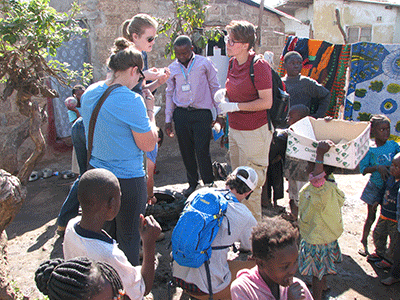 Miami students sample water from shallow wells in one of Lusaka's unplanned periurban communities. (Photo from Jonathan Levy)
An intensive three-week study abroad workshop in the Republic of Zambia teamed Miami University students and professors with colleagues from the University of Zambia and the Zambia Environmental Management Agency in three ongoing research projects.
The team of eight students and three professors collected a wide range of scientific data through sometimes difficult rural terrain and crowded city streets. They did this all while carefully establishing cooperative relationships with residents and leaders of the communities they visited.
According to team leader Jonathan Levy, director of Miami's Institute for the Environment and Sustainability, the ultimate goal is to have the research driven by community needs and continue over time with community involvement in the data collection.
"Many in low-income communities are rightfully wary of groups of mainly white students and scientists entering their communities," said Levy, who also is an associate professor in the department of geology and environmental earth science.

Miami University and University of Zambia students 950 m below the surface on a tour of the Konkola Copper Mine in Chingola, Zambia. (Photo from Jonathan Levy)
Mapping the pathways of contamination
The first research project used dye tracing to develop a better understanding of the groundwater supply of Lusaka, the capital of Zamiba. The dye traces the patterns of groundwater travel and contaminant pathways. Levy and the students are still awaiting results of the dye tracing while a team of students from the University of Zambia Integrated Water Resource Management Program continues their weekly monitoring of the groundwater.
Assessing water quality in Lusaka's periurban communities
The second project was an assessment of the quality and extent of provision of drinking water in unplanned, high-density, periurban communities around Lusaka. Relatively good quality water is provided by semi-governmental agencies called Water Trusts, but residents also get their water from often highly-contaminated shallow wells. The students measured water quality in the various water sources and the Water Trust managers were surveyed to try to determine how many people have access to the higher quality water.

University of Zambia, Integrated Water Resources Management post-graduate student, Naphtallie Banda and Miami University, IES graduate student, Mengwei Yang, retrieve and replace dye receptors inside of a large shallow well.
Mining and the environment
For the third study, the team traveled to Kabwe, a city of about 200,000 people and the location of a former lead and zinc mine that was in operation from 1906 to 1994. As a result of mining and smelting, there is widespread lead and cadmium contamination that has earned Kabwe a spot on Time magazine's list of the world's most polluted places.
The levels of lead in children's blood is especially alarming. In June, the research team worked on a holistic assessment of the effects of toxic metal contamination in the former mining town of Kabwe. This assessment involved sampling air particles, dust in homes, soils and groundwater.
The project also included health surveys of Kabwe residents led by Cameron Hay-Rollins, associate professor of anthropology. She worked closely with Miami students and students from the University of Zambia's department of public health.
The data collected will serve as the basis for Levy, Hay-Rollins and colleagues to write a proposal to the National Science Foundation or the National Institute of Health for more extensive research that will include community-based science.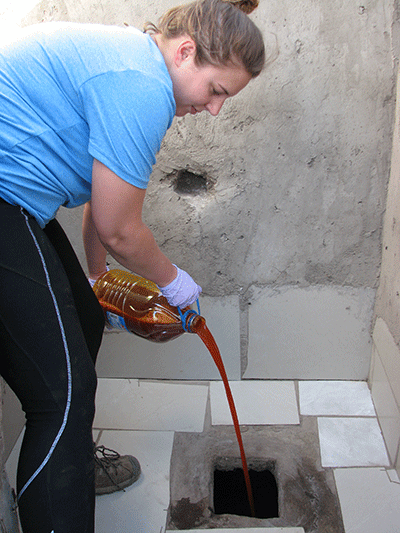 Miami University, IES graduate student, Kathleen Jordan, injects Fluorescein dye into a latrine for a groundwater dye-tracing experiment. (Photo from Jonathan Levy)
Findings and moving forward
The findings of the continued studies will become recommendations for local government agencies "to revitalize community outreach and education about dangers of metal exposure and offer ways to minimize exposure in heavily contaminated areas."
Kathleen Jordan, a graduate student in environmental science, said the opportunity to be involved firsthand in international field research gave her a unique perspective.
"I was able to immerse myself in the day-to-day processes of the research .... I think it adds a lot of integrity to my upcoming practicum."
Patrick Shanahan, a junior geology major, appreciated the amount of planning and coordination required for a large-scale study such as this.
"No matter how many people in your group have a doctorate, things can still derail very quickly. Equipment gets forgotten, samples get lost or mislabeled, and various other things. But I love doing fieldwork. It's demanding and very engaging."
Editor's note: Jonathan Levy, Carole Johnson, university news and communications, and Kerry McFadden, intern, contributed to this story.