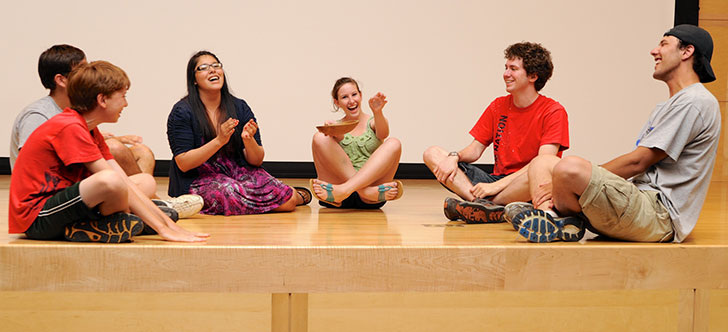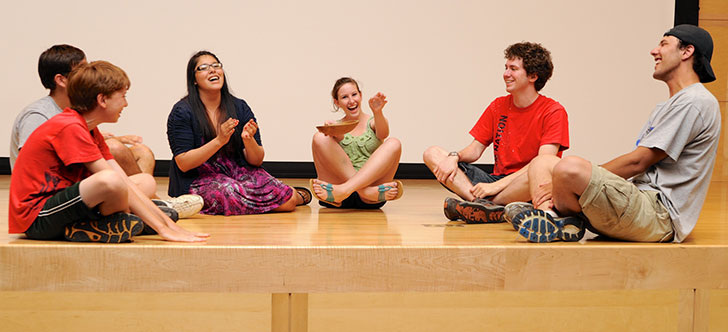 Miami Tribe youth and Miami University tribe students demonstrate traditional games at the Breath of Life program at the Sam Noble Museum in Norman, Oklahoma, in 2012.
Photo: Andrew Strack
Sep 15, 2016
Knowing their tribal identity helps Native American students succeed
Special three-part series
This is the first of a three-part series about Miami University's ongoing partnership with the Miami Tribe of Oklahoma.
The second story will be featured in Miami Matters on Friday, Sept. 23. It highlights a review of the positive influence on personal health when tribal members are reconnected to their historical language and culture.
The third story will appear in the Friday, Sept. 30, issue of Miami Matters and focuses on the revival of Myaamia ribbonwork.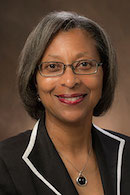 Susan Mosley-Howard
By Claire Wagner, university news and communications
The four-year graduation rate for Native American students across the U.S. is 22.5 percent, but at Miami University, where Miami Tribe students learn the language and culture of their heritage in addition to their other curricular studies, 58 percent graduate in four years.
"The more a young person knows their heritage – who they are – the more it enhances their sense of self, their achievement, their sense of well-being," said Susan Mosley-Howard, professor emerita of educational psychology at Miami who is leading a longitudinal study with colleagues at Miami's Myaamia Center. Their recently published article is in the Journal of College Student Retention.
The Myaamia Center ("Myaamia" is "Miami" in the Miami language) on Miami University's Oxford, Ohio, campus, melds academics with the Miami Tribe's language and cultural revitalization efforts for the benefit of the tribe and the university community. Students from the tribe take a series of six one-hour cultural Myaamia classes starting their first year.
Language revitalization has been central to the work of the Myaamia Center and community educational efforts supported by the Miami Tribe. During the last decade, Myaamia Center staff have worked closely with the Miami Tribe of Oklahoma to develop summer language and cultural programs for tribal youth and develop curriculum and other learning aids for the Miami Tribe's growing educational initiatives.
"Our work in language and culture revitalization is necessary because of losses experienced during the late 1800s as Myaamia youth attended schools, on-reservation as well as off-reservation boarding schools, that were controlled and guided by policies that treated Native American children like immigrants who were supposed to give up their native language and cultures and assimilate into American culture," says George Ironstrack (Miami '06), assistant director of the Myaamia Center and director of its office of education and outreach.
Language and cultural revitalization efforts lead to healing
The Miami Tribe is still recovering from the damage done during that period. Language and cultural revitalization efforts today are demonstrating healing effects for the community.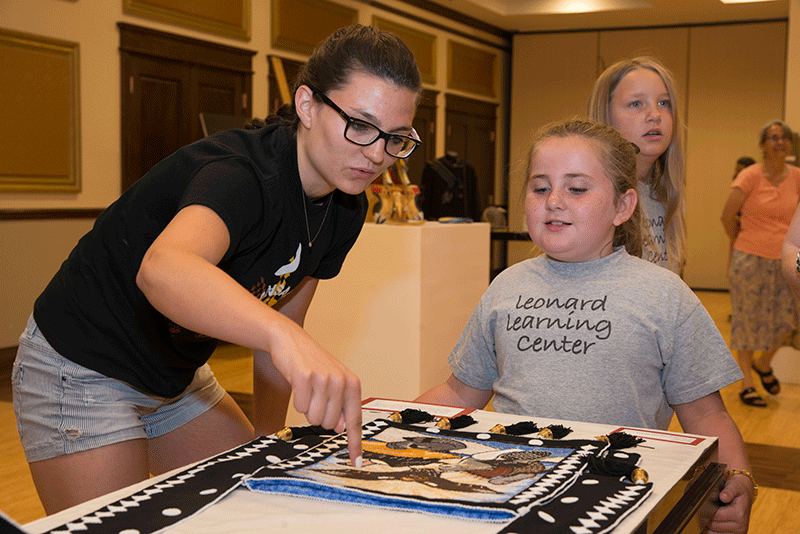 Haley Strass (Miami '13) discusses a beaded bag by Myaamia artist Katrina Mitten with a young visitor during a 2015 exhibit in Miami, Okla. (Photo courtesy of Myaamia Center archives)
"It's intergenerational. Even without dismissing our heritage, not talking about it at home created a void," said Haley Strass (Miami '13), a member of the Miami Tribe. "It's even a bigger message about not being proud of that heritage or trait."
Strass started attending Eewansaapita Summer Youth Educational Experiences – language-based camps – in sixth grade. Then she came to Miami University to further her knowledge of Myaamia language and culture, and while in college, she served as a counselor for tribal youth programs. She is in a doctoral program in counseling psychology at Iowa State University.
"Before, something was missing. Learning my Myaamia identity helped. Other tribal students who come here are coming to understand their heritage and how it influences who they are."
Although the initial study is small, with 19 students participating, and involves just one tribe, Mosley-Howard said, "That quest to find self is important to everyone. It's an extra piece for nonmajority teens who are not in an environment where they get verification."
"The Miami Tribe of Oklahoma and Miami University built trust with each other the past 30 years, and this unique relationship has made this study of student success possible," Ironstrack said.
The relationship has also facilitated research that supports tribal educational programs and publications tied to Myaamia language, culture and history.
"The Miami Tribe is lucky to have the opportunity to collaborate with Miami University to meet the educational needs of tribal members and the general university student body," he added.
Speaking of the influence on tribal students, Mosley-Howard added, "You want to recognize that you're part of a larger community. Having access to that knowledge system is huge." Other article co-authors are Daryl Baldwin, director of the Myaamia Center; Ironstrack; Kate Rousmaniere, professor of educational leadership; and Bobbe Burke, coordinator of Miami Tribe Relations.
Going forward, researchers plan to extend this research to include tribal youth who attend the Miami Tribe's summer Eewansaapita program, which includes children ages 10- 16. Some of these youth have chosen to attend Miami University for their collegiate experience, providing a unique opportunity to track youth development in different learning environments.
This longitudinal study will continue in hopes of further developing insights into how language and cultural education impacts various levels of identity among tribal youth and their social development and academic achievements.