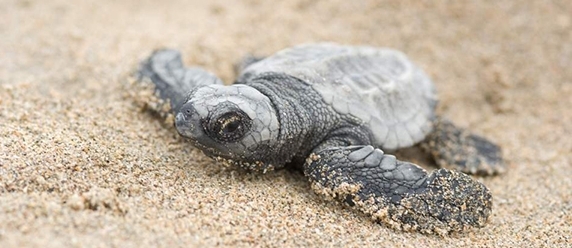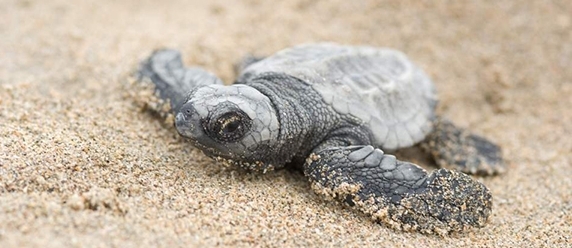 Helen Bailey studies the lost years of leatherback sea turtles. Not much is known about the where leatherback sea turtle hatchlings travel between when they leave their nesting beach and the time they reach maturity (photo by Jason Bradley).
Oct 13, 2016
Hefner Lecture: "An Animal's View of the Ocean" Oct. 20
By Susan Meikle, university news and communications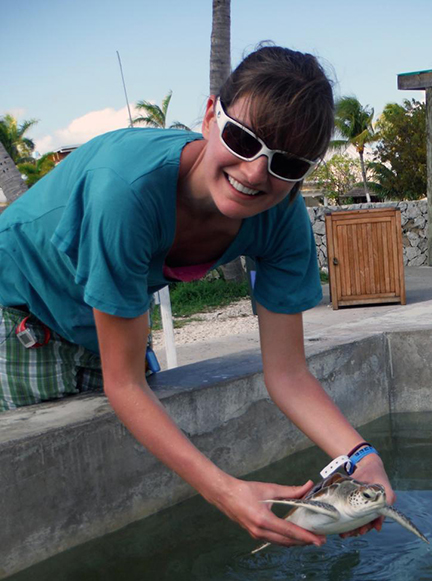 Helen Bailey tags a leatherback sea turtle hatchling (photo by Lauren Cruz).
Marine biologist Helen Bailey will present "Going with the Flow? An Animal's View of the Ocean" at 7:30 p.m. Thursday, Oct. 20, in 102 Benton Hall.
Her talk is the 42nd annual Hefner Lecture sponsored by the Hefner Museum of Natural History at Miami University. It is intended for a general audience.
Bailey is a research associate professor at the Chesapeake Biological Laboratory, University of Maryland Center for Environmental Science. Among other research projects, she studies the movement and habitat use of marine animals.
She is currently involved with major projects on leatherback turtles and on WhaleWatch: a tool using satellite telemetry and remotely sensed environmental data to reduce anthropogenic impacts on whale populations.
The main focus of her talk will be on "The Lost Years" project. Bailey is working with The Leatherback Trust on a study of the migration of young leatherback sea turtles between when they leave their nesting beach as hatchlings and the time they reach maturity. 
This period is known as "the lost years" because not much is known about where turtles travel during this time. 
The leatherback turtle — the largest sea turtle in the world, growing to more than 6 feet in length — is one of the most threatened. They are the widest-ranging marine turtle species and are known to migrate across entire ocean basins.
Female leatherbacks lay their eggs on tropical nesting beaches but then migrate to foraging areas to feed on jellyfish. These long-distance migrations are likely to increase the risk that these animals may be caught in fishing gear, undermining conservation efforts to protect turtles on their nesting beaches, Bailey said.
Interaction with fisheries is believed to be a major cause of death — of particular concern in the eastern Pacific Ocean, where the number of leatherback turtles has dropped by more than 90 percent since 1980.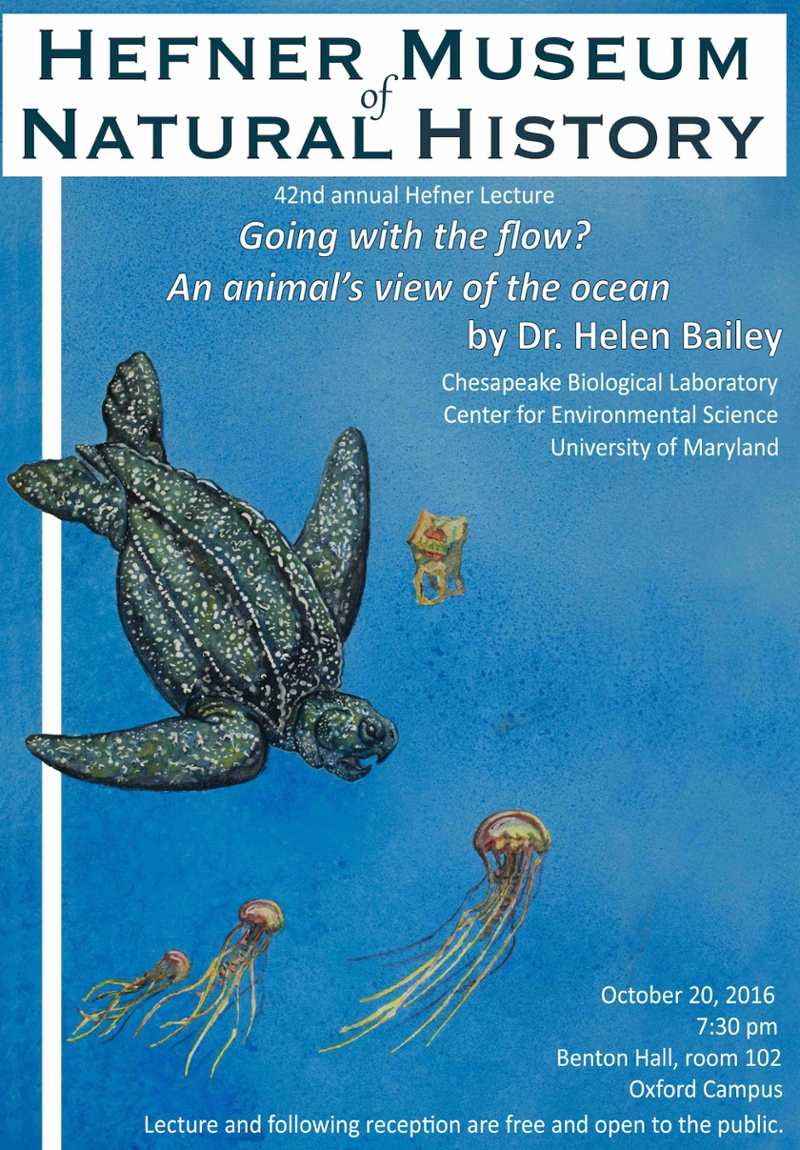 This watercolor of an adult leatherback turtle, ready to eat a jellyfish, was painted by Steve Sullivan, director of the Hefner Museum of Natural History.
Researchers will use acoustic tags that give off sound signals to track hatchlings when they leave Playa Grande, a beach on Costa Rica's Pacific coast.  Bailey's team, in collaboration with The Leatherback Trust, will analyze this acoustic tracking data and combine it with information on environmental conditions, including light pollution, to determine the factors affecting the path movements of young turtles.
Knowing the turtles' movement patterns and where they are caught in fishing gear, especially during the mysterious "lost years" period, will help efforts to reduce potentially harmful impacts of human activities on the already-endangered turtles. 
For instance, fishing boats will be able to avoid likely migration paths and reduce the number of turtles that are unintentionally caught in fishing nets.
Bailey plans to use the information gathered to create a children's book that tells the story of the journey of two young leatherback turtles.
Bailey received her doctorate in 2006 from the University of Aberdeen, United Kingdom., and was a postdoctoral research assistant at the Lighthouse Field Station there 2006-2007. She was a National Research Council postdoctoral research associate, NOAA/NMFS/SWFSC/Environmental Research Division, California, 2007-2010. 
A reception will follow the talk in 100 Upham Hall. The events are free and open to public.
The Hefner Lecture is sponsored by the Robert Hefner Museum of Natural History with support from many other campus organizations.