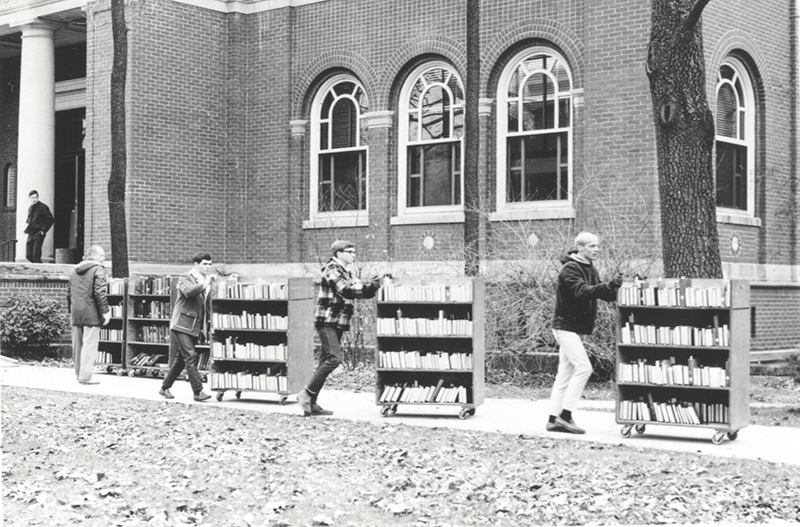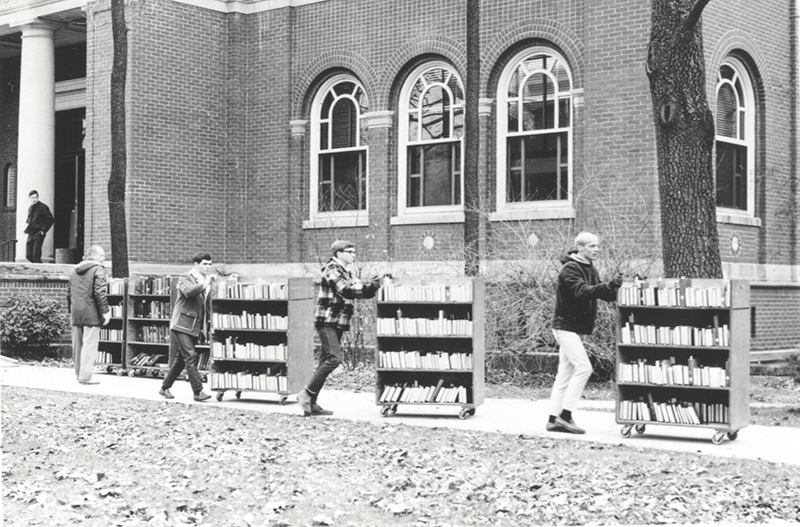 Students in 1966, part of the Book Brigade, move books to the new King Undergraduate Library.
Nov 17, 2016
King Library era began with symbolic "book brigade"
Celebrate King Library's 50th birthday
As King Library celebrates 50 years since its official opening as the Edgar Weld King Undergraduate Library, the Miami University Libraries invite students, faculty, staff, alumni and community members to an open house celebration from 11:30 a.m. - 1:30 p.m., Friday, Nov. 18, in King Library's first-floor lobby.
by Vince Frieden, strategic communications coordinator, Miami University Libraries
Before the new Edgar Weld King Undergraduate Library could open its doors, or even really be called a library for that matter, there was the question of how to move 35,000 books in a single weekend.
The answer to that question is what's remembered today as "the book brigade," a collection of Miami University Libraries' staff and student assistants working alongside student volunteers to complete the daunting task in time for the new library's grand opening Monday morning 50 years ago.
"It was a seamless operation," recalled Charles Markis (Miami '68, M.M. '76), then a Libraries student assistant and later the manager of Miami's Amos Music Library. "I still talk about it whenever I'm looking to share an example of how proper prior planning can accomplish a lot."
Although there have been a number of significant book moves in the Miami Libraries' history, including a more extensive relocation to the expanded and completed King Library in 1973, the 1966 "book brigade" represented not just a physical move of periodicals and monographs but a transformational move to a new type of library.

Students study in the Alumni Library Reading Room. (Photos from Miami Univesity Libraries)
Open space and the freedom to browse
Built in 1910 and expanded to the east in 1922, Alumni Library was over capacity almost from the start.
A 1931 Miami Student headline described the overcrowding situation as "critical" and quoted university officials who urged students to "cease social visits" and come to the library "only for serious study." Alumni Library was expanded again to the west in 1956, but with enrollment booming following World War II, it was too little too late.
Named for a longtime and legendary director of the Miami Libraries, Edgar Weld King Library was the multiphased solution to the dilemma. Its original south wing was constructed in 1966, adding 1,200 seats. The current King Library footprint, including the signature entrance, was completed in 1973.
"People were glad to see the new library," said Markis. "Everyone thought all the open space was wonderful."
The original King Undergraduate Library—renamed King Library and designated as Miami's flagship library with the 1973 expansion—was, as its name suggested, designed to serve undergraduates. It housed course-related books and periodicals most useful to undergraduates, while Alumni Library remained the university's research library and continued to house the majority of the Miami Libraries' collections.
Most notably, the new library offered unprecedented access to its resources. Alumni Library featured closed stacks, which were accessible only to staff or students with special passes. The new library boasted open shelves, which gave students the freedom to browse.
"It changed the way we did research," George Blakeslee (Miami '70) recalled. "With the old library, you had to go in with a mission and really know how to do periodical research. Now it was all there for you. You could peruse and flip through everything. It broadened our horizons."

The King Cafe is a popular spot for today's students.
From "The Libe" to "Club King"
King Undergraduate Library, with its carpet, comfortable seating and expanded hours, also created a more inviting environment for students.
While it continued to serve as a space for academic discovery and quiet study, King's ability to draw students together increasingly fostered a sense of connection among students. Students in the 1960s and 1970s came to know King as the "the Libe."
"It was a wonderful place for studying, as well as for meeting people," remembered Susan Barber Gates (Miami '71). "The second floor was the floor for studying if we wanted to see people and be interrupted. We called it facetime — now FaceTime is virtual! The third floor was for serious concentration."
In the 1990s and 2000s, the rise of technology dictated another round of evolution in the way the Miami Libraries supported students' academic needs. Computers and computer laboratories became increasingly prominent while the card catalogs and reference sections faded away. New partnerships also formed, with King Library becoming home to the Roger and Joyce Howe Center for Writing Excellence and Office of Research for Undergraduates.
Just as revolutionary was the opening of King Café in 2006, thus lifting of restrictions on food and beverages throughout the University Libraries. There also was a shift to 24/7 hours, which spurred a new moniker, "Club King," for a new generation of students.
"Whether it be the sleepless nights in the second-floor cubes or "studying" while also watching Monday Night Football in the CIM lab, 'Club King' had an incredible impact on my college experience," Joseph Hamilton (Miami'16) said. "King was a place where I really got to know people and developed strong relationships."

The entrance to the new King Undergraduate Library in 1966.
The "book brigade"
The transformation all began with that literal and symbolic move that took place over the course of a weekend, beginning Saturday, Nov. 19, 1966.
The 60-plus volunteers, according to newspaper accounts, came largely through an Interfraternity Council recruitment effort. Blakeslee learned about the move through a friend in a service fraternity and volunteered with a singular motivation in mind.
"Being able to go back into the closed stacks was like opening a treasure chest," he said. "I was able to go into the inner sanctum to help box books and periodicals. We kept discovering things and wanting to stop and read them, and the crew captains really had to keep us focused and moving."
Libraries' staff oversaw the unshelving and boxing of the books and periodicals, and the smaller boxes were passed brigade style down stairwells to where the boxes were loaded on rented transfer carts. Each cart was tagged with a location in the new library.
From there, volunteers carefully maneuvered the heavily laden carts down a specially constructed ramp, with one brave person designated to stand in front and serve as the brake. The 35,000 books traveled down about 200 yards of sidewalk, past the soon-to-be razed Clokey Hall. They then proceeded up another ramp into the new King Library, where libraries' staff unboxed and shelved the books in proper call number order.
No volunteers or books were harmed, though the weekend's accounts did include the report of at least one wheel catching in a sidewalk crack and a cart overturning. The action was continuous, with the brigade stopping only for short breaks or to catch the score of the football game, and the brand new Edgar Weld King Undergraduate Library was ready and open for business on Monday, Nov. 21, 1966.
According to Blakeslee, now a semiretired faculty member at Lesley College, while the accomplishment of the weekend was impressive for its efficiency, the real significance of "the book brigade" rests in what it represented.
"It was night and day," Blakeslee said. "We went from this very stereotypical academic space with wooden chairs in which students really had to justify a reason to put their hands on the library materials to a place where we were suddenly encouraged to explore what the library had to offer and to relax and stay awhile. It was a welcome change for students who spent a lot of time at the library."
Visit the Miami University Alumni Association website for an in-depth, visual look at the history of the Miami University Libraries.