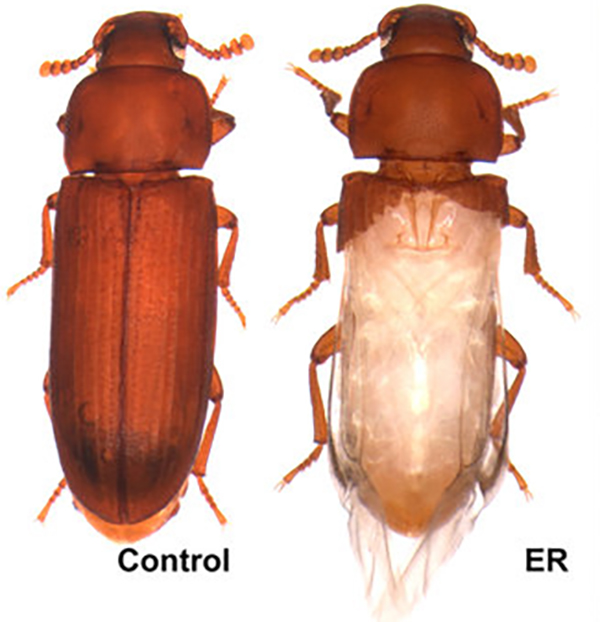 Dec 01, 2016
Creative study on beetle forewings provides first compelling evidence of centuries-old theory
By Susan Meikle, university news and communications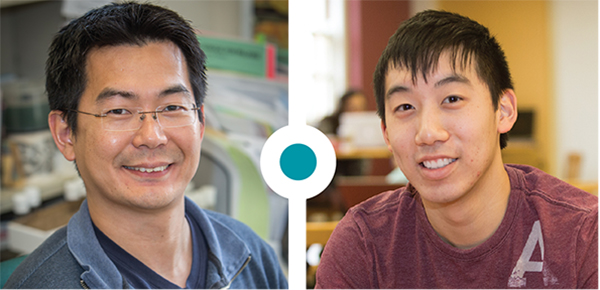 Yoshi Tomoyasu, associate professor of biology, (left) and Alan Hu (Miami '16)
Without using any modern technical laboratory methods, researchers in Yoshinori Tomoyasu's evolutionary developmental biology lab have produced the first quantitative evidence supporting the importance of beetle forewings (elytra).
"We are very proud of this work, because this is a very simple study without any modern biology techniques, yet provides the first compelling evidence for something that has been regarded as a fact for centuries without any empirical support," Tomoyasu, associate professor of biology, said.
Their paper, "Functional value of elytra under various stresses in the red flour beetle, Tribolium castaneum" was published in Scientific Reports, an online, open access journal from the publishers of Nature.
The study was conducted by David Linz (Miami '10), doctoral student in biology, and Alan Hu (Miami '16). They were supported by funds from Miami's Doctoral Undergraduate Opportunity Scholarships (DUOS) program. 
Their study demonstrates that elytra are indeed critical to beetles in order to withstand four major environmental stresses: physical damage to hindwings, predation, desiccation (drying) and cold shock.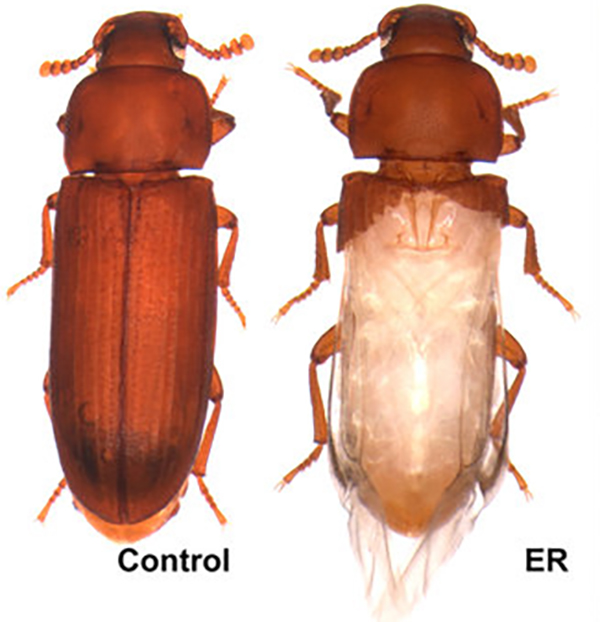 Red flour beetles: control and with elytra removed (ER) (image courtesy of Tomoyasu).
The beetle forewing structure — the elytra — has always been considered to be a shield, protecting beetles from various environmental stresses, said Tomoyasu, whose research focuses on evolutionary developmental biology.
The evolution of the elytra is often presumed to have been the major driving force for the success of beetles, which account for about 20 percent of known eukaryotic species in the world, Tomoyasu said.
"So it is very surprising that few studies have ever been performed to actually demonstrate that elytra help beetles withstand diverse environmental challenges," he said.
Tomoyasu, Linz and Hu designed a study to empirically test the functional importance of the elytra in several creative ways, such as: drying beetles, icing beetles and "feeding beetles to spiders."
Even widely accepted views require empirical testing
"It sounds like an elementary school summer science project, but we did it very seriously, by establishing several sophisticated assay systems and implementing some complex statistical analyses," Tomoyasu said.
Using Tribolium castaneum (the red flour beetle) as a model, they tested four categories of stress on control beetles and those that had their elytra removed: physical damage to hindwings, predation, desiccation and cold shock.
They found that, in all categories, the presence of elytra conferred a significant advantage compared to those beetles with their elytra experimentally removed.
"This work provides compelling quantitative evidence supporting the importance of beetle forewings in tolerating a variety of environmental stresses, and gives insight into how the evolution of elytra have facilitated the remarkable success of beetle radiation," Linz said.
"This study also illustrates a recurring theme in science; that some views, even widely accepted ones, still require empirical testing," Tomoyasu said. 
Undergraduate research and collaboration between labs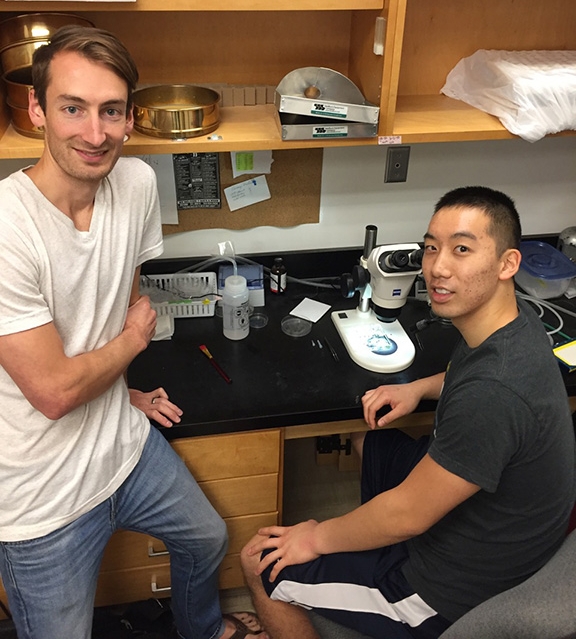 Doctoral student David Linz (left) and Alan Hu.
This project was a great example of an undergraduate student being a member of a research team, Tomoyasu said. 
Most of the projects in his lab employ technical state-of-the-art molecular biology methods. Undergraduate students in his lab typically require about six semesters of experience learning the methods before they can start collecting experimental data.
With the elytra study, Tomoyasu had been thinking of a project that could be done quickly with simple methods.
He and Hu, then in his second year in Tomoyasu's lab, started researching scientific papers to find evidence of studies demonstrating the importance of elytra. They found no studies that tested the hypothesis, so they developed their own study.
Linz's previous experience in beetle desiccation and freezing experiments helped the team implement the study. As an undergraduate at Miami (2006-2010), Linz conducted research with Richard Lee, University Distinguished Professor of Biology. Lee researches the Antarctic midge, Belagica antarctica, which can tolerate freezing  — up to two years in the larval stage — and extensive dehydration, surviving the loss of 70 percent of its body water.
Linz worked with Lee during his four undergraduate years at Miami and was an Undergraduate Summer Scholar.  He credits Lee and Ben Philip (Miami Ph.D. '10), Lee's doctoral student, for encouraging him to pursue a career in science.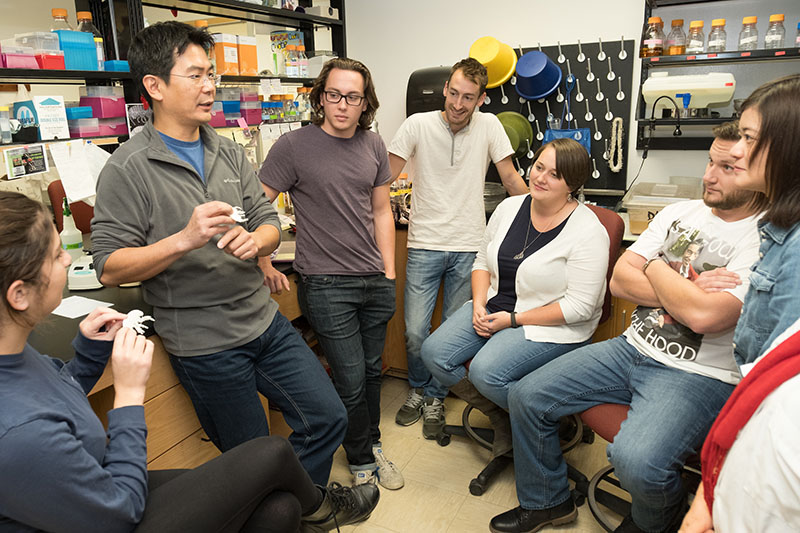 Tomoyasu with his lab group (photo by Scott Kissell).
Study co-author Michael Sitvarin (Miami Ph.D. '14) provided expertise for the spider predation assay. Now a post-doctoral scholar in entomology at the University of Kentucky, Sitvarin did his doctoral research with Ann Rypstra, University Distinguished Professor of Biology. Rypstra is internationally known for her research in the field of behavioral ecology, including predation, using spiders as model systems. 
"We were surprised by the spider predation results," Tomoyasu said. Control beetles were less likely to be picked up by the spider and were dropped immediately after being picked up. Only beetles with the elytra removed (ER) were killed by the spider.
Tomoyasu currently has five undergraduate researchers in his lab, with doctoral students Linz and Courtney Clark-Hatchel and master's degree students Yi-Ting Lai and Kevin Deem.
Below, results from the spider predation assay: ER (elytra removed) beetle and wolf spider; control beetle and wolf spider.