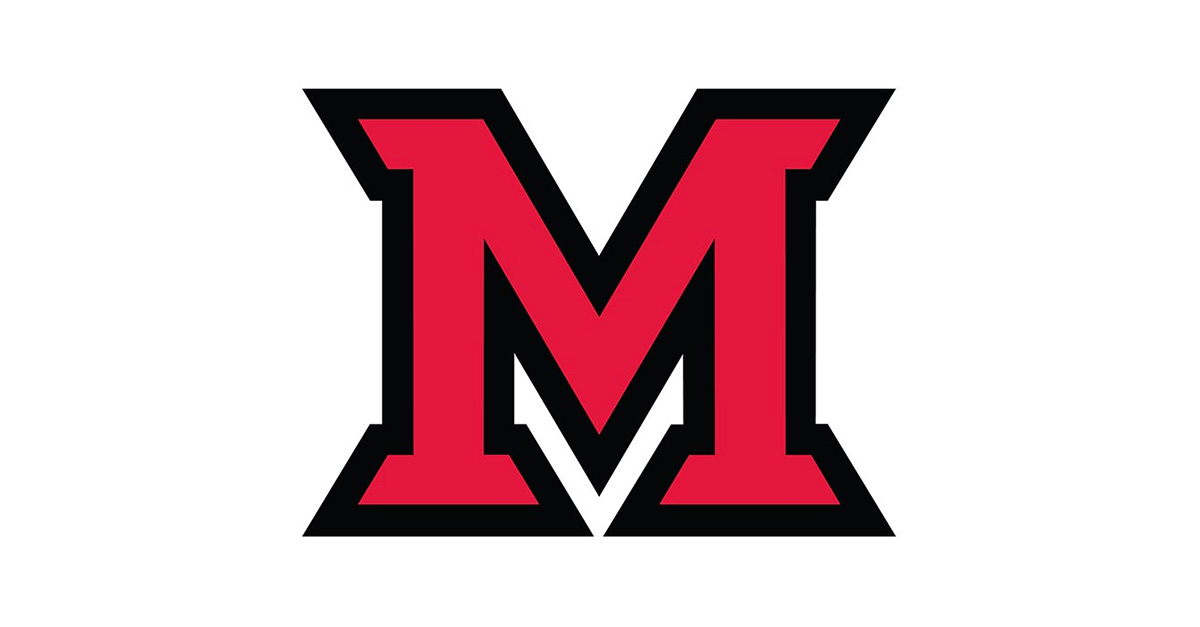 Dec 15, 2016
Miami shines during season of giving: Service projects help people in need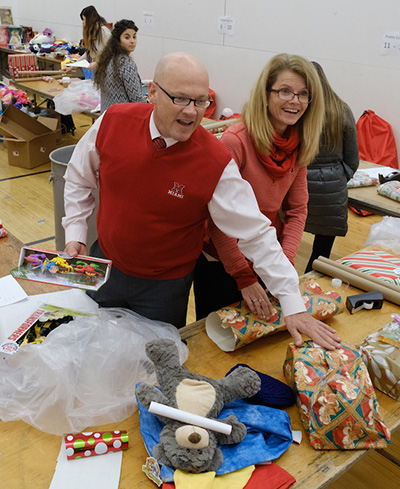 President Greg Crawford and Dr. Renate Crawford help Miami employees wrap presents for the Holiday Project, which raised $15,140.88 (photo by Scott Kissell).
The Miami University community has been taking part in several service projects to serve those in need during the holiday season.
Some of the projects:
The Business Student Advisory Councill held its annual Red Mitten Campaign to help local families. Local schools help determine the wants and needs of Oxford families and students write them on paper mittens for donors to choose. Items donated range from winter coats and kitchen utensils to toys and sports items. 
Intercollegiate athletics staff helped local families through Bring Joy to a Child. They bought gifts and will deliver them Monday, Dec. 19.
Fraternity and sorority members bought gifts for more than 270 children.
The Miami football team will volunteer at a Cincinnati soup kitchen on Friday, Dec. 16.
Athletic teams will volunteer at the Ronald McDonald House during winter break.
The Alpha Epsilon Pi-Alpha Tau (Miami) chapter held its annual holiday toy drive (newly named Toys for Tykes) for Dayton Children's Hospital and raised more than $1,500.
Seniors Caitlin Nevins and Regina Bandwen started a Giving Tree program and, with the help of the Greek community, collected 230 gifts for children in the CHOICES foster care system.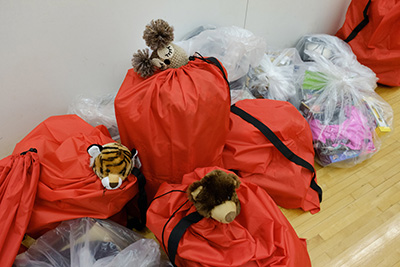 Red gift bags sit waiting to be delivered to foster children in need in Butler and Preble counties.
The student organization Nourish International raised more than $2,000 from an ugly Christmas sweater sale, and the funds will be used for its summer project in Trujillo, Peru.
Pat Camacho, senior program assistant in regional enrollment and admissions, conducted a winter clothing drive again this fall on the Hamilton campus, collecting new and gently-used coats, hats, scarves, gloves and mittens for adults and children in the Hamilton area. 
Miami Regionals' staff members are participating in the Rotary Christmas Project, an initiative facilitated through the Hamilton, Fairfield and Middletown Rotary clubs and coordinated with area K-12 districts to identify families in need. Parents provide a wish list of gifts for their children and food for their holiday table.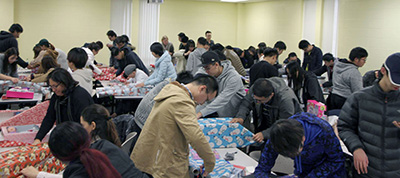 Students from Miami Middletown's English Learning Center wrap presents for the Salvation Army.
The English Learning Center (ELC) and office of community engagement and service at the Middletown campus teamed up with the local chapter of the Salvation Army again this year for two holiday service projects: ELC students shopped for, wrapped and distributed gifts at the annual Salvation Army Christmas Party for local residents and also rang the Salvation Army kettle bells in area stores and business. 
David Sobecki, associate professor of math at Miami Hamilton, conducts a food drive to help the Shared Harvest Food Bank in Fairfield. Sobecki, a member of the pantry's board of directors, conducts food drives at the end of each semester. Since 2004, when he started keeping track of donations, the Hamilton campus has donated 69,851 pounds of food and $8,331.
The Miami community raised $11,140.88 for the Holiday Project. With an additional donation of $4,000 from Meijer's Corporate, there was $15,140.88 to buy gifts for 162 foster children in Butler and Preble counties.
The Miami community helped Oxford Empty Bowls raise $8,702.95 for the Oxford Community Choice Pantry.
Story compiled by Kristal Humphrey, university news and communications; and Brennan Burks, Miami Regionals