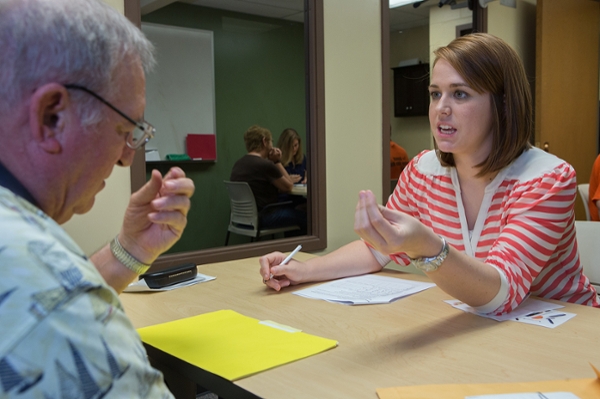 Jan 26, 2017
Miami's Speech and Hearing Clinic: Changing people's lives for more than 60 years
By Margo Kissell, university news and communications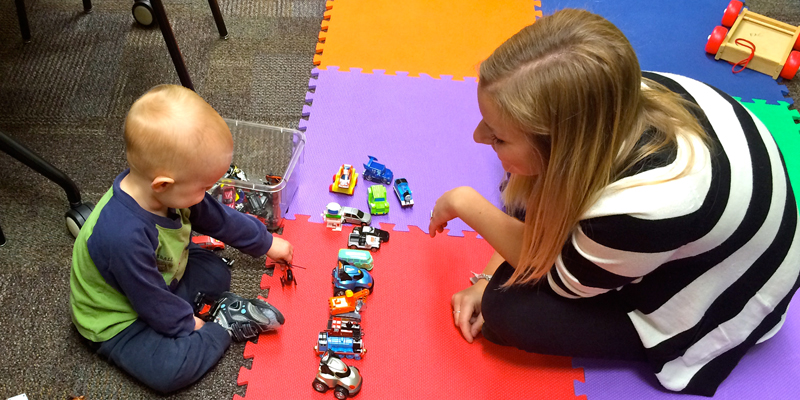 Morgan Dewey '16 works on language through play with a young boy who has a language delay (all images by Scott Kissell).
Sarah Dillhoff of Hamilton was talking about how much improvement she has seen in her son, Paul, since he started coming to the Miami University Speech and Hearing Clinic two years ago.
The boy, who turns 5 in February, has childhood apraxia of speech, a disorder of motor planning that makes sequencing sounds into words difficult.
When he first came to the clinic at age 3, he was saying Dada and a few other words. But on this recent afternoon, in the background during the phone interview, Paul could be heard talking to his younger brother as they played together.
"He's telling him what to do," Dillhoff said with a laugh. "He is speaking in full sentences."
For more than 60 years, the clinic has met the speech and audiology needs of tri-state residents as well as the Miami community. More than 1,700 visitors, ranging from infants to the elderly, visit the clinic in Bachelor Hall annually.
All of the providers are certified by the American Speech-Language-Hearing Association and committed to providing individualized assessment and treatment for communication disorders.
In children, those can range from difficulty with pronunciation to more serious challenges for those with autism, cerebral palsy and Down syndrome.
Many adults, including Miami faculty and staff, can go there to have their hearing tested and to be fitted for new digital hearing aids if necessary. Others may seek therapy to improve communication after a stroke, a neurological disorder such as Parkinson's disease or a brain injury after a car accident.
"We're fortunate enough, because we are a university, to have individuals on the faculty who specialize in different areas," said Cheryl Stewart, clinic coordinator.
Students earn valuable clinical experience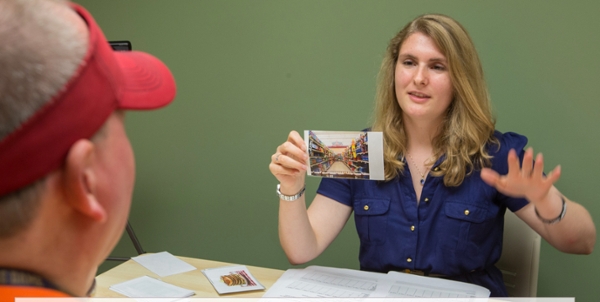 As a 2014 Undergraduate Summer Scholar, Emily Robinson (Miami '15) conducted research on aphasia with a group of individuals who had strokes. She was mentored by Kelly Knollman-Porter, instructor and externship coordinator for speech pathology and audiology.
The clinic, which is committed to providing cost-effective services, also serves as "an important training ground" for future speech-language-hearing professionals, said Susan Baker Brehm, chair and professor of speech pathology and audiology.
Undergraduate students and first-year graduate students in the department of speech pathology and hearing work with clients in a setting where faculty and staff provide hands-on mentoring.
"It is where students get their first real-life experiences in their chosen profession under the supervision of our faculty and staff who deeply value high quality clinical training," she said.
Brehm said faculty feel strongly that students benefit from clinical experience at the undergraduate level before committing to graduate work in the field. A graduate degree is required to become a licensed and certified speech-language pathologist or audiologist.
Most of the students achieve nearly 500 direct clinical hours over the course of their graduate program although only 375 hours are required before applying for certification and licensure, Brehm said.
U.S. News & World Report ranks Miami's program 13th in the nation for schools that offer the master's degree as the highest degree.
Jessica Pipes (Miami '15), who majored in speech pathology and audiology with a minor in 2-D media studies, will graduate this spring with a master's degree in speech pathology.
As an undergrad, she participated in a three-semester series of clinical seminars that culminated in being paired with a graduate student to work with a specific clinic client.
"That is something not all undergrads (in other programs) have," she said, "so coming into the graduate program, it really gave us a running start in working with clients."
Clinic prepares graduate students for internships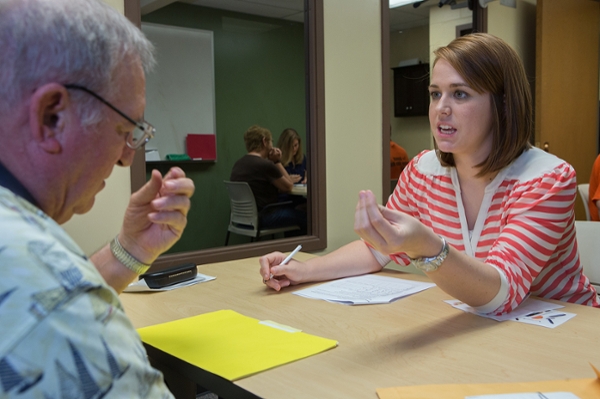 Skylar Powlen (Miami '15) works with a client who has aphasia, a language disorder usually as a result of a stroke.
Each person who comes into the clinic is assigned a clinical faculty person/supervisor who is paired with a first-year graduate student in the program. The licensed supervisor is responsible for the client's care.
"In the beginning the supervisor is in the room doing the therapy and as supervisors we step away in small steps as our judgment says the student is ready to do this," Stewart said.
The supervisor meets one-on-one with each student every week to discuss the client and their skills as clinicians, she said, noting that supervisors also watch video streaming on their computers to observe all sessions and mentor the student.
Graduate students work in the clinic during their first year and are then placed in internships in the community during their second year. They work with adults in hospitals or long-term facilities in the summer, with pediatric clients at outpatient rehabilitation centers in the fall and with children in schools in the spring.
Pipes, who is interning this semester at Fairfield West Elementary in Fairfield, said, "I know I really want to do something with pediatrics."
That's the route Katie White (Miami '14) took after graduating from Miami last spring with a master's in speech pathology. She now works in Hamilton City Schools, the same district where she interned last year.
There she does therapy sessions with individual students or groups, working on such issues as improving articulation.
White said the internships presented her with a wide variety of experiences where she could find her niche, and that working with clients at Miami's Speech and Hearing Clinic gave her a chance initially to "see things in action" outside the classroom.
Celebrating "every little step"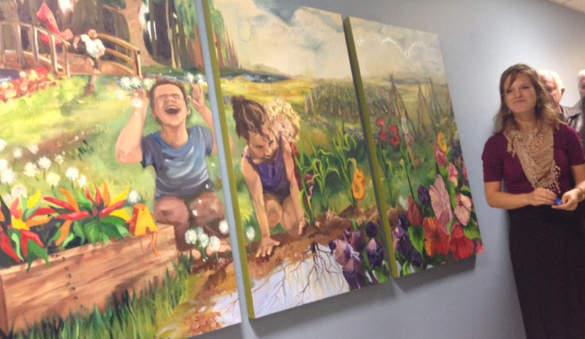 Jessica Pipes (Miami'15) stands beside a mural she painted that hangs outside therapy rooms at the clinic. She said the garden theme captures the beauty "as we learn and grow through therapy."
The clinic holds small, private graduation ceremonies for families when they get to discharge a child from therapy.
"We celebrate with them, every little step," said Stewart, who has a clinical background in pediatrics.
Sarah Dillhoff and her husband hope Paul will eventually be able to work his way out of therapy. He still has some clarity issues to work on and requires visual cues on some words, she said.
For instance, if he says he wants to go swing, it may come out wing. When that happens, Dillhoff, who homeschools her five children, will brush her arm in a downward motion saying the "s" sound for swing. It is just one of the many strategies she has learned at the clinic so she can work with him at home, too.
"I'm learning a lot," Dillhoff said, adding that sometimes she can do a motion for a word without making a sound for Paul to correct himself.
At home, she enjoys watching him participate in pretend play with his older sisters. These days, the toy character he's playing with is not just moving around quietly. He now has a voice.
"He is so proud he can talk," Dillhoff said.