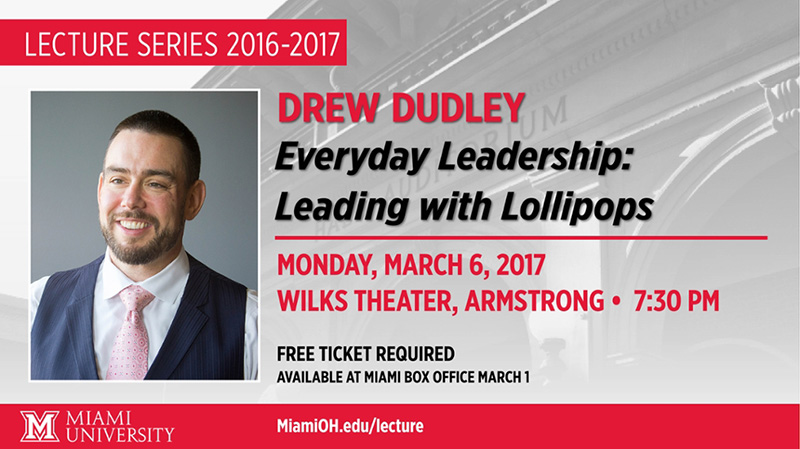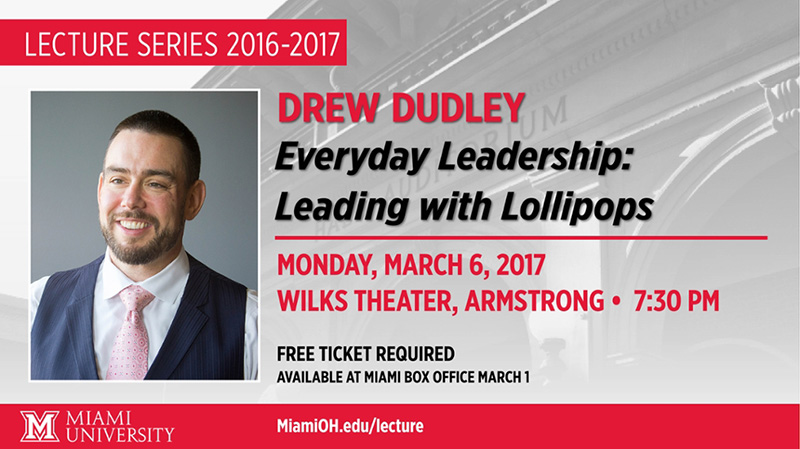 Feb 24, 2017
Lecture Series: Drew Dudley on "leading with lollipops"
By Sophie Tran, university news and communications intern
Drew Dudley, founder and chief catalyst of Day One Leadership, will present "Everyday Leadership: Leading with Lollipops" at 7:30 p.m. Monday, March 6, in the Wilks Theater, Armstrong Student Center as part of the 2016-2017 Miami University Lecture Series.
Dudley works with organizations around the world to empower people to increase their leadership capacity. His clients have included McDonald's, DreamWorks Animation, Proctor & Gamble Co., JPMorgan Chase & Co. and more than 75 colleges and universities.
Dudley has spoken to more than 250,000 people on five continents and been featured on The Huffington Post, Radio America, Forbes.com and TED.com, where his TED talk was voted "one of the 15 most inspirational TED talks of all time" and has been viewed millions of times around the web. TIME recently named the talk one of their "seven speeches that will make you a better leader."
Prior to founding Day One Leadership, Dudley spent eight years as director of one of Canada's largest leadership development programs at the University of Toronto and served as national chair of Canada's largest postsecondary charity, mobilizing 35,000 volunteers annually to support the work of Cystic Fibrosis Canada.
A free ticket is required to attend this lecture. Tickets are available to Miami University ID holders (students, faculty, staff) at 8 a.m. Wednesday, March 1, with a limit of two tickets maximum per Miami ID.
Miami ID holders may request tickets in person at the box office in 129 Campus Avenue Building or by phone at 513-529-3200 for later pickup at the box office or at Wilks Theater on the evening of the event at 6:30 p.m.
Tickets for the general public, if remaining, are available at 8 a.m. on Friday, March 3, with a limit of two per request, either in person or by phone as above.
Individuals without tickets may arrive at 6:30 p.m. at Wilks Theater and wait in line for available, unfilled seats. Any seats not filled by 7:20 p.m. will be given to those in line. A question and answer session will follow the lecture, as well as a reception.