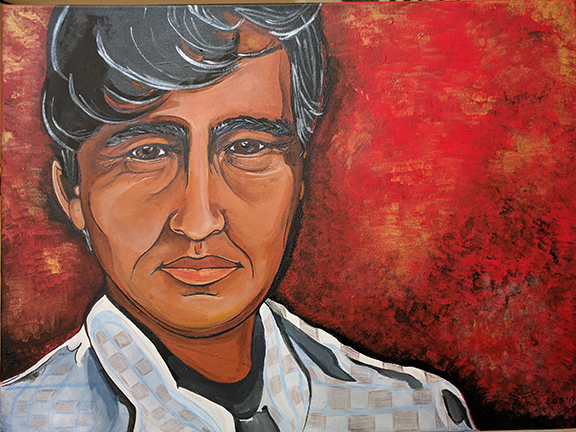 Mar 30, 2017
Miami celebrates Cesar Chavez Day with events April 3-4
By Susan Meikle, university news and communications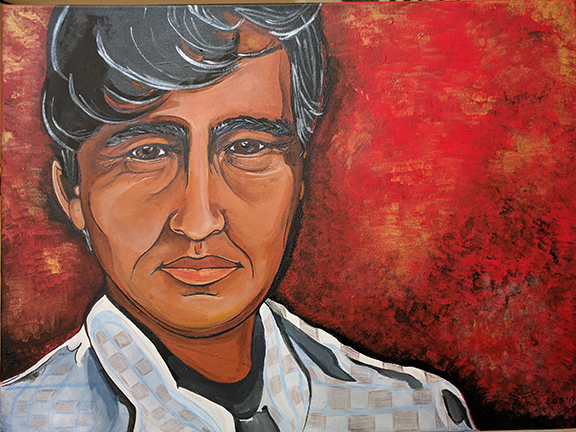 Painting of César Chávez by Esther Claros-Berlioz, doctoral student and member of the celebration planning committee.
Miami's fifth annual César Chávez Celebration Program features two days of events including a political and social justice forum, keynote presentation, community march and Breaking the Bread for Peace & Justice program.
César Chávez Day — a national commemorative holiday — is aimed at celebrating the birth and legacy of the civil rights and labor movement activist around March 31, his birthday.
One of the "heroic figures of our time," noted the late Sen. Robert Kennedy, Chávez influenced and inspired millions of Americans to seek social justice and civil rights for the poor and disenfranchised.
He forged a diverse national coalition of students, middle-class consumers, trade unionists, religious groups and minorities.
Monday, April 3: Keynote presentation and panel discussion
6-7:30 p.m., Shriver Center Heritage Room
Beyond the struggle: Political and social justice activism -"Nuestras historias, Our Journeys"
Feminist author Daisy Hernández, assistant professor of English at Miami, will discuss her journey as an activist and the power of coalition building through creative writing.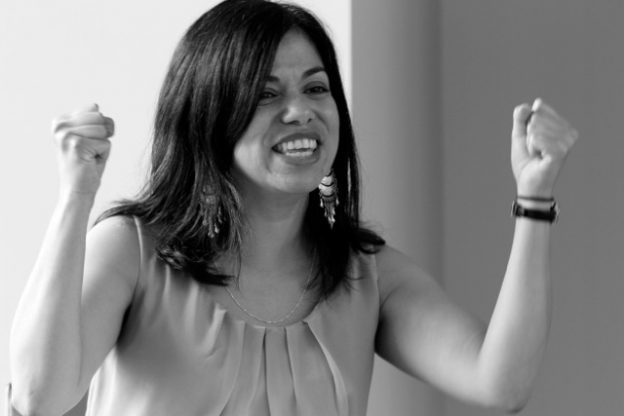 Daisy Hernández
Hernández is the author of 
A Cup of Water Under My Bed: A Memoir
(2014), described as a "coming-of-age memoir by a Colombian-Cuban woman about shaping lessons from home into a new, queer life."
She is coeditor of Colonize This! Young Women of Color on Today's Feminism (2002), which Vibe named "one of the 13 books every womanist should read" and Bustle called a "book every white ally should read."
A former editor of ColorLines magazine, a newsmagazine on race and politics, she has written for the Atlantic, The New York Times, and NPR's "All Things Considered" and "CodeSwitch."  She was also a columnist for Ms. magazine. 
Graduate student panelists will share what it means to be an activist in 2017 and the influence of familia in their activism: Esther Claros-Berlioz, educational leadership; Wendy De Leon, gerontological studies; Angel Raymundo, educational leadership; and Bianca Zamora, student affairs in higher education. 
Tuesday, April 4: "¡No Nos Moveran!" – Advocacy in Action, From Oxford, OH and Beyond
4-6 p.m. Dolibois Room B, Shriver Center
4 p.m. Panel discussion with local activists:  Joining "La Causa:" Coalition building, strategies of resistance and change
5 p.m. Presentation and panel: "Farm workers, immigrant labor and the blueprint for active citizenry"
Attorney Kathleen Kersh of Advocates for Basic Legal Equality Inc. (ABLE) will discuss the key challenges farmworker communities in Ohio currently face, including access to clean and safe housing and increased immigration enforcement under the new administration. She will also discuss the role that ABLE plays to ensure the availability of quality immigration services to members of Ohio refugee and immigrant communities who are seeking a better life. 

Guest panelists: William Miller Jr., vice president of the Ohio Farmers Union and NAACP member, and Alfredo Huerta, associate professor of biology and co-director, Miami's Institute for Food.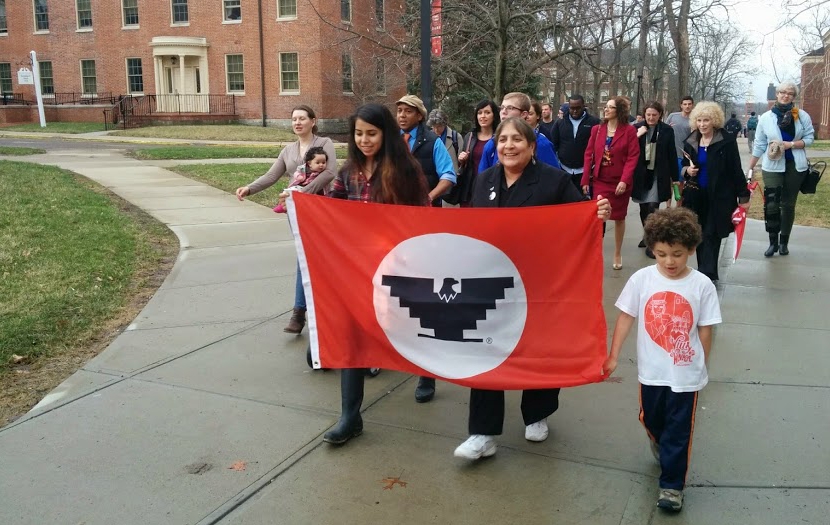 Community march, César Chávez Day 2016.
6 p.m. Community march: Begins in front of Shriver Center and ends at the Interfaith Center, 16 South Campus Avenue. 
6:30 p.m. Breaking the Bread and Poetry for Peace & Justice Program
Join Mike Johnson of Miami's Interfaith Center; Marcy Miller of Miami's Hillel Foundation; Fatima Emlendi, board member of the Islamic Center of Greater Cincinnati; and others for a Breaking the Bread for Peace & Justice program.
Poetry program led by Bianca Zamora includes poetry by graduate and undergraduate students.
The César Chávez Celebration is sponsored by the Center for American and World Cultures with support from the department of geography; the Latin American, Latino and Caribbean studies program, women's, gender and sexuality studies program  and the office of diversity affairs, and in partnership with the department of educational leadership; The Interfaith Center; the Islamic Center of Greater Cincinnati; the Hillel Foundation at Miami; the Miami Institute for Food; and the Ohio Commission on Hispanic Latino Affairs.
Mujer Latina Today is a media partner for the event.
In 2014, President Barack Obama proclaimed March 31 as Cesar Chávez Day in the United States, with Americans being urged to "observe this day with appropriate service, community and educational programs to honor Cesar Chávez's enduring legacy."