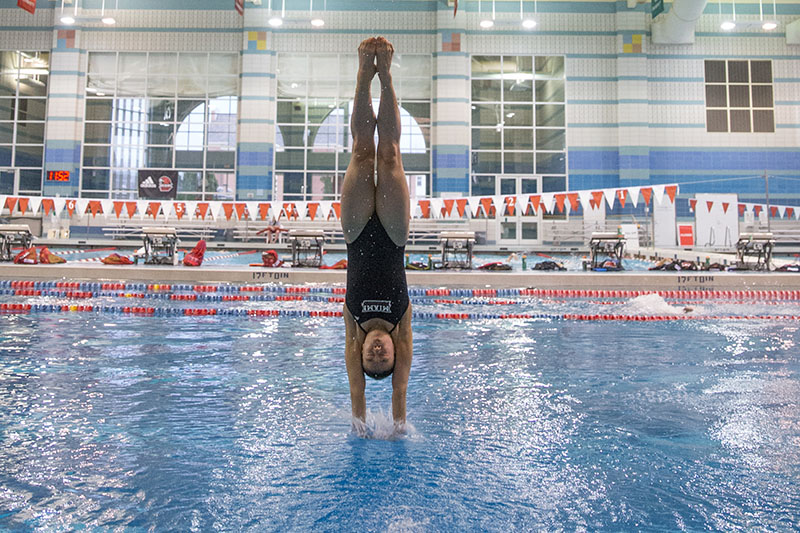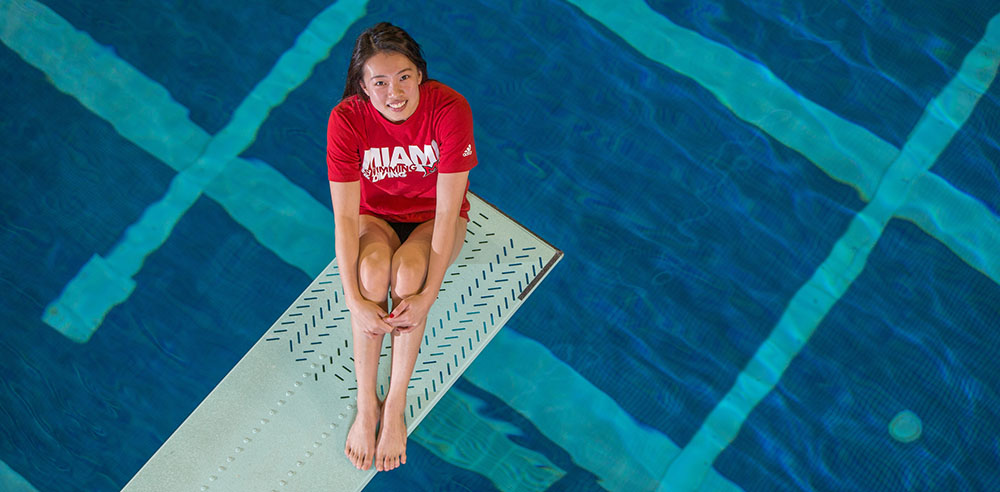 Pei Lin, a public health major, is a three-time winner of both the one-meter and three-meter springboard events at the Mid-American Conference (MAC) Championships (all photos by Scott Kissell).
Mar 02, 2017
Miami diver Pei Lin wins MAC Championships for third straight year
By Margo Kissell, university news and communications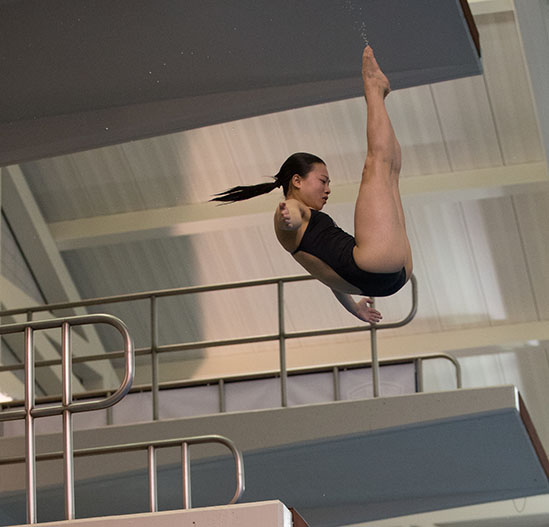 Pei Lin practices six days a week.
Miami University diver Pei Lin was awestruck the first time she saw someone dive off a 10-meter platform at an outdoor pool in China.
"I was like 'wow,' so impressive," recalled Lin, the reigning MAC diving champion.
She wanted to dive off the one-meter springboard, but her mother was reluctant, stressing that school was more important.
"It's true, but I wanted to have something fun besides school," Lin said with a laugh. So, she kept asking. Please, at least once?
At 14, Lin took her first leap off the board.
"And it just never stopped. The feeling is so unbelievable," said the senior public health major who has one more year of athletic eligibility. 
"Everything is possible"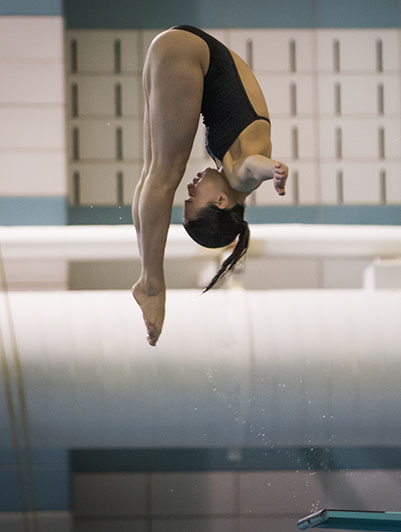 With the support of her parents, she began diving competitively at 16, eventually becoming a national champion in China.
Her diving caught the eye of Kongrong "KR" Li, Miami's head men's and women's diving coach for the last 10 seasons, who recruited her.
The five-foot-one, 100-pound diver earned a full athletic scholarship and has shined in competitions.
This past week, she won both the one-meter and three-meter springboard events at the Mid-American Conference (MAC) Championships, hosted by Miami. She walked away with two medals and a "Most Outstanding Diver" plaque.
Lin has qualified for the NCAA Division I Zone C diving competition next week at Indiana University.
She'll return as a two-time champion in the one- and three-meter events. Last year's first-place finishes advanced her to the NCAA national championships, where she finished second in the three-meter and third in the one-meter.
Lin's goal is to qualify again for the national championships March 15-18 at Purdue University — and to top last year's performance.
"Everything is possible," she said before a recent practice in the 25-meter dive well at the Corwin M. Nixon Aquatic Center. The pool has become her home away from home. She trains there six days a week.  
Coach Li said there is no secret to her success or why she remains undefeated this season.
"She works hard," he said.
From classes to coaching
Watch Lin's dives in slow motion in this video provided by Miami Athletics.
Just like with diving, Lin said she wanted to try something new after graduating from high school. She was intrigued with the idea of going to a new country, learning a new language and meeting new people.
A recruitment visit to Miami sold her on its diving program and the academics, and she said she fell in love with the beautiful campus. (Kumler Chapel is her favorite building.)
As excited as she was, Lin said she also felt nervous about moving 7,800 miles away from her home. She'd be leaving her parents and older sister.
To ease the adjustment at Miami, she worked closely with Jennifer Seabaugh, Miami's assistant director of student athlete academic support services. Lin said she became "like a big sister."
"She just helped me a lot," Lin said. "After practice every night, she would help me, tutor me in English."
Seabaugh said, "I know how challenging it is to be in a different country with a different culture, a different language, different everything, and it can just feel very overwhelming."
That help has tapered off as Lin's English has improved and she has become a stronger student, Seabaugh said.
"She's so good at really piecing things together," Seabaugh said, adding that she has watched Lin immerse herself in the Miami and Oxford communities.
Lin took classes on campus the last two summers, including one on coaching. Last summer, she worked as a diving coach for Oxford's youth recreation program, and she loved it. "That was great," she said.
She's planning to return home this summer and is looking forward to spending time with her family. "I'm so excited," she said.
But first, she's gearing up for next week's zone championship.
Her favorite part of each dive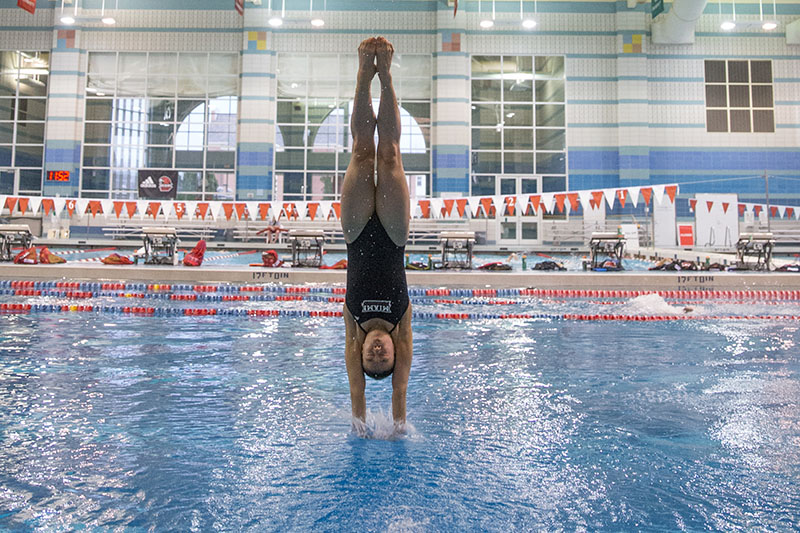 The entry - Pei Lin's favorite part of diving.
Lin said she finds the one-meter event more relaxing.
The three-meter is more fun, although it requires more focus. She prefers to be left alone preparing for this event so she can concentrate on what she has to do.
"I need to get in my mind all the time — for like three hours — because the meet is three hours. Just thinking about the meet and the actions," she said.
Before her dives, she wears earbuds to listen to upbeat dance music, "everything that can make me move like don't let me stop, don't let me slow down."
The goal is to avoid getting tired as she awaits her turn to climb the stairs and walk to the edge of the springboard.
Standing there, she is focused as the natatorium grows quiet each time. All she hears is the gurgling water below.
"And then you just go," she said.
She dives into the air, moving through a series of precise movements in an instant, before plunging into the cold water.
Hitting the water is her favorite part — not because the dive is over but because of the exhilarating feeling it gives her. That feeling is hard to describe, she said.
"It's like, wow!"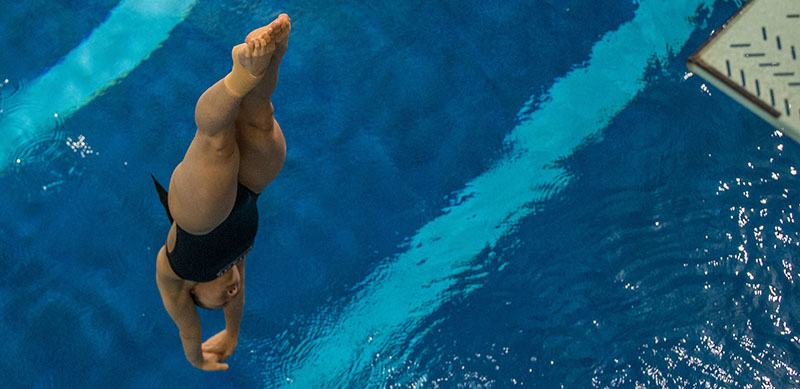 View a Photo Gallery
of Lin's diving practice.