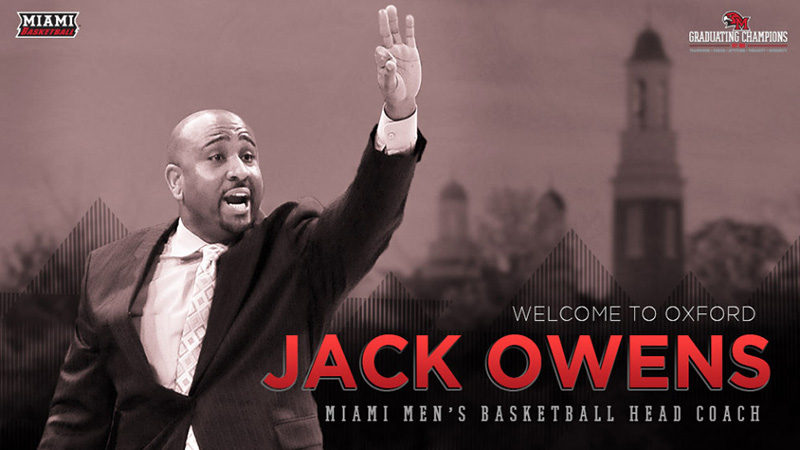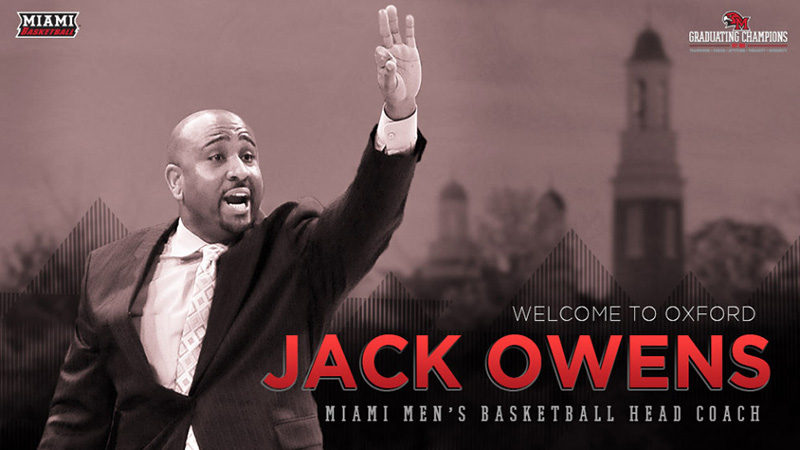 Jack Owens comes to Miami from Purdue where he was associate head coach.
Mar 29, 2017
Jack Owens named men's basketball coach
By university athletics, MiamiRedHawks.com
Miami University has tabbed Jack Owens to take over the reins of its men's basketball program, announced by Athletics Director David Sayler on Wednesday, March 29. Owens becomes the 27th coach in Miami basketball history.
Owens will formally be introduced at an 11 a.m. press conference on the court at Millett Hall on Thursday (March 30). The public is invited to this free event.
"I'm extremely excited about becoming the head men's basketball coach at Miami University," said Owens. "I would like to thank President Greg Crawford and Athletic Director David Sayler for this opportunity and I look forward to not only rebuilding this championship program, but also making this program one that all Miami alumni can be proud of."
In Owens, Miami acquires a coach that has advanced to postseason play in 13 of the past 17 seasons and went on to the NCAA Tournament in 11 of the past 13 years, including four trips to the Sweet 16. He has also helped secure several top recruiting classes, produced NBA talent and developed some of the nation's top players.
Owens spent the past nine seasons on staff at Purdue University, three as an assistant coach and the last six years as its associate head coach. Since his arrival, the Boilermakers have recorded 209 wins (23.2/year), including 27 during the 2016-17 season, helping Purdue win a Big Ten Regular Season Championship.
In Owens' nine seasons with Purdue, the Boilermakers have made the NCAA Tournament on seven occasions, advancing to the Sweet 16 three different times.
Owens has helped produce five NBA draft picks, including AJ Hammons and Robbie Hummel and multiple professional basketball players. This past season, he helped guide Caleb Swanigan to national attention, recently being named one of five finalists for the John R. Wooden Award, given to the nation's top player.
"On behalf of President Crawford, I am pleased to announce Jack Owens as our men's basketball coach," said Sayler. "Character, work ethic, recruiting success, player development and a winning pedigree were all traits that made Jack stand out. When you combine all those factors with the understanding of how to win at an institution similar to Miami, in Purdue, it is easy to see why we are excited to have him as our head coach."
With all of Purdue's accolades on the court, Owens' biggest impact for Miami may come on the recruiting trail, especially in the Midwest. A tireless worker, Owens played a significant role in landing Purdue's first Indiana Mr. Basketball since 1991 in Swanigan for the 2015-16 season. His efforts helped Purdue secure four classes ranked in the Rivals.com top 30 in each of the last four seasons, including the 15th-ranked class in 2013.
Owens came to Purdue after a five-season stint as an assistant at Southern Illinois. In 2003-04, Owens was part of a Southern Illinois team that went 25-5 and advanced to the NCAA Tournament. In the next four seasons at SIU, Owens helped guide the Salukis to three more NCAA Tournament berths, a trip to the NCAA Sweet 16, a Missouri Valley Conference title and an appearance in the National Invitation Tournament.
Prior to joining SIU, Owens served as an assistant coach at his alma mater, Eastern Illinois, during the 2002-03 season, and spent the 2001-02 campaign as an assistant at Barton County Community College, which reached as high as No. 2 in the national polls during the season. Owens began his coaching career as an assistant at Howard Community College during the 2000-01 season, serving as the team's interim head coach for a portion of the year.
The Indianapolis native began his collegiate playing career at Murray State, and played a season at Howard Community College before playing two seasons at Eastern Illinois. While at EIU, Owens averaged 11.7 points and 6.5 assists per game as a senior, earning honorable mention All-Ohio Valley Conference honors. He also served as team captain during his final campaign, and garnered team MVP and Outstanding Defensive Player honors. During the 1999-00 season, Owens remained a part of the Eastern Illinois program as a student assistant coach.
Owens and his wife, Kamilah, have three daughters, Alanah, Aniyah and Anyah.