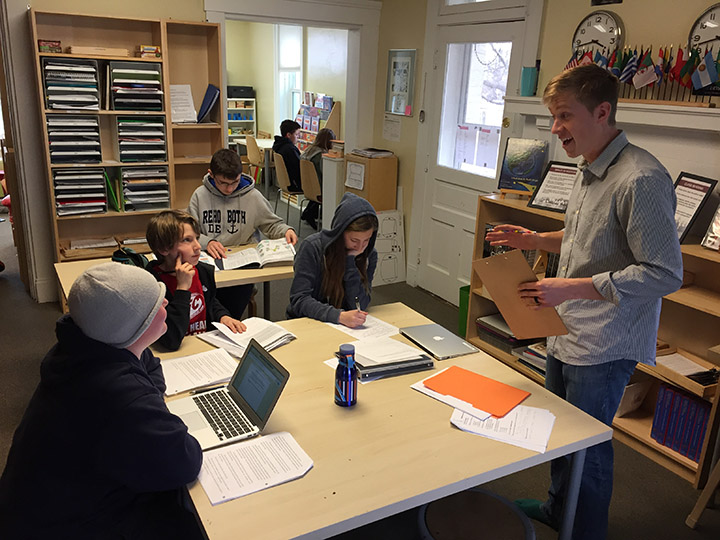 Mar 09, 2017
Goldman Prize winner Quentin Russell to share his love of poetry with area students
By Margo Kissell, university news and communications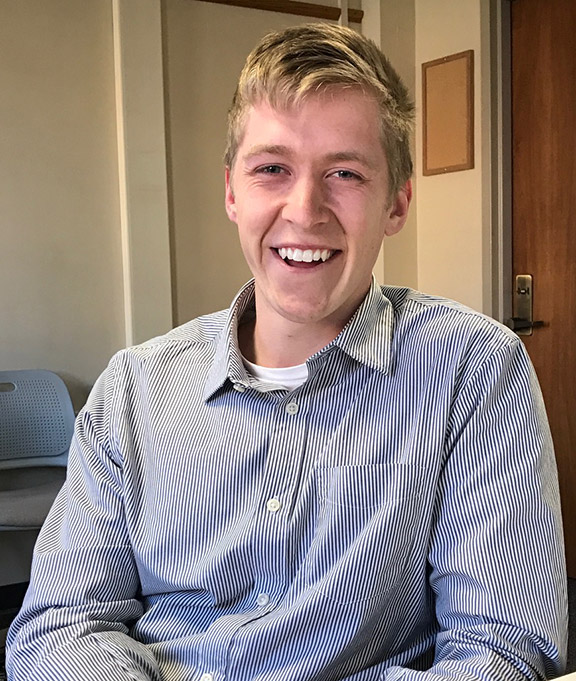 Quentin Russell, 2017 Goldman Prize recipient.
As the 2017 recipient of the Joanna Jackson Goldman Memorial Prize, Quentin Russell will spend the next year teaching poetry after school to students at area high schools.
Russell, of West Chester, graduated from Miami University in December. He majored in integrated English language arts education for grades 7-12, with a focus in creative writing.
The $30,000 annual award helps outstanding graduating seniors in their first postgraduate year realize a dream by pursuing independently designed projects in scholarship, journalism or the arts.
"We felt like his after-school poetry curriculum was the kind of creative project we have traditionally recognized through the Goldman," said Zeb Baker, the university honors program's senior associate director who oversees the selection process. He believes Russell's project will have a real impact on sparking creativity among high school students.
Russell, who student taught at Talawanda High School last fall and is teaching at Oxford's McGuffey Montessori School through the end of this school year, said he plans to begin work this summer on his poetry curriculum for students at four area high schools where school officials expressed interest. There would be no cost to the schools, but the details are still being firmed up.
His plan is to work for nine weeks at each school as an artist-in-residence, teaching students how to read and write poetry according to a pedagogy that is student-centric and play-based.
Seeing a physical result of your work
Russell recites his poem "Folding." He studied BreakBeat poets as a 2016 Undergraduate Summer Scholar with mentor Cathy Wagner, professor of English.
Russell said he was surprised and delighted school officials responded immediately when he reached out to them.
In his 15-page Goldman Memorial Prize proposal, he wrote that he believes poetry is "under-taught and undervalued by many students and teachers alike," and he sees "a lack of freedom and a sacrificing of the arts to the more pressing test scores and media-fluency in a technologically driven society."
As part of his project, Russell said he will produce a curriculum guide for the work of an artist-in-residence as well as his own book of poetry for which he will seek publication. He will be mentored during the project by Tom Poetter, professor of educational leadership.
Russell said the groups of students would get to recite or perform their poetry during an event for family and the community and also would produce a chapbook of their poetry.
"It's really empowering to see a physical result out of your work," he said.
Riffing off linguistic energy at Mini U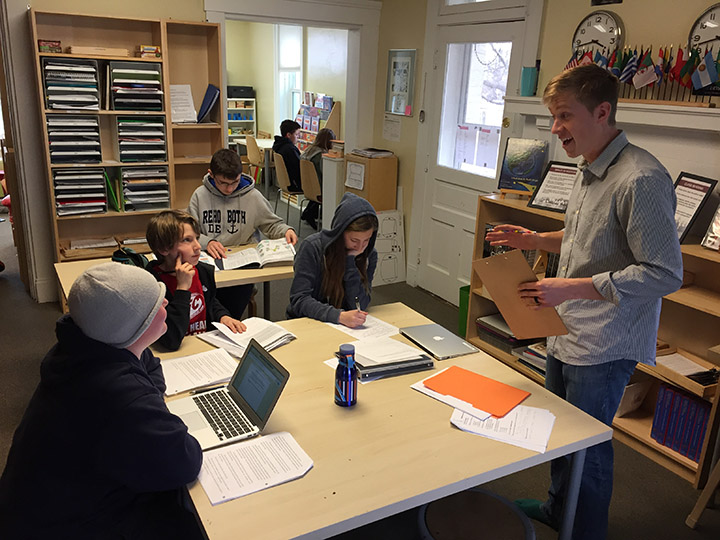 Russell teaching at Oxford's McGuffey Montessori School (photo by Nancy Hawthorne).
At Miami, Russell produced an online chapbook of poems last spring titled "School Days or Unlocked" that captures a time in his life when he taught, took colleges classes and got married. His wife, Melissa, is a Miami graduate, too.
During his time as a substitute preschool teacher at Mini University, Miami's childhood development center, Russell drew inspiration from the sometimes strange and humorous things youngsters say and do.
"It was a lot of linguistic energy coming out that I felt I could riff off of," he said, adding that one day a little girl who was 3 or 4 became a chatterbox in an attempt to avoid naptime.
He didn't want to interrupt her, so he wrote down what she was saying instead. The result was the poem, "Monologue to avoid naptime."
The poets Russell most identifies with often have a lighter tone with a simple but powerful message. His favorite poet at the moment? Kenneth Koch because of poems like "One Train May Hide Another," he said.
"It's like a really simple trick but really profound, and he's just so playful about it."
But Russell wasn't always a fan of poetry.
Playing with words and taking risks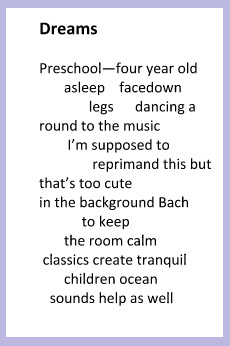 An excerpt from Russell's poem "Dreams," inspired by preschoolers he taught at Mini U.
He recalled in his Goldman proposal his sophomore year in high school when his English class was reading T.S. Eliot's long poem, "The Waste Land," and the teacher handed out a 20-page packet to tackle in groups. The students gasped in disbelief. He muttered to a classmate, "But I don't even like poetry."
Russell said no one was more surprised than him when he discovered at Miami that he actually enjoyed it.
"Like so many of my peers, I never once considered poetry to be an art form that was accessible and enjoyable," he wrote.
That's what he wants to share with the high school students. He hopes they'll have fun through play-based learning — by playing with words and taking some risks to broaden their skills.
"When the game is the focus, students do not need to worry about their rank or whether they beat their classmates; they focus on the game and having fun …," he wrote in his proposal.
Russell believes his steady stream of experience in education, which also included work as an interim youth pastor in West Chester and a camp counselor with Missoula Children's Theatre Drama Camp in Oxford, has given him confidence in the classroom, the skills to design and implement a curriculum and an interest in building a rapport with students.
And he can't wait to get started.