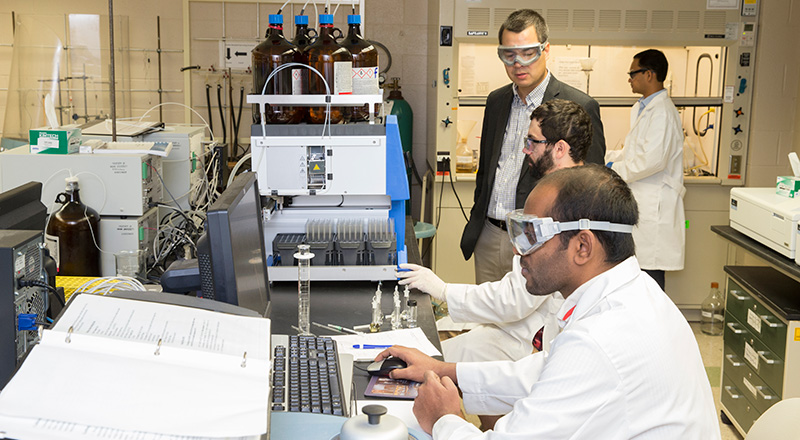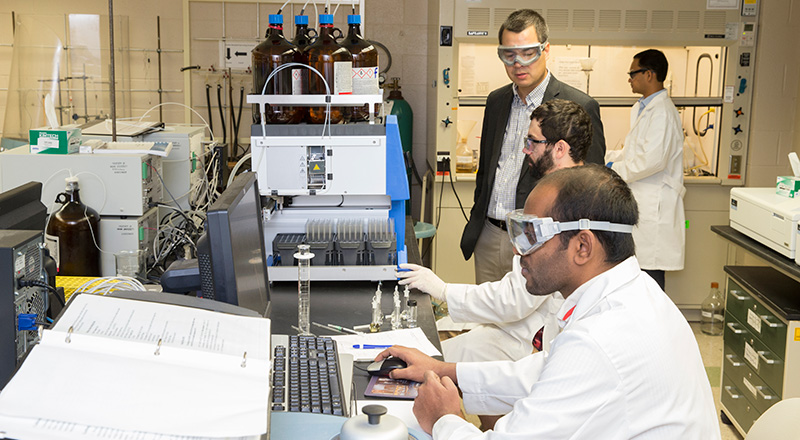 Scott Hartley (second from back) received an NSF grant to study the tertiary structure of ortho-phenylenes. Also pictured, from back to front, are graduate students Lasith Kariyawasam, Zach Kinney, and Gopi Nath Vemuri.
Mar 01, 2017
Miami designated one of the STEM Jobs Approved Colleges
Miami STEM stats
• Miami consistently graduates the second highest number of science students among Ohio public universities.
• Miami is a (Carnegie) Doctoral Intensive University and attracts faculty members who have a passion for advanced research and scholarship, as well as a commitment to teaching.
• More than 704 students graduated with STEM majors in 2015.
• The majority of the science graduates choose to pursue post-baccalaureate training.
• The U.S. News and World report of America's Best Colleges ranks Miami's engineering program in the category of "Best Undergraduate Engineering Programs where the highest degree is a bachelor's or masters."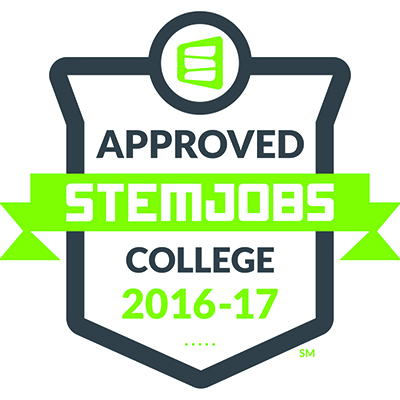 Miami University is designated one of the 2016-2017 STEM JobsSM Approved Colleges by Victory Media.
Victory Media, connecting young professionals with education and career opportunities, is the creator of STEM JobsSM media and resources for students interested in science, technology, engineering and math.
The 2016-2017 STEM Jobs Approved Colleges survey rates universities, colleges, community colleges and trade schools on their ability and responsiveness to connecting programs and students with high-demand, high-growth STEM occupations.
Institutions submitting completed STEM Jobs Approved Colleges surveys were scored on publicly available data and responses to proprietary questions around four key indicators that demonstrate the extent to which a school works to:
Provide opportunities for students to explore STEM subjects.
Promote partnerships that foster STEM literacy and connect classrooms to careers.
Ensure coursework and activities that have a focus on careers.
Promote STEM programs that actively attract and engage underrepresented student populations.
Miami will be featured in STEM Jobs Magazine and online as part of the entire 2016-2017 list of STEM JobsSM Approved Colleges.