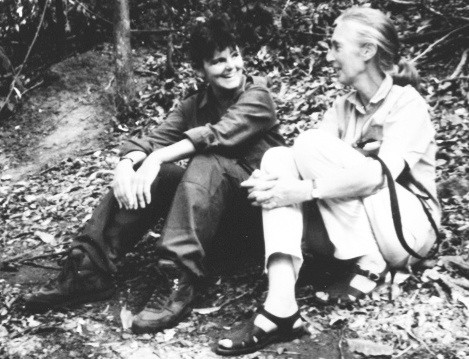 Apr 20, 2017
Linda Marchant awarded Benjamin Harrison Medallion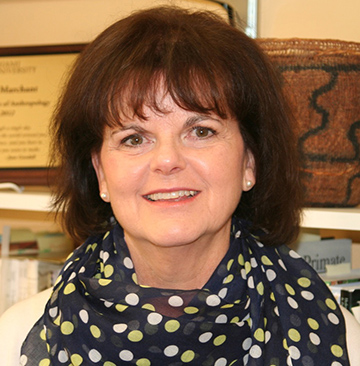 Linda Marchant
By Susan Meikle, university news and communications
Linda Marchant, professor of anthropology, was awarded Miami University's prestigious Benjamin Harrison Medallion.
The Benjamin Harrison Medallion Award is one of the most significant recognitions Miami offers faculty for contributions attesting to qualities of teaching, research and/or service. She was honored at the April University Awards Reception.
It is named for Benjamin Harrison, the 1852 Miami graduate and 23rd president of the United States, serving from 1889-1893.
Marchant's international reputation in the field of primate research and the breadth of her service to Miami and her profession "elevated her nomination above the others," her nominators said.
Research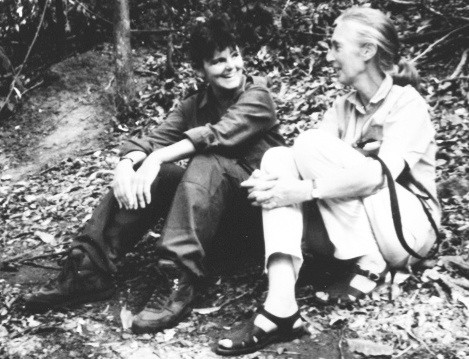 Marchant with Jane Goodall at Gombe National Park, Tanzania, 1996.
A biological anthropologist, Marchant specializes in behavioral primatology, hominid evolution and African Apes. She has worked in East and West Africa, and is especially well-known for her work on laterality ("handedness") in primates.
Her research has been supported by eight external grants over her career and has resulted in more than 60 journal articles and book chapters.
She is co-editor of two books — Behavioural Diversity in Chimpanzees and Bonobos (2002) and Great Ape Societies (1996) — and is co-editor of a special invited issue of Annals of the New Academy of Sciences (2013) on "The Evolution of Human Handedness."
Marchant has also produced 10 videographies, one of which received the Best Short Film award from the Society of Visual Anthropology.
A frequent invited speaker, she has contributed lectures and colloquia in a number of national and international venues, including universities and institutes in Japan, Russia, Germany, Italy, France and England, among other countries.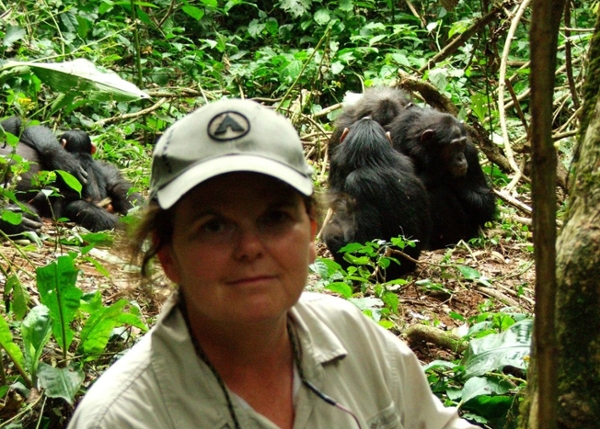 Marchant with chimpanzees, Kibale National Park, Uganda.
Her reputation as an expert on primates has led to invitations from several prestigious universities to be a visiting scholar or fellow, including at the Centre for Social Learning and Cognitive Evolution, University of St. Andrews (2001); Leverhulme Centre for Human Evolutionary Studies, University of Cambridge (2009-2010); and Center for Academic Research and Training in Anthropogeny (CARTA), University of California, San Diego (2013).
Teaching:
Marchant's excellence as a teacher was recognized with her selection as Outstanding Professor by the Associated Student Government in 2004, and being named one of the top 100 faculty at Miami in 2013.
She has also served students as the faculty adviser for Miami's primatology club for more than 20 years.
Service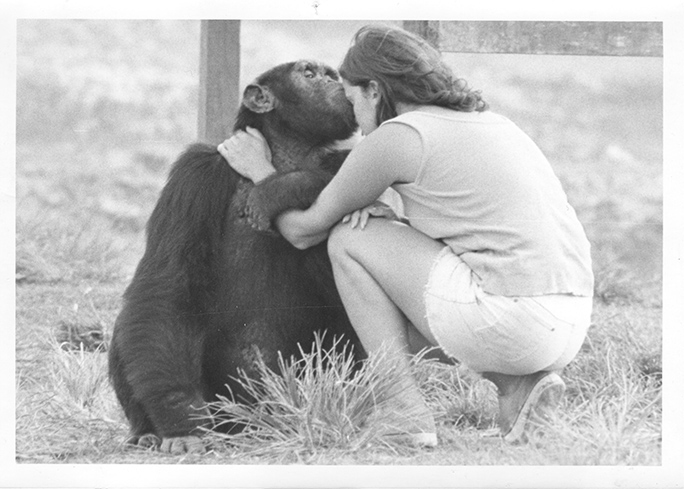 Marchant is groomed by Larry, an ex-laboratory chimpanzee in a resocialization project, Lion Country Safari, Florida, 1977.
Marchant has served her profession as a reviewer for numerous journals and grant foundations. She has served as an editorial board member and a corresponding member for CARTA.
Among her contributions to Miami are her service as chair of the anthropology department from 2002-2012; a member of the Institutional Animal Care and Use Committee from 1990-2009; and a member of the recent university presidential search committee.
"As a world-renowned scholar and one of the core leaders of her field, as an outstanding teacher adored by her students, and as a go-to person who can be trusted to shoulder any university committee or professional service with effective and efficient competence, Marchant is deserving of highest praise and honor," her nominators said.
Marchant received her doctorate from Rutgers University in 1981 and joined Miami in 1989.