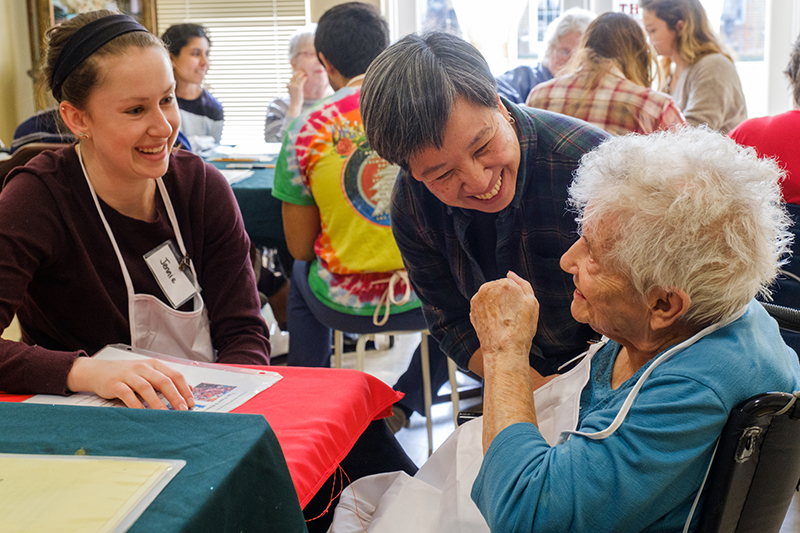 Elizabeth Lokon is founder and director of the Opening Minds through Art (OMA) program, now in its 10th year. OMA is offered at 57 locations in the United States and around the world, and the goal is to put it in 100 more Ohio locations by 2019.
Apr 06, 2017
Opening Minds through Art event showcases artwork, special relationships formed between Miami students and elders with dementia
By Margo Kissell, university news and communications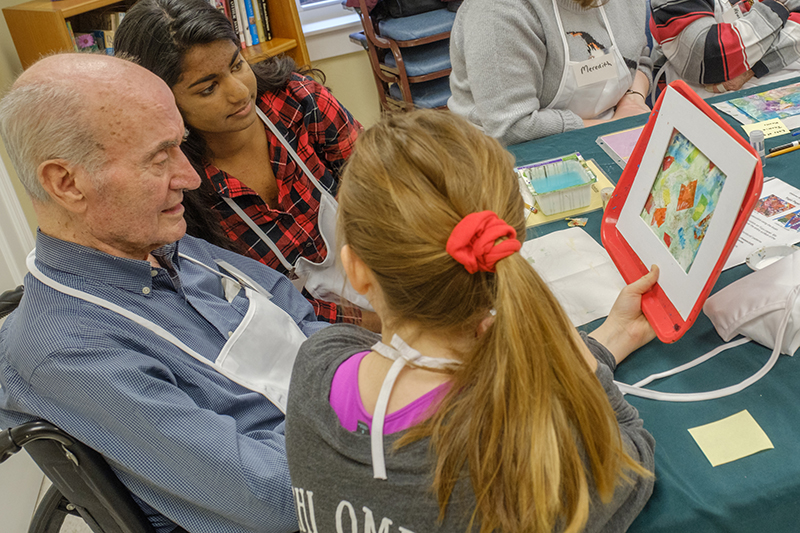 Harold, a resident at The Knolls of Oxford, admires his artwork with OMA student volunteers (all photos by Scott Kissell).
Becky Miley never knew how much her elderly mother Marjorie enjoyed painting until she started doing it every week at the Woodland Country Manor in Somerville.
After attending church on Sundays, "she's in a hurry to get back and do art," Miley said.
The 82-year-old woman has spent the last three semesters participating in Opening Minds through Art (OMA), Miami University's award-winning intergenerational art program for people with dementia.
Student volunteers partner with elders in long-term care facilities to create works of abstract art in the program aimed at promoting social engagement, autonomy and dignity through the experience of creative self-expression.
Organizers say the program improves the quality of life for the elders, while providing service learning opportunities for students.
An OMA art show opens at the Oxford Community Arts Center (OCAC) Friday, April 14, with a reception from 6-8 p.m. (part of the Second Friday series). Free and open to the public. Details below. 
OMA was founded in 2007 at the Scripps Gerontology Center by Elizabeth "Like" Lokon, who earned from Miami a master of arts degree in teaching, a master's in gerontological studies and a doctorate in educational leadership.
Lokon, OMA's director, said she set out to create something to engage elders with different levels of dementia in a way that they would grow and flourish.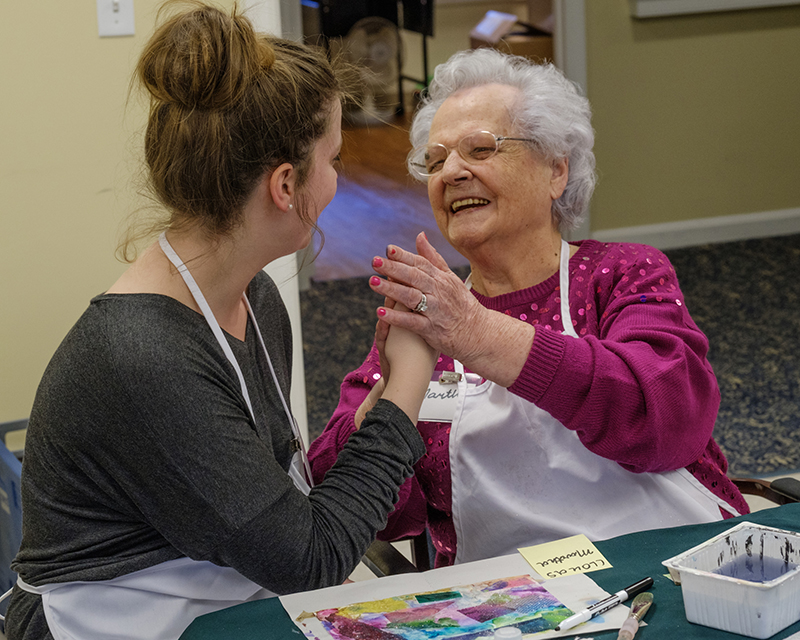 Martha delights in her artwork and her student volunteer Margot Duffy.
The program has taken off.
Today, it's offered at 57 facilities across the United States and around the world. Six nursing homes in Alberta and Ontario, Canada, and one in the Netherlands offer OMA.
In Ohio, OMA is in 23 long-term care facilities, and the goal is to put it in 100 more locations by 2019, Lokon said.
The Ohio Department of Medicaid awarded the program a $717,852 grant to expand the program in the state. Lokon said 200 people are expected to go through training this summer because of the growing interest.
"There is a need for something like this because (providers) often are not sure what to do with people who have moderate to later stages of dementia, other than playing music that they like," she said.
OMA artwork is featured in a new children's book, Why Can't Grandma Remember My Name?, which received national attention when an article in the Dec. 12, 2016, print edition of Time Magazine highlighted five books written to help children deal with "terrible, horrible, no good, very bad things in life."
Pride in their work
On a recent Friday at The Knolls of Oxford — a continuing care facility close to the university where OMA got its start 10 years ago — 82-year-old Harold was painting with the assistance of his student partner, Susanna Smith, a sophomore double major in gerontology and psychology.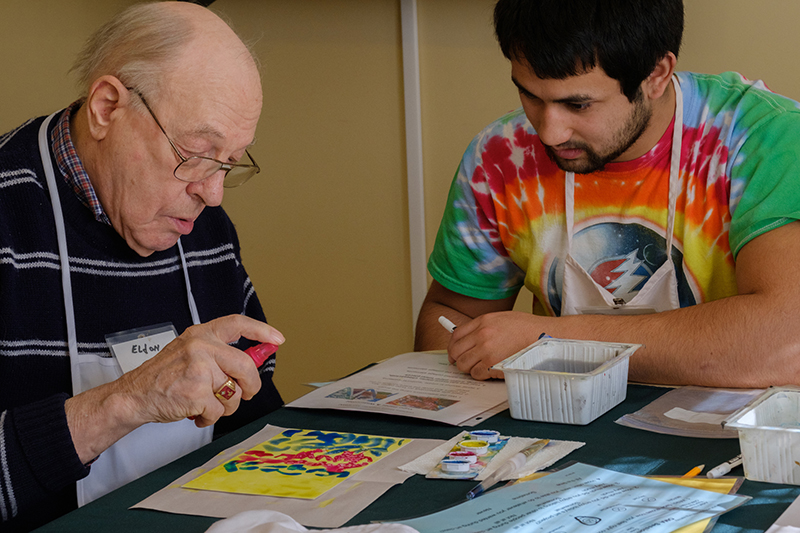 Knolls resident Eldon with his student partner Ben Groves.
Harold, who had lost the use of his dominant right hand, painted with his left hand as he chatted with Smith. She provided gentle guidance on the technique of decoupage, which entailed gluing colored paper cutouts onto the small painting.
"You should be proud of that," Smith told him.
Harold wiped a tear from his eye when he saw a framed view of his artwork.
This is Smith's second semester as an OMA volunteer. Last spring, she worked with someone at Cedar Village in West Chester. She loved it so much, she signed up as a volunteer and even mentioned it to her mother in Oxford, who also volunteers now.
"I think this program is a great way to get first-hand experience with people I'll eventually work with in the field," Smith said.
Lokon said the upcoming art show celebrates the creativity in the elders' paintings, as well as the friendship that grows between the elder and student.
"Equally important is educating the public by showing the creative potential of elders with dementia through their artwork," she said.
Miley saw first-hand the special relationships that blossom through the program when she attended an earlier art show that featured pieces of her mom's artwork. She was touched to see so many of the students interacting with her mother.
"Families are huge believers in it, and the residents look forward to it," said Karry Morgan, activity director at Woodland Country Manor who completed OMA training a few years ago when she worked at a different nursing home.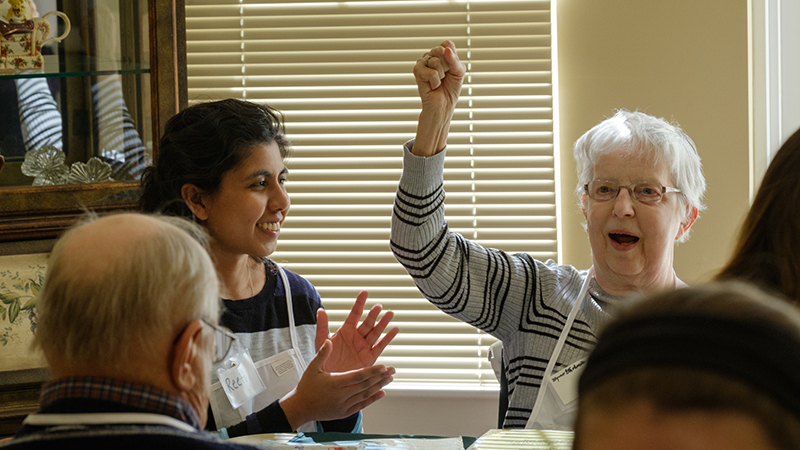 OMA artist Myrna with student partner Reeti Pal. 
"To see the partnership and some of the students or community volunteers crying because it's over, that's very touching," she said.
"I enjoy the whole atmosphere here."
During the recent session at The Knolls, resident Martha, who turned 100 on March 31, clearly enjoyed her time with sophomore Margot Duffy, a biology and psychology double major. This was their third art project in as many weeks.
Martha said the painting sessions are challenging, in a good way. "You have to think about what's going on," she said.
Duffy said she heard about the program from a friend.
 "It's very rewarding, and you get to meet people like Martha," she said.
 "We get along fine," Martha said, smiling.
In another room, Miami sophomore Ben Groves was working with 82-year-old resident Eldon, who goes by Mike.
The two were having fun joking with each other after Mike finished his painting that he titled Exploring.
"He's a good guy," Mike said. "I enjoy the whole atmosphere here."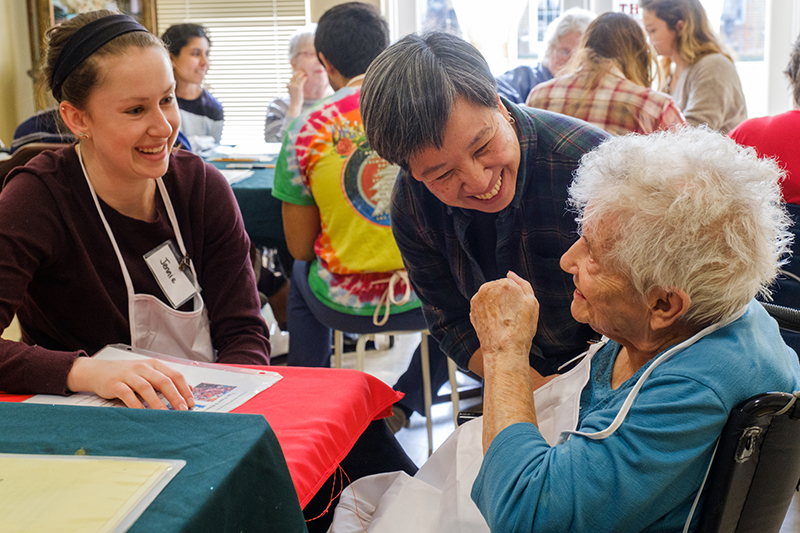 Elizabeth "Like" Lokon with OMA artists and volunteers at The Knolls of Oxford. This semester 131 elders at nine area facilities are participating in OMA with 113 Miami students.
So does Groves, a double major in physics and computational engineering, who read about it in a course description and was intrigued.
"I really enjoy it," he said. "I want to be a teacher, so I thought it would be a good place to start."
Across the table, Reeti Pal, a senior zoology and premedical studies co-major, was having a lively conversation with Myrna, whom she has partnered with for four semesters.
Myrna complimented Pal's curly hair and touched it gently like a grandmother might do.
"I've been with Myrna every single semester I've done OMA, so we've developed a really good relationship," Pal said later.
Pal said it's a nice break from classes and exams. "I can come in feeling stressed and leave completely relaxed," she said.
She also realizes the experience may help her prepare for her career.
"Before OMA, I had never worked with the elderly population or nursing home population," she said.
This week, as Lokon prepared for the art show, she showed laminated cards with OMA artists' comments captured by student partners that will hang with the art.
"I can't wait until next week when you come again," one said.
And another: "It helped me not think about hurting. I enjoyed it, especially you. Thank you for being my partner. I think I will remember you for a long while."

Art show details: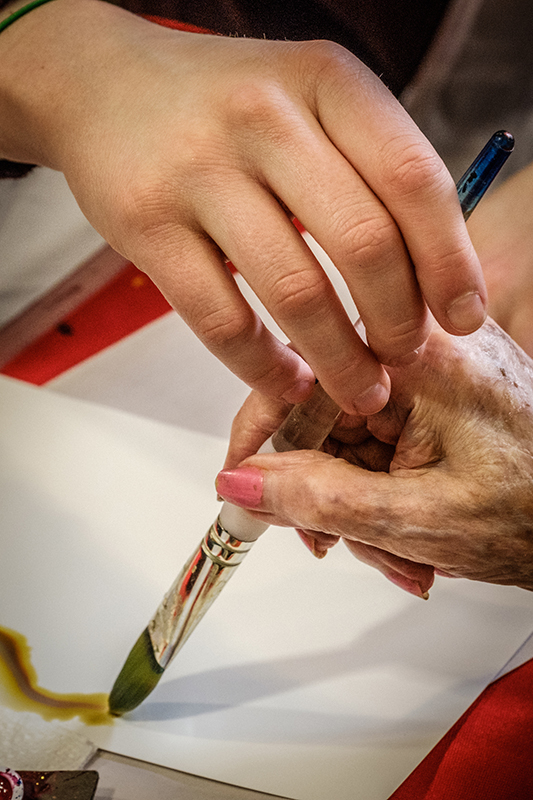 The 10th annual exhibition with a silent auction runs from April 14-May 5. 
Opening reception 6-8 p.m. Friday, April 14, at OCAC, 10 S. College Ave. Free and open to all.  A brief program starts at 6:30 in the ballroom.
Ninety paintings by 60 OMA artists from The Knolls of Oxford, the Oxford Adult Day Services, Pristine Senior Living of Oxford, Woodland Country Manor and The Woodlands of Hamilton, along with Miami University students, will host the opening reception and silent auction. Bids will be accepted until 2 p.m. April 29. All proceeds go back into the OMA program.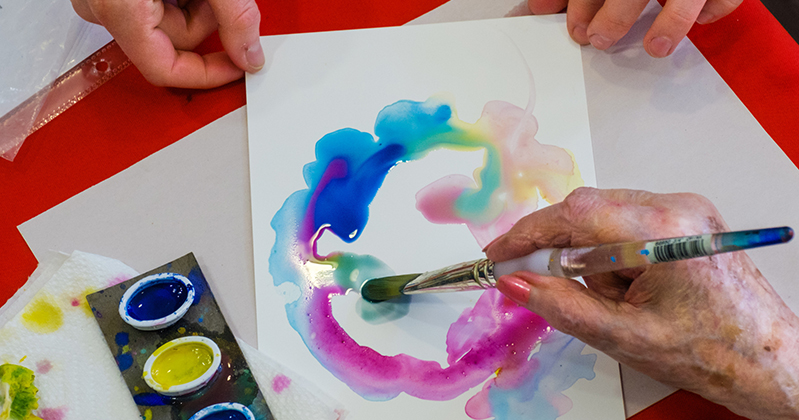 View a Photo Gallery of OMA artists from The Knolls of Oxford and student volunteers.