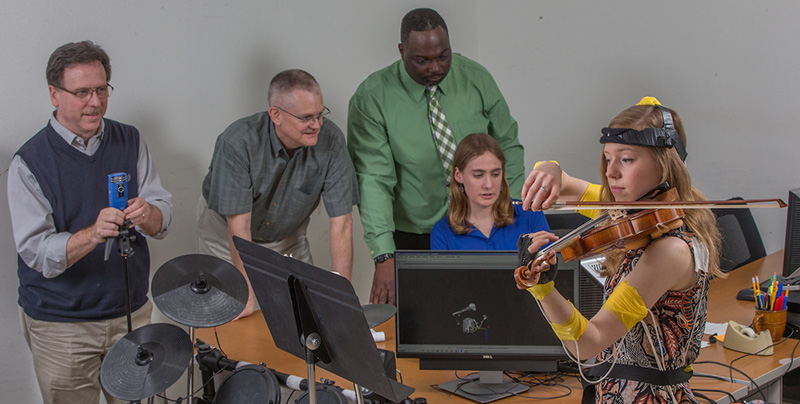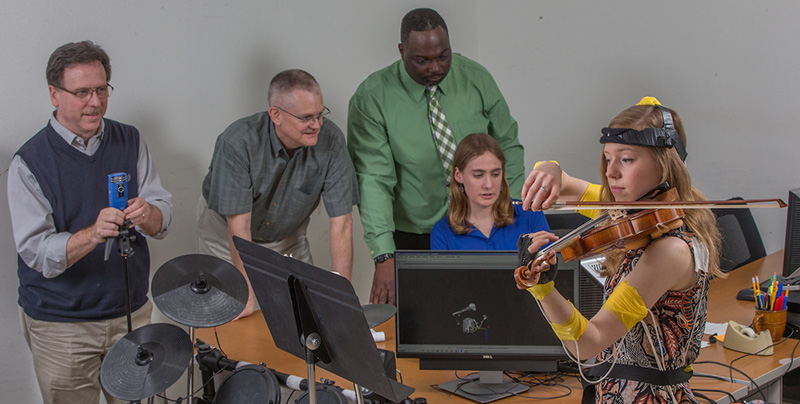 Three professors from different disciplines come together to study music, movement and pain.
Photo: Scott Kissell
Jun 15, 2017
Musicians listen to their bodies to play without pain
Student researcher couldn't resist a robot's welcome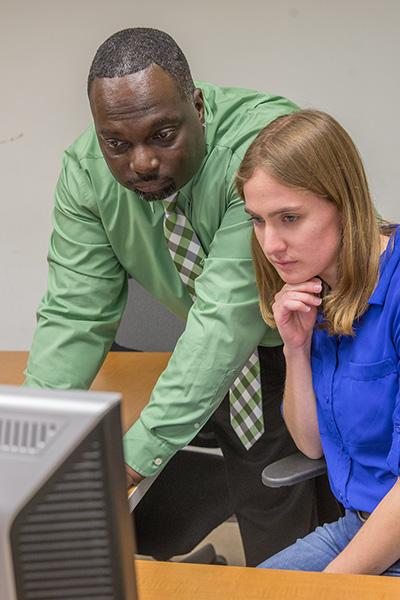 Sarah Laane, a 2017 Miami graduate, was first introduced to Leonard "Jay" Smart's lab by a robot. It rolled down the hallway at the psychology lab open house with an iPad and a wave – "Come check out this lab!" And she did.
Since discovering the lab in her sophomore year, Laane, who studied psychology and speech pathology and audiology, appreciates the opportunities she's had as an undergraduate to work on different kinematics projects, including perception and collision-avoidance research.
The motion sensors used in the Alexander Technique research are also used in their other studies, as the technology allows the researchers to analyze body movement as an insight to cognitive processes.
She credits her three years of research experience in Smart's lab for helping her get into graduate school at the University of Texas at Dallas, where she'll study speech pathology.
"Being in this lab, I've gotten to see research from a lot of different areas, and I think it's helped me be a stronger researcher because I have experience collaborating with more than one field," she said.
Laane is just one of many who can attest to the benefits of undergraduate research experience. "It's so important to show that you can do research and to present yourself as someone who is comfortable doing research. And Miami is really good at preparing us for that because we learn right away how to write research, which then teaches us how to read research."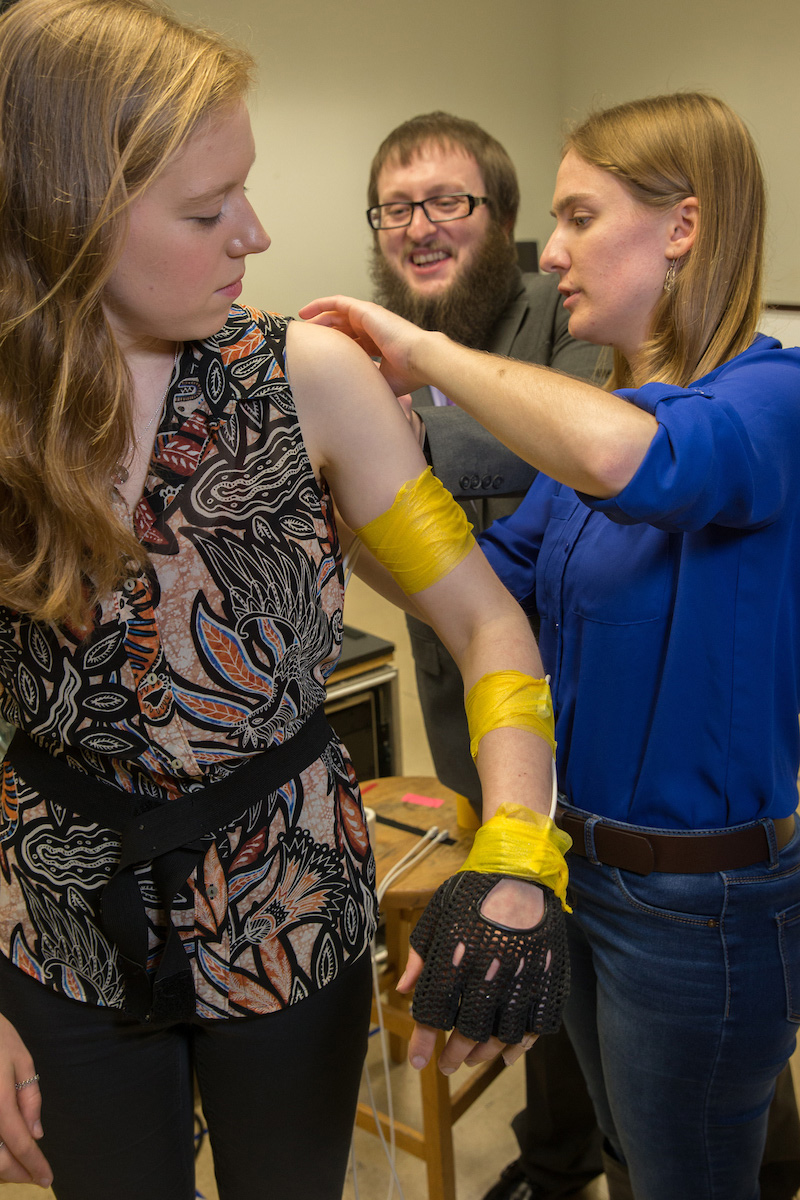 Students movements are measured during the testing phase. (Photos by Scott Kissell)
By Alicia Auhagen, university marketing and creative services
You won't find pulling a hamstring on the list of common injuries facing violin and viola players. But the refined movements of playing these instruments can lead to long-term and potentially career-ending injury.
Harvey Thurmer, professor of music, already sees physical problems in collegiate violin players. It could be poor technique. It could be inadequate muscle strength and conditioning. It could be an issue of overuse. Whatever the cause, harmful habits are so prevalent that he's made it his mission to undo them in his first year with a student. And that means helping them recognize the link between the way they think and the way they move.
It's a connection that could serve us all to think about. Whether sitting at a computer all day, operating a jackhammer, or performing surgery, repetitive motion injuries can affect anyone.
"We tend to organize ourselves around the tools in our hand or the object we're working on and forget to pay attention to our own kinesthetic self. And then we get in trouble," Thurmer said.
Getting out of trouble is another matter, and one that drew professors from three different colleges together (the College of Arts and Science; College of Education, Health and Society; and College of Creative Arts).
Connecting across campus
It's not easy unlearning a habit — something Leonard "Jay" Smart, professor of psychology, takes particular interest in. His lab examines kinematics, or the way thought and strategy reveal themselves in physical movement.
A chance meeting with Smart at a symposium got Thurmer thinking about the potential of quantitative data to measure the benefits of the Alexander Technique. The technique takes its name from actor F. M. Alexander, who developed its principles in the 1890s as a way to reduce unnecessary muscular and mental tension by becoming more kinesthetically aware. It's all about unraveling the way a person thinks in order to change the way they move. Although popular in the performing arts community, it's not just for artists.
Previous studies of the technique were exclusively quantitative or qualitative and focused solely on professional musicians. Thurmer wanted to explore an untested angle by collecting both numerical and experiential data on a population of collegiate string players.
To determine if collegiate musicians actually generated more muscle activity than necessary, Thurmer and Smart sought out Bill Berg, professor of kinesiology. Berg used electromyography (EMG) to measure the electrical activity in three muscle groups as the student musicians played. Smart and undergraduates in his lab attached motion sensors to the performers to digitize their movements.
One group of collegiate musicians was given a ten-week course in the Alexander Technique. This group was measured before and after learning the technique, along with the control group, to see if the technologies used by the team were viable ways to measure the technique's benefits. The students were also asked to journal about their experiences and how they observed their own performances.
The initial findings were presented at the 2014 International Society for Ecological Psychology North American Meeting. Now, the article, co-authored by Thurmer, Rachelle Wolf (Miami MM '14), Smart, Henry Cook (Miami, Ph.D. '15) and Berg, is published in the June 2017 edition of the journal Medical Problems of Performing Artists. (View an abstract of the article online.)
Setting an example
The three professors feel strongly that undergraduates can gain a lot from collaborations like this one. Learning how to harness the different talents on a team is an important lesson for students, Smart believes. Their pilot study was one of many research projects Miami students participate in each year.
"Miami's a unique place where undergraduates get opportunities that in many places are reserved for graduate students," Berg said.
As the result of the study, the team realized that to really begin measuring the benefits of the Alexander Technique, they'd need a larger sample of collegiate musicians.
Tackling "interesting problems"
Combining their expertise allowed Thurmer, Smart and Berg to share with their students the value of bringing disparate fields together.
"Almost all real-world problems need multiple perspectives to even understand what the problem is, let alone solve it," Berg said.
But this kind of interdisciplinary problem solving, the professors agree, is as beneficial to themselves as it is to students. For Thurmer, his first venture into formal research was an enlightening one.
"It's easy to get very shortsighted about what we do and what we're about," he said. "It's been great to get outside of [the College of Creative Arts] and see what collaborations are possible."