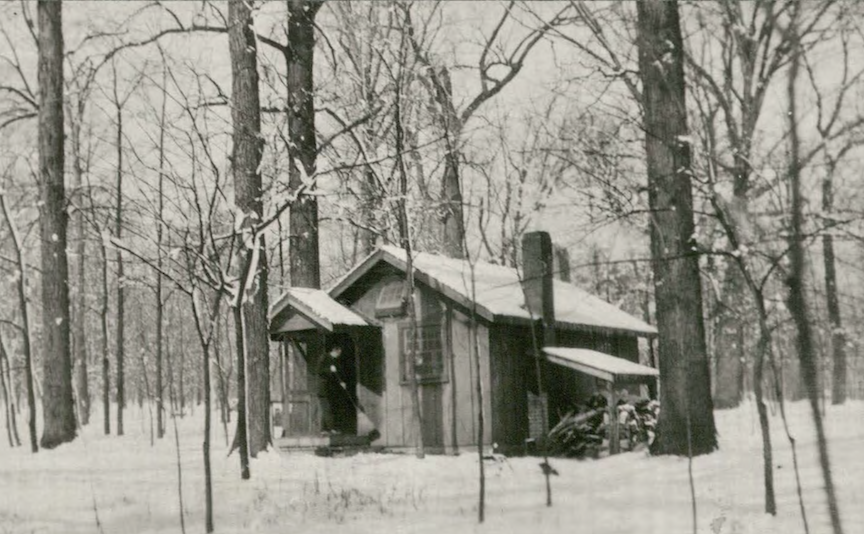 Jun 19, 2017
Dedication of Ohio historical marker for Percy MacKaye and "The Poet's Shack"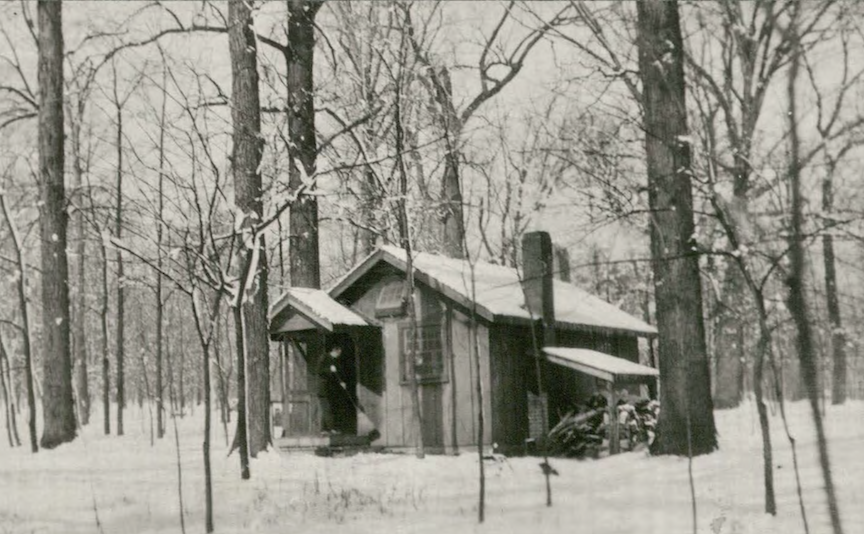 Poet Percy MacKaye's studio in the woods
An Ohio historical marker for Percy MacKaye — Miami's and America's first writer-in-residence — and "The Poet's Shack" will be dedicated at Miami University at 3:30 p.m. Wednesday, June 21.
The unveiling will take place in Bishop Woods near where MacKaye's "Poet Shack" once stood. The ceremony will include a welcome by Miami President Greg Crawford and special remarks by alumnus John Altman, a national trustee, and Anthony Gibbs of the Ohio History Connection. Mark Ridenour, chair of the board of trustees, will participate. Altman helped secure the marker.
MacKaye, a well-known poet and dramatist, was in residence at Miami from 1920-1924. Created in 1920 by Miami President Raymond M. Hughes, the position was the first of its kind at an American university. MacKaye wrote "The Canterbury Pilgrims" (1909) and "Sanctuary: A Bird Masque" (1913), in addition to more than a dozen other plays, two operas, and several volumes of poetry. He was elected to the National Institute of Arts and Letters in 1914.
When MacKaye came to Miami he requested a studio in the woods. He wanted a simple shack with a fire where he hoped faculty and students would come to talk with him or listen to his newest works. The studio was built in the woods of what was then called Lower Campus––later renamed Bishop Woods. Students called the studio "The Poet's Shack."
During his fellowship, MacKaye wrote the poems "An Ode to the Universities" and "The Trees of Miami," which are engraved on the walls in the courtyard of Upham Hall. He also wrote "This Fine Pretty World; A Comedy of the Kentucky Mountains" (1924), a play performed on Broadway throughout the 1920s.
By hosting MacKaye, Miami played an innovative role in defining institutions of higher education as places that both teach and foster the production of the arts. In 1921, MacKaye wrote "University Fellowships in Creative Arts," an essay arguing in favor of universities supporting the creative arts. This essay, which was widely read by scholars at the time, inspired the institution of creative fellowships at other universities.
It was reportedly through MacKaye's example and encouragement to his friend Robert Frost that Frost later became poet-in-residence at the University of Michigan.