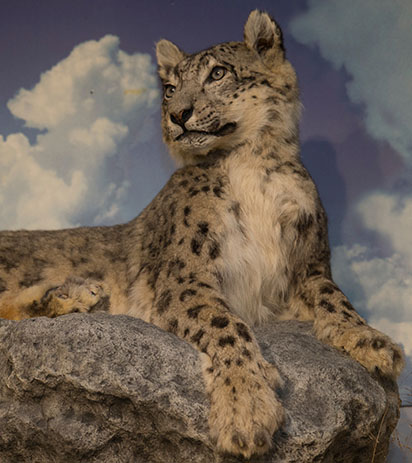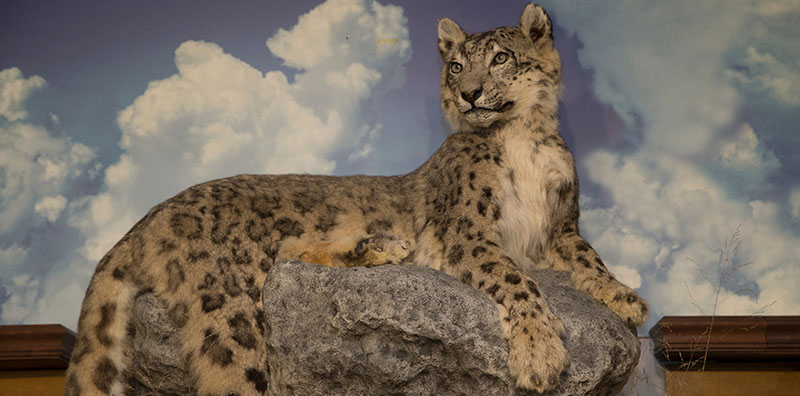 Olga the snow leopard educated visitors at the Cincinnati Zoo for 20 years before coming to Miami's Robert A. Hefner Museum of Natural History. She was unveiled during Alumni Weekend (all photos by Jeff Sabo).
Jun 22, 2017
Snow leopard begins a new legacy at Miami University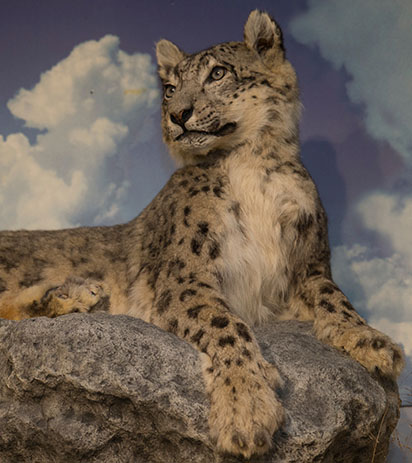 Olga the snow leopard
With few museums in the world having snow leopards on display, it's even more rare to find one on a university campus. At Miami University, Olga the snow leopard has joined a growing zoological resource for students.
Olga was born in Toledo and spent most of her life at the Cincinnati Zoo. She educated people of all ages for 20 years before coming to Miami's Robert A. Hefner Museum of Natural History.
The museum has several other cat specimens that are already mounted, including a lion, tigers, jaguars and a leopard. Olga's display - tentatively called Cat Mountain - is still a work in progress.
In addition to the taxidermy mounts, Steve Sullivan, director of the Hefner Museum, says the museum will develop discovery trunks that engage students in learning about big cats and the conservation issues that surround them. These trunks will contain specimens and other objects, as well as lesson plans. They will be available to loan for area educators. Among the educational objects will be big cat skulls.
"Printed scans of Olga's skull will be physically accessible to students," said Sullivan. "Due to their rarity and delicacy, that's something that can't usually be handled."
"Olga now has a lasting legacy at Miami University," said Sullivan.
Snow leopards are carnivores and famous inhabitants of the Himalayan Mountains. There are an estimated 4,500-7,500 living in the wild and even fewer in captivity, which is one reason why the exhibit at the Hefner Museum is so unique.
Other species in the Cat Mountain display.
The museum has a structural light scanner that is operated by students to create the 3-D skulls. Sullivan says the museum is working with students in computer science, software design, art and education. Students are involved in all aspects of museum work, including exhibit design and curriculum development.
The opportunity for Cat Mountain is a combination of planning, vision and luck. When Olga became available several years ago, the former museum director worked with private donors to fund her preservation. The other cats were donated to the museum by a family.
Sullivan says Cat Mountain is a created counterpoint to the museum's ungulate (hooved mammal) exhibit, aptly named Hoofs, Horns, Antlers and Claws.
Olga's donors William and Ellen Camm (Miami '73), her caretaker at the Cincinnati Zoo and taxidermist David Might (Miami '84) spoke at her unveiling during Miami's Alumni Weekend earlier this month.
Olga will engage generations of student and families in learning about remote ecosystems and how we, in Ohio, are connected to these places, Sullivan said.