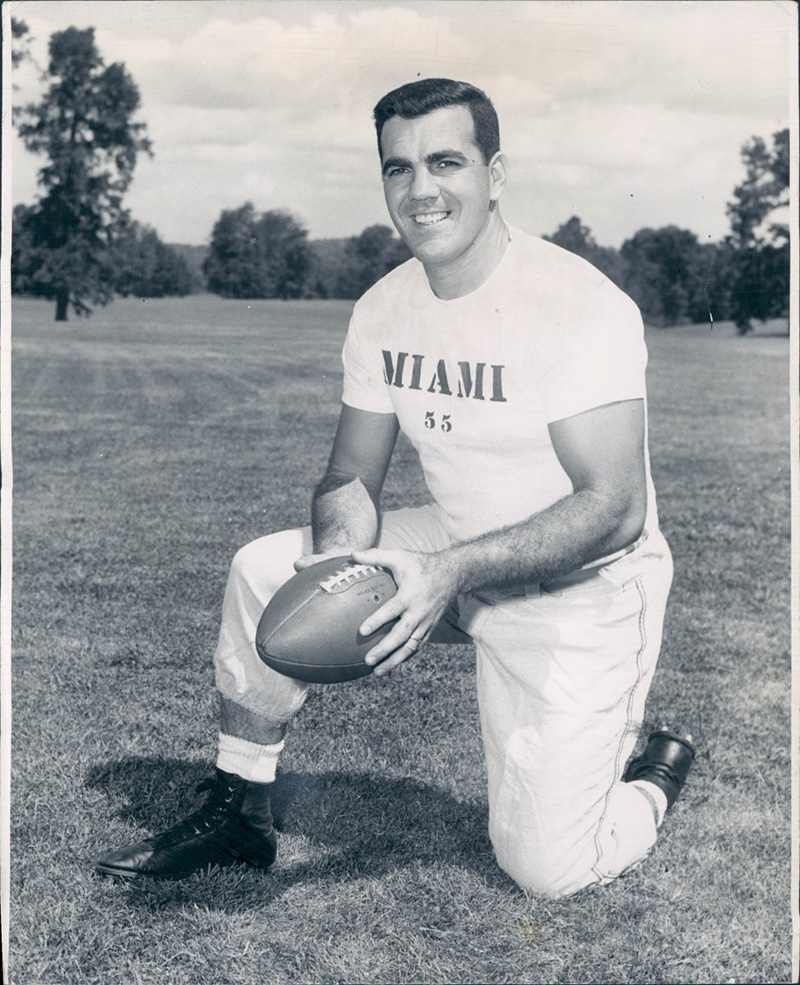 In memory of Ara Parseghian, Miami alumnus and former football coach.
Aug 02, 2017
Former Miami University coach Ara Parseghian dies at age 94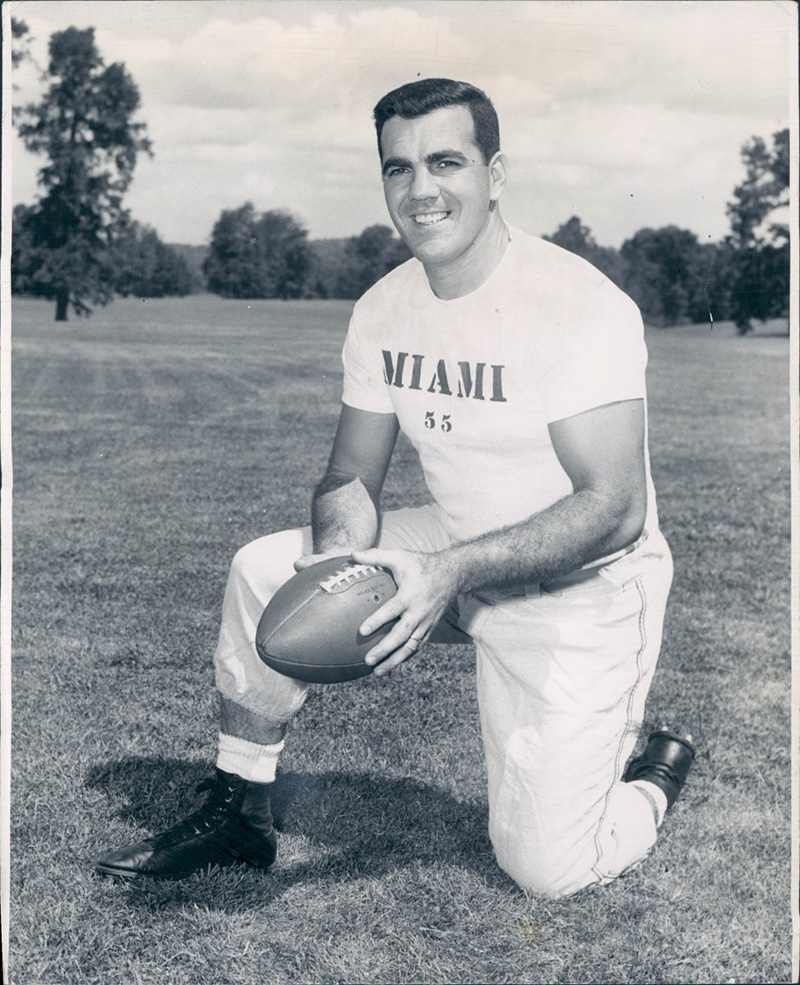 Ara Parseghian
Legendary coach and alumnus Ara Parseghian, who guided the Miami University football program from 1951-1955, died Wednesday, Aug. 2, at his home in Granger, Indiana. He was 94.
Parseghian earned his bachelor of science of education in 1949 and his master's of education in 1954, both from Miami.
"Ara demonstrated amazing grace and leadership in life as well as on the football field," said Gregory Crawford, president of Miami University, who was Notre Dame's dean of science when he met Parseghian nearly a decade ago.
They became friends and collaborators in the fight against Niemann-Pick Type C, the incurable rare disease that took the lives of three of Parseghian's four grandchildren.
"I was inspired by his passion and character, especially his understanding of what makes a team – he always used his fist as a metaphor to show how strong individual members can be when they unite in loyalty and pursue a common purpose," Crawford said. "He had a huge impact not only in football, where he won two national championships, but in the lives of so many children and families afflicted by Niemann-Pick. His virtuous leadership – his confidence, his courage, his magnanimity – inspire me, and I am honored to have been his friend."
Elected to the National Football Foundation's College Football Hall of Fame in 1980, Parseghian led Miami to a 39-6-2 record (.859) over his five seasons in Oxford, Ohio. His career at Miami was highlighted by a Mid American Conference championship in 1954 and a second conference title and undefeated season in 1955.
"I lost my childhood idol," said Chuck Martin, Miami University head football coach. "Ara is one of the all-time greats of our profession."
A three-sport athlete, Parseghian lettered in football, basketball and baseball at Miami, earning All-Ohio honors in 1946 and 1947 in football. Following graduation in 1949, Parseghian played one season with the Cleveland Browns, but his pro career was cut short due to injury.
He returned to Miami in 1950 to assist Woody Hayes and became Miami's 23rd head football coach in 1951 when Hayes departed for Ohio State.
After spending eight years at Northwestern, Parseghian moved to Notre Dame in 1964. Parseghian led the Fighting Irish to a 95-17-4 record (.836) over his 11 seasons in South Bend, highlighted by the 1966 and 1973 teams that finished 9-0-1 and 11-0-0, respectively, and claimed Notre Dame's eighth and ninth consensus national championships. Parseghian ended his career with a record of 170-58-6.
Parseghian was part of the charter class of the Miami Athletic Hall of Fame in 1969 and was one of ten coaches to be elected to the College Football Hall of Fame in 1975. Parseghian received an honorary doctorate from Miami in 1978 and served on Miami's Board of Trustees for nine years from 1978-1987.
He is also one of 10 members of Miami's Cradle of Coaches and is honored with a bronze statue in the south end zone of Yager Stadium.
Memorial celebration
A Mass for the Feast of the Transfiguration and Celebration of the Life of Ara Parseghian will take place at 2 p.m. Sunday, Aug. 6, at the Basilica of the Sacred Heart at the University of Notre Dame. Notre Dame president, Rev. John I. Jenkins, C.S.C., will preside. A memorial celebration will follow the Mass at 3:30 p.m. Sunday in Purcell Pavilion at the Joyce Center. Family members and former players and colleagues will speak. The public is invited to both the Mass and memorial.